Synonymous with art and creativity, the area of Woodstock in Cape Town is one of the most vibrant and exciting neighbourhoods in the city. What is known as a "grey" area, home to a mix of ethnicities, the neighbourhood avoided much of the racially motivated removals by the government's apartheid urban planning, compared to what happened in District 6, where over 60,000 people were forcibly moved in the 1970s. In 2007 the council designated Woodstock as an urban development zone for upgrading, which encouraged wealthy locals and foreign developers to snap up properties that were ripe for redevelopment.
Woodstock is Cape Town's oldest suburb, with a diverse community of ethnicities and religions. Today it retains its historical roots up to a point, whilst the metamorphosis continues into an avant-garde yuppie destination of boutique coffee houses, funky designer clothing outlets, contemporary restaurants and sleek apartments that keep appearing at a swift rate.
The gentrification of Woodstock displaced many locals due to the rising rents and the demolishing of old buildings. One such local is artist Juma Mkwela, who grew up in Zimbabwe. When you join him on a walking tour, he regales with tales of creating temporary co-living quarters in the old buildings of Woodstock for international and local artists seeking inspiration from the South African landscape and wishing to make subtle political statements. The street art project began in 2008, and today there are about 40 works of art splashed on the sides of buildings around the township. Sadly some are destroyed, as new buildings go up in this eclectic enclave.
This isn't graffiti, but intricate and impressive murals that speak volumes of the state of the nation. You will see a raw, colourful outpouring of passion creating stories on otherwise ugly ragged brick walls.

In memory of the female students kidnapped in 2014, this is the plea to see them safely returned.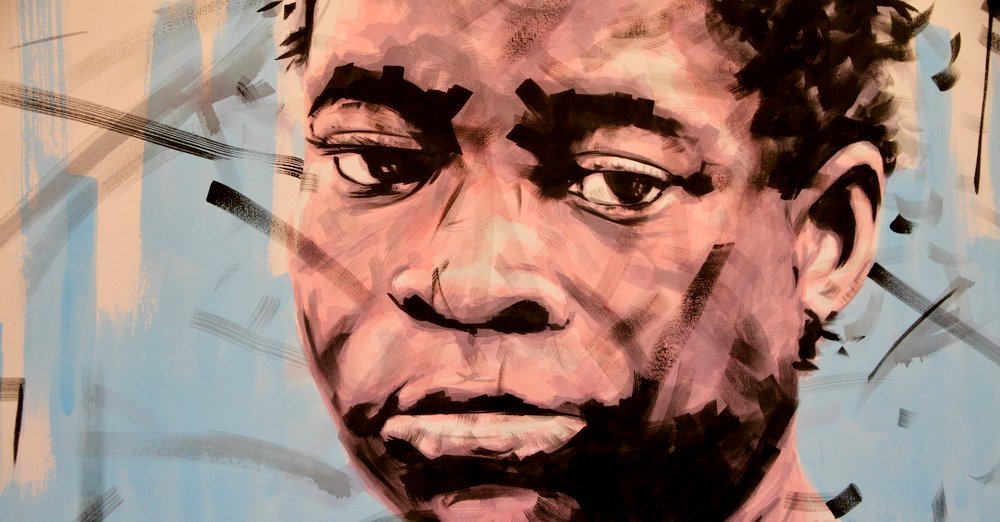 No, this is not street art, but if you pop into the "Art It Is" gallery on your tour you will see incredible artwork by up-and-coming talented artists that traditional galleries aren't interested in. This is an acrylic painting of a haunted sad face that I couldn't take my eyes off by Sizwe Khoza.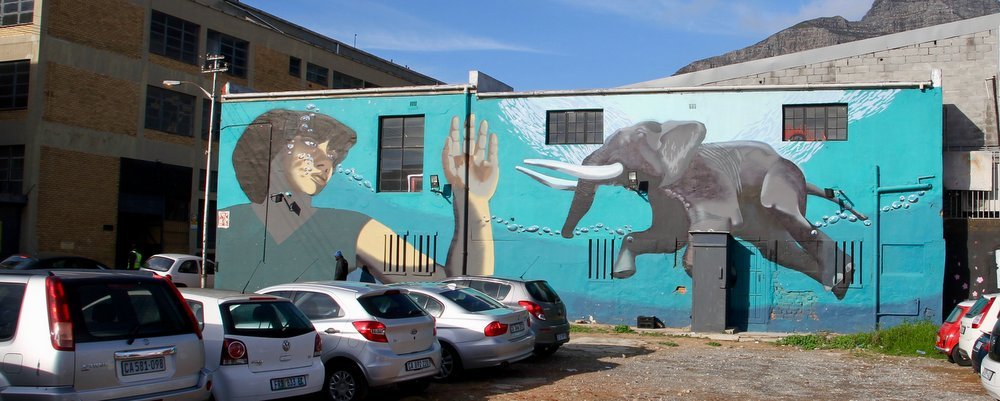 This dynamic overwhelming piece of an elephant swimming underwater sits amidst the rubble that is used as a car park. The woman in the mural is shocked at seeing an elephant swimming, when she can't swim. Painted by a local artist, Sebahism.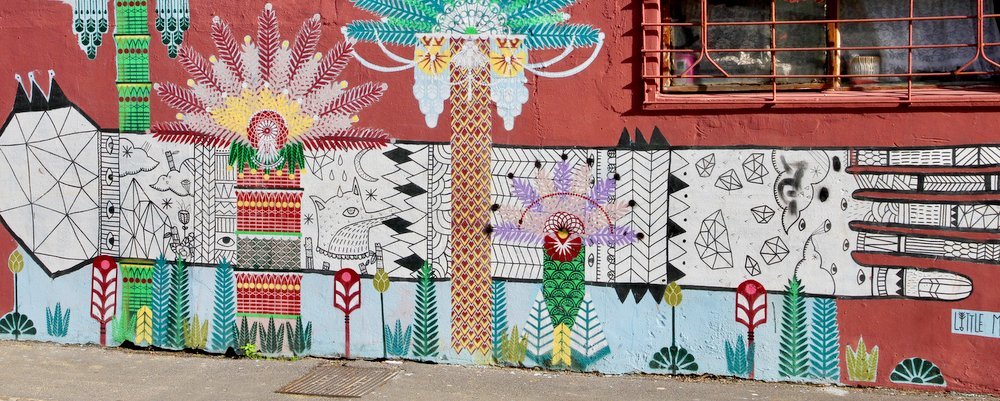 Painted by 3 artists who met in New York and now live in the south of France, (Little Madi, Koralie and Supakitch) this mural is intended to bring vibrant colour to the neighbourhood. Inspired by nature, with hands representing human encounters of handshakes and the kindness that can be given through a hand gesture.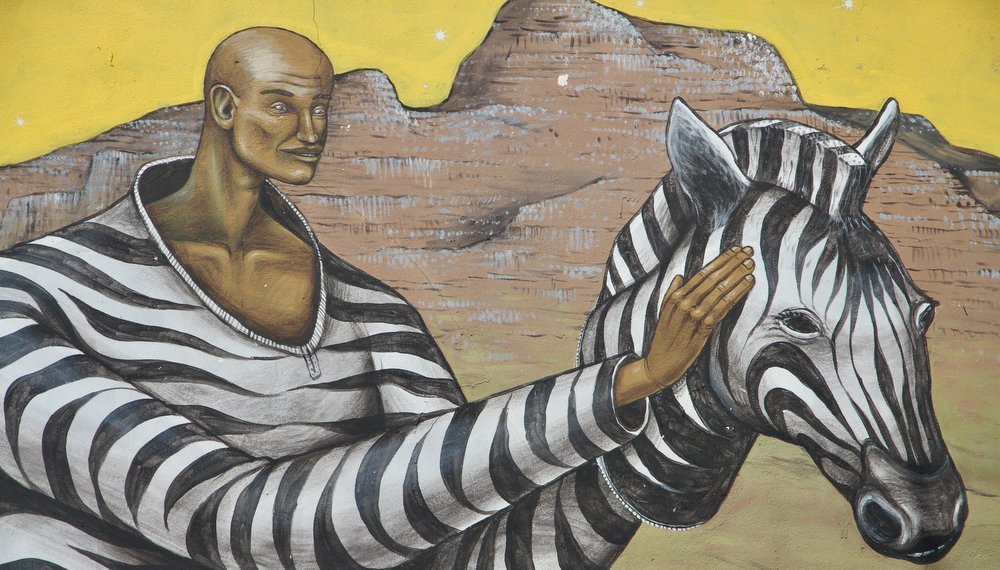 A representation of the fact that humans and animals are the same, it was painted by Intereshi Kazki from the Ukraine.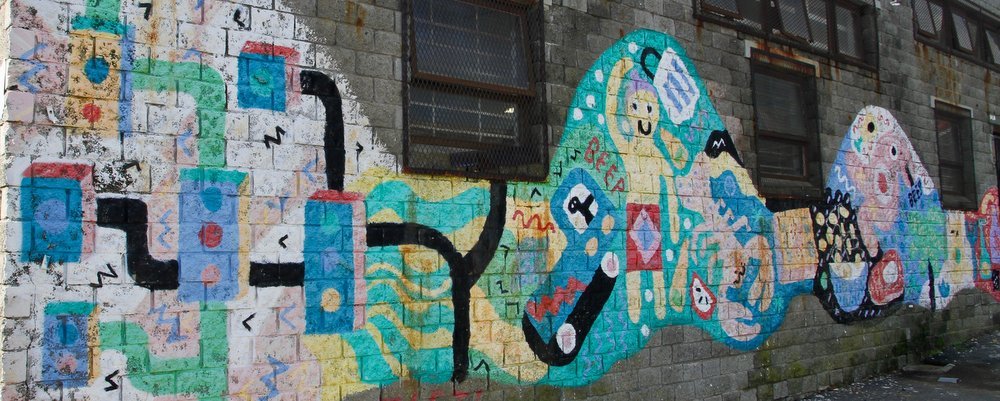 A playful and childish mural, because it was in fact painted by the local children who wished to help in beautifying their surroundings.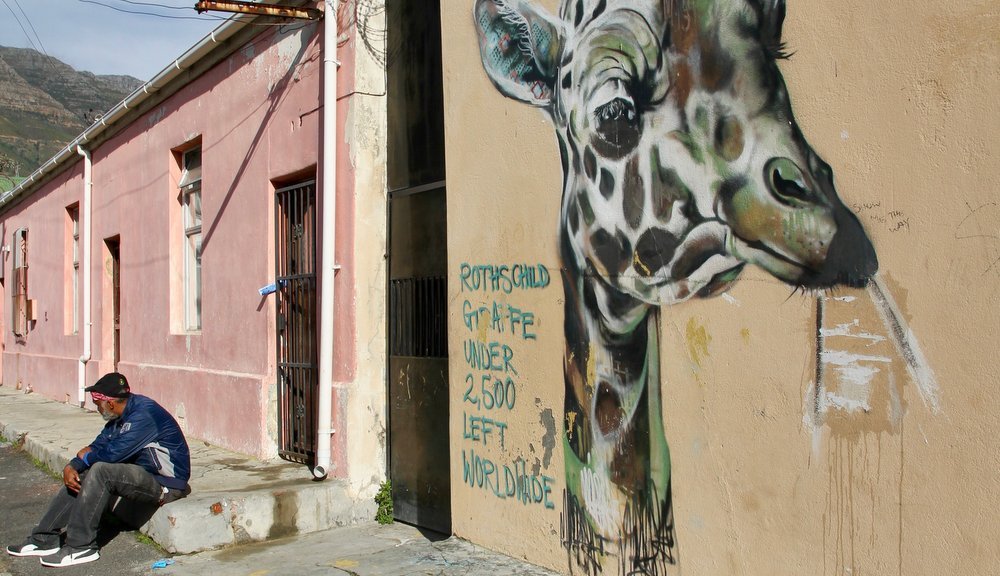 Painted by Louise Masai from London in an attempt to raise awareness of endangered animals. Found in Tanzania and Kenya, the Rothschild giraffe is one of the most endangered populations of giraffe, with an estimated 1671 left in the wild in 2016.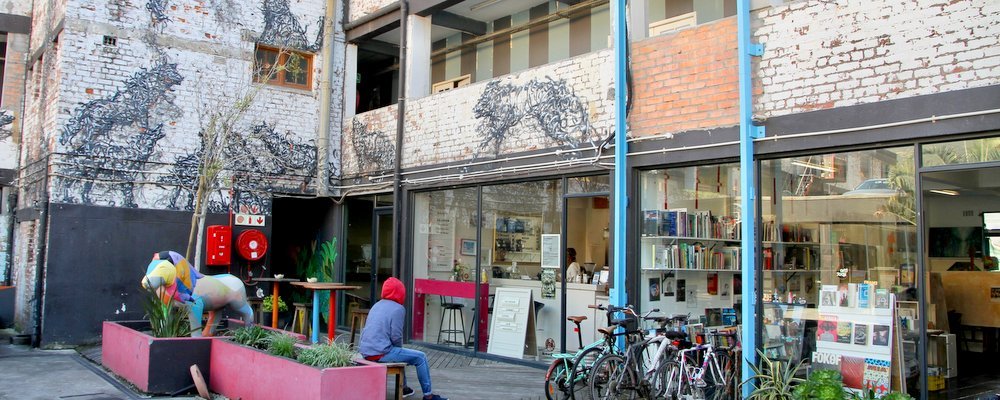 Created by the artist Daleast from China on the outside walls of the complex "Side Street Studios"; no one has managed to copy the distinctive three-dimensional style of the lion.
An unknown local artist was given permission by the owners of the "Art It Is" gallery (header image) to adorn the building's facade with his thoughts about the gentrification of Woodstock. It represents black and white people, that the buildings are endangered and that the locals have no power over the situation.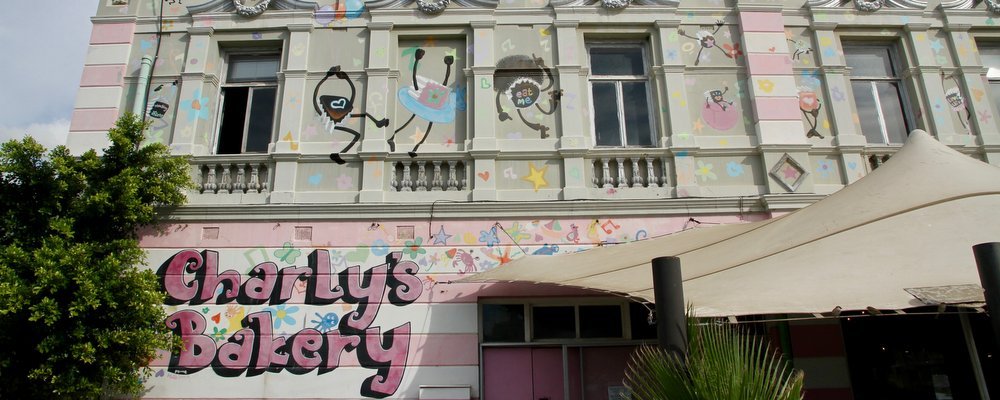 The must visit for a gluttonous session of decadent sweet indulgences, Charley's Bakery is where they believe that "the world is run on love, laughter and cupcakes" and an iconic family business that has been operating since 1989. If you are lucky, Juma will ensure that your morning ends at this delectable place that is fragrant with the scent of crazy and magical cakes. Oh, the coffee is worth shouting out about as well.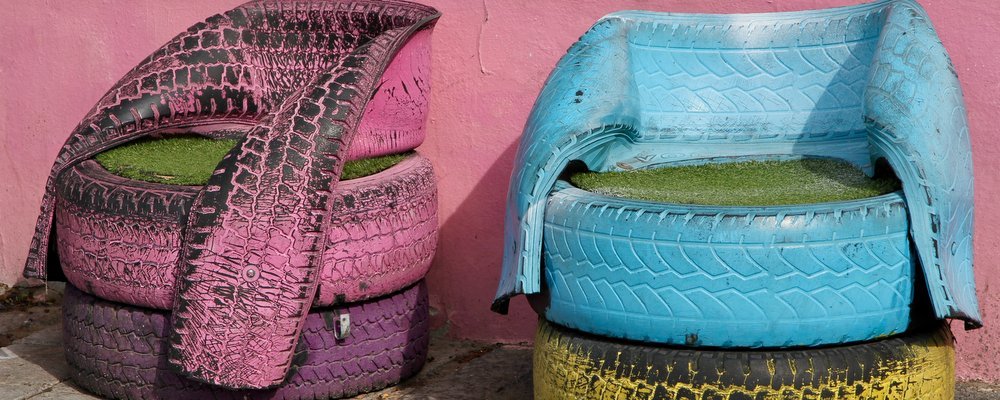 Putting old tyres to good use! These loudly painted tyres sitting outside Charley's Bakery show that nothing goes to waste.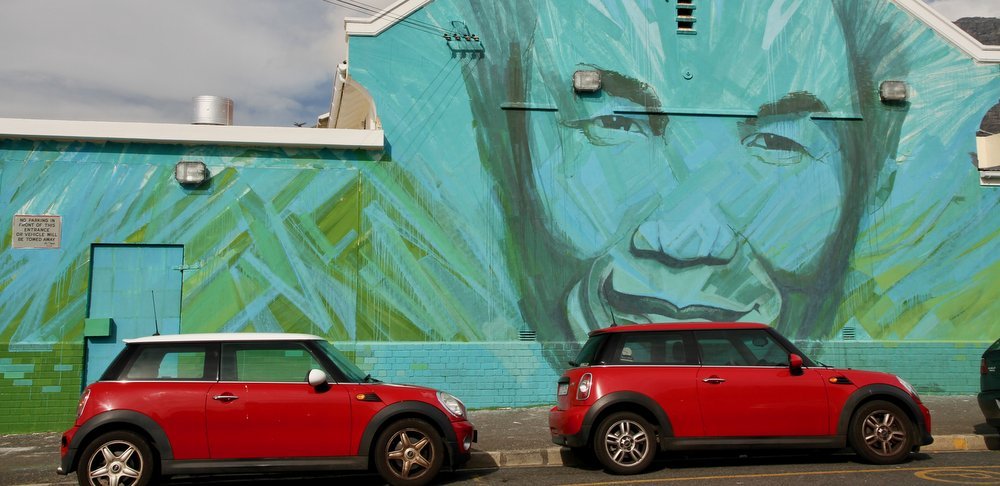 An immense and personal tribute to Nelson Mandela, the owner of Charley's Bakery had a local artist create this vision on a building opposite Charley's Bakery.
---
Gail Palethorpe, a self proclaimed Australian gypsy, is a freelance writer, photographer and eternal traveller. Check out her website Gail Palethorpe Photography and her Shutterstock profile.
---