Tasmania is home to some of Australia's most impressive views, and nature-loving tourists swarm to immerse them selves in this picturesque paradise. Think National Parks galore, spectacular coastlines and opportunities to get a glimpse of the elusive Southern Lights – and that's just the beginning. Join us for a journey through some of Tasmania's most impressive natural delights and start dreaming of your next destination.
Inverawe Native Gardens
Located just 15 minutes from Hobart, Inverawe is Tasmania's largest landscaped native garden, and easily accessible for travellers of all fitness levels and ages. Enjoy 22 acres of native plants, 102 bird varieties (including some rare finds) and some serious serenity that's often hard to find (especially so close to the city).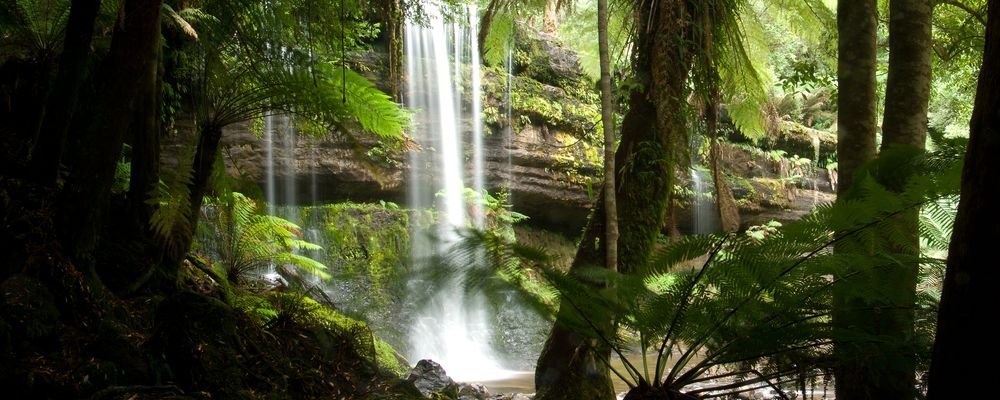 Mt Field National Park
Wake to the sound of rushing rivers, explore wondrous walks, and visit Tasmania's most spectacular waterfall – Russell Falls. Boasting towering trees and fern forests, Mt Field National Park is one of those places where you'll forget that the world outside exists. Hiding amidst it all is Mount Field National Park Campground, a small and majestic camp ground near the entrance of the park by the river and the perfect place to soak it all up.
Cockle Creek, Southwest National Park
Sitting upon the pristine Recherche Bay, at the most southerly point of Tasmania in Southwest National Park, Cockle Creek offers spectacular scenes of sandy beaches and snow-capped mountain peaks. Just a two-hour drive from Hobart, it also offers a rich history – including Aboriginal sites, gravestones, ruins and abandoned tramways, which provide the perfect backdrop for adventure. There are plenty of rustic camping options at Recherche Bay Nature Recreation area that take advantage of the abundant nature surrounds, and walkers will Recherche Bay Nature Recreation love the five-hour walk to South Cape Bay, where majestic views of the Southern Ocean await.
Cradle Mountain, Lake St Clair National Park
Some of the most social media-worthy views can be found right here at Cradle Mountain – the land of rugged mountains and sparkling lakes. There are plenty of walks for every level, but the best views are on the famous Overland Track, a 65- kilometre hut-to-hut walk recommended for only the most experienced trekkers. Accommodation options are few, so make a booking in advance.
For a rustic experience inside the park, book a cabin at Waldheim, or there's the Discovery Park at the entrance, which offers all the usual camping and caravan options. For something more luxurious check out Peppers, which is also home to the indulgent Waldheim Alpine Spa – perfect for a post-adventure soak.
Bay of Fires
Hopping along bright orange boulders, enjoying invigorating dips in crystal clear waters and snapping some scenic shots are just some of the attractions of this pristine coastline that stretches 50 kilometres from Binalong Bay to Eddystone Point. At Binalong you'll find campgrounds galore, but if you're craving something a little more indulgent you can check out Bay of Fires Bush Retreat for an extra special glamping experience.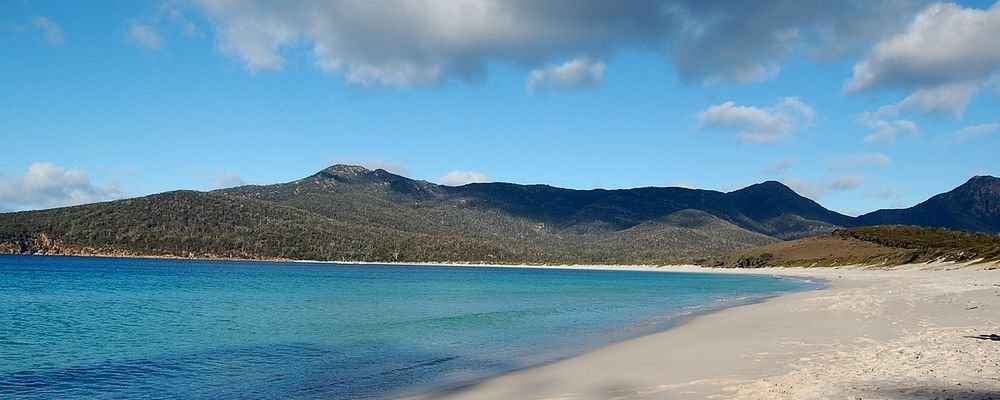 Freycinet National Park
Pink granite peaks that glow during sunrise and sunset, white sandy beaches and lovely lagoons are just the beginning of this picture perfect paradise. There's so much to explore in Freycinet – from mesmerising walks to Wineglass Bay (the main drawcard for visitors), to kayaking around the Freycinet peninsula through natural cliff formations.
Because of its natural beauty and popularity, campers need to enter a ballot system for a chance to stay during peak times (Christmas and Easter). Expect busy-ness throughout the year that's worth a pre-booking. Check out Freycinet Camping Information and Freycinet Visitor's Centre for details.
Hastings Caves and Thermal Springs
The top pick of Tassie's cave systems, Hastings Cave and Thermal Springs is home to a subterranean wonderland that holds a rich history dating back millions of years. You can also take a dip in the 28-degree hot springs while enjoying some of the best views Tasmania has to offer.
Satellite Island and Bruny Island
Famous for its star-gazing, visitors to Satellite Island (off the coast of Bruny Island) need to rent the entire island to experience a stay, which starts at around $2000 a night. Some would say it's absolutely worth it, but more budget-conscious travellers will also delight in a visit to Bruny Island, which offers vast ocean views and starry skies. You may even be lucky enough to spot an aurora.
---

Jessica Humphries is a writer, yoga teacher and passionate traveller. After studying philosophy and immersing herself in the Sydney corporate world, she threw it all in to become a yoga teacher/writer, relocating to the lazy Northern Rivers to enjoy life. Jess has taken many a travel sabbatical and continues to jet around to scope out the best wellness escapes and yoga goodness, whilst working as a freelance writer, editor, copywriter and yoga teacher. See her own travel blog at www.jesshumphries.com
---