For those that love to sip, slurp and heaven forbid guzzle some of Australia's finest wines, there are about 60 wine regions to explore from South Australia's Barossa and Clare Valleys to the Hunter region of New South Wales, the Margaret River region of Western Australia and the Yarra Valley in Victoria. There is never any need to go thirsty in the country down under.
Wine has become a part of Australian culture, dare I say as much as its torrid beer swilling reputation. With almost every type of soil and climate to be found in Australia, it is possible for all of the major wine varieties - think red, white, fortified, sweet and sparkling - to be made. With stunning scenic drives, romantic countryside views, endless rows of gnarled vines entwined like lovers and absolutely brilliant on-site restaurants, the vineyards of Australia have come a long way in just 200 years.
Most wine regions have their own annual wine festival; where not only wine tasting is de rigueur, but also local cuisine is highlighted to totally tempt the taste buds. You don't have to be a wine spitting champion at tastings if you have the luxury of sleeping at the vineyard, so read on to find out where you can sip and sleep.
Cape Lodge, Caves Road, Yallingup WA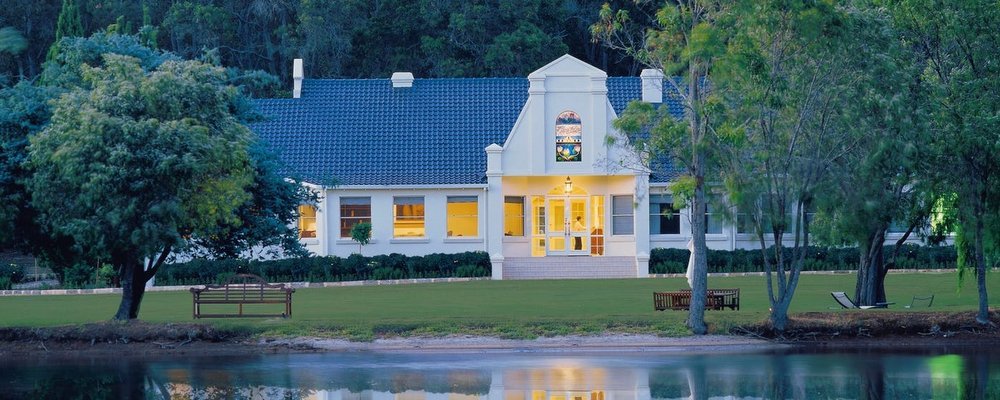 Overnight luxury in the Margaret River region associated with Voyager Estate Winery, Cape Lodge is the ultimate slice of heaven for "oenophiles" (aka wine lovers) offering 22 indulgent suites and a 5-bedroom private residence. Sitting only moments from a magnificent coastline and swathes of forest, it is surrounded by over 120 wineries such as Moss Wood, Cullen, Vasse Felix and Leeuwin Estate. Cape Lodge is one of Australia's most sublime boutique vineyard stays where you can become a total glutton for all varietals and indulge in a gourmet cooking class to clear your head. If sweating over a stove doesn't appeal, the award winning Cape Lodge Restaurant will stave off the hunger pangs with its seasonal menu.
Tower Lodge, Pokolbin, Hunter Valley, New South Wales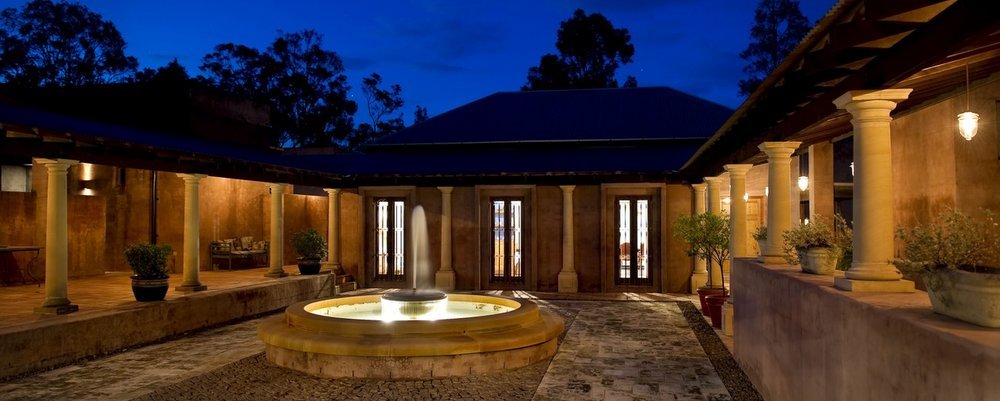 The last venture of the wine wonder known as "the godfather of the Australian Wine Industry" Len Evans AO OBE who passed away in 2006, Tower Estate is a testament to his life of being a wine judge, taster, teacher, ambassador and drinker of fine wine. This is where the famous Ellen Evans Tutorial (invitation only of course) for future wine judges is held. Tower Estate is comprised of the Tower Estate Winery, Tower Lodge accommodation and the fine-dining venue, Nine. A member of the exclusive Relais & Chateaux group, this 5 star lodging is unparalleled offering only 12 exquisite guest rooms for a lucky few. Housed in a Spanish mission-style building, there is a library, a meeting room, bar and lounge plus an impressive number of recreational facilities where you can play. Tower Lodge is for the discerning soul who wishes to sleep in a 300 year-old four-poster bed, wants ice cream delivered to the door at 3am, breakfast in bed or to gawk at a Picasso.... apart from indulging in world famous wines.
The Louise, Barossa Valley, South Australia

Another pinnacle of luxurious wine stays; The Louise is the jewel in the crown of the Barossa Valley where you will be surrounded by the gentle breasts of hills and hundreds of acres of vines. Elegantly casual with a definite accent of stylish panache, The Louise is a member of Small Luxury Hotels of the World and Ecoluxury Retreats of the World. It is a must stay for those into a touch of luxury, fine food and plenty of wine. Its award winning Appellation restaurant serves locally sourced produce with a daily changing tasting menu and an extensive wine list for those times when you don't wish to venture out into the wilds of over 100 wineries. Private wine tastings and winemaker introductions can be arranged, as well as helicopter rides and hot air ballooning. Do make sure you venture out of one of the intimate 15 suites for the famous Barossa Farmers' Markets.
Chateau Yering, Yarra Valley, Victoria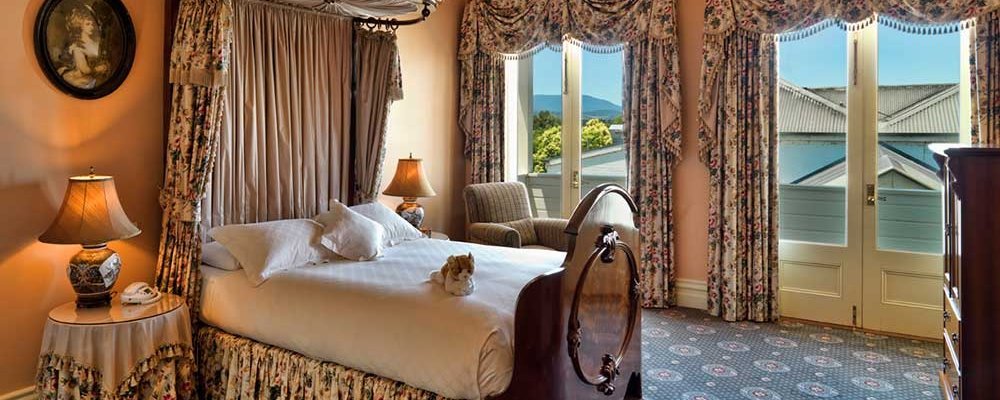 Subdivided from the Yering Station winery 15 years ago, Chateau Yering Historic House Hotel belongs to the Relais & Chateaux hotel group. A heritage-listed Victorian mansion, it offers 32 lush suites for those into a bit of self-indulgence with glorious wines on the side. Sitting on a grand 250-acre estate, its exclusivity demands decadence of the refined kind. Sumptuous meals can be had at the hotels gracious and much awarded restaurant, "Eleonore's" before or after you head off into the yonder to contemplate which of the 70 cellar doors you will invade. The Yarra Valley is world famous for its wines and vibrant community that has a rich cultural and architectural heritage, not just acres of vines.
Mona Pavilions, Moorilla Estate Vineyard, Tasmania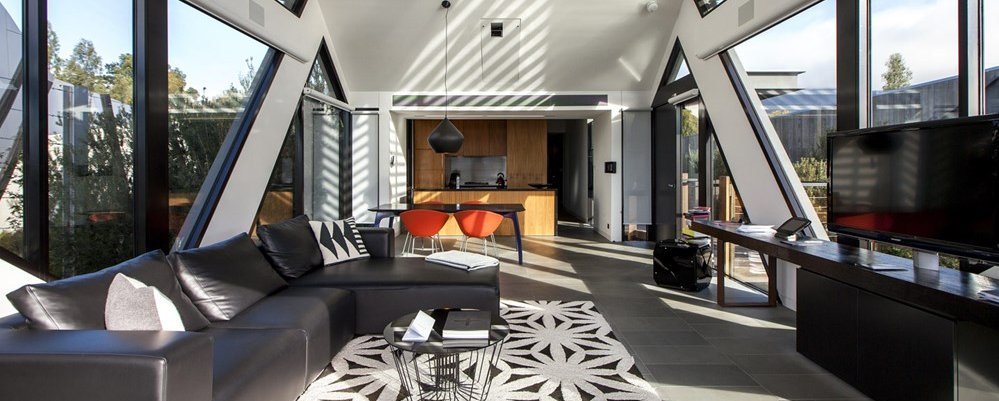 Tasmania is known for its cool-climate wines and sitting on a private peninsula only 15 minutes from Hobart, is Mona Pavilions. It is a part of the Moorilla Estate vineyard, which encompasses The Source Restaurant, the Museum of Old and New Art (it is home to the largest private art collection in Australia), the Moo Brew Brewery and vineyards dating back to 1958. When you forget to spit at one of the too many wine tastings, you can sleep it off in 1 of the 8 stunning pavilions, which feature spa baths, artworks that will take your breath away and stunning views across the Derwent River. You will be able to grab a seat at the sinful wine bar and shamelessly indulge your thirst for knowledge with wine experts, whilst sipping the local vino. This is the perfect place for wine devotees, aficionados or connoisseurs plus admirers of superior grapes.
---
Gail Palethorpe, a self proclaimed Australian gypsy, is a freelance writer, photographer and eternal traveller. Check out her website Gail Palethorpe Photography and her Shutterstock profile.
---