A wistful, breezy enclave to call your own, Sea Pavilion is a 6-bedroom handcrafted beachside home that oozes charm and serenity. Sea Pavilion is located in the laid-back village of Port Douglas, only an hour north of Cairns along the meandering coastal stretch of the Captain Cook Highway. Anticipation builds as you drive this highway and understand the meaning of the ancient rainforest meeting the sea. The road has been gouged into the curvy seaside landscape like a fringing ledge. The landside is flush with tropical jungle clinging to hilly precipices of massive strewn boulders. During the summer months, cascading waterfalls tinkle over mossy rocks in an attempt to empty into the sea. On the other side is a panorama of aquamarine waters at high tide that give way to golden sand cays and almost artfully arranged mangrove clusters at low tide. In the distance, the finger of land where Port Douglas is located juts out in a hazy vision.
Sea Pavilion is the perfect enclave for families to gather together, groups of friends, or the generations of one family. The Balinese design that was developed over centuries following Hindu influences is showcased in the Sea Pavilions. Free-flowing separate bedrooms with luxurious ensuites meld in harmony with the lush tropical environment. Vibrant red lipstick palms, decorative blush-red cordyline flowers, the native croton's orange-red-green patterned leaves, and the startling yellow and reds of heliconia plants that line the breezeway. You can almost hear the natural timbers in the building breathe.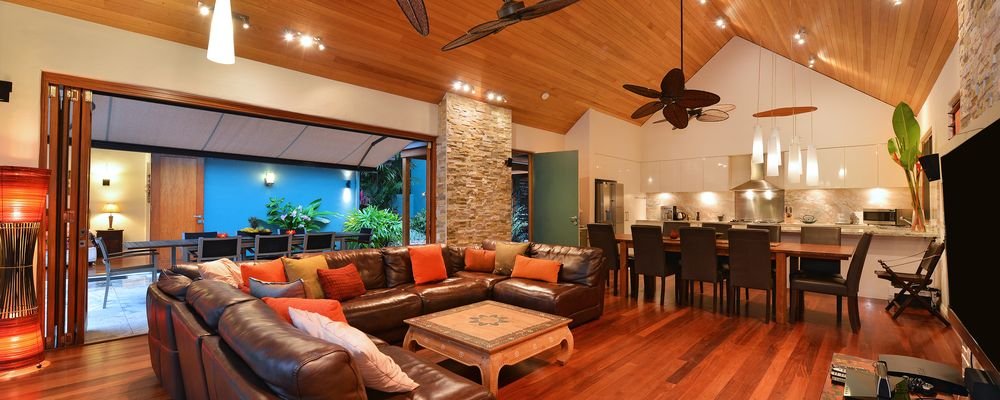 Spirituality permeates the spatial divisions and organization of the separate structures culminating in a communal-based open-air kitchen/living/dining/pool area.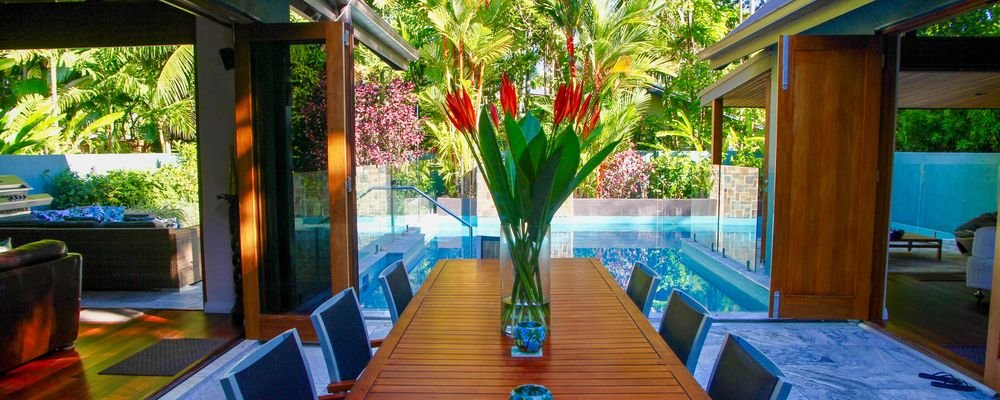 A large dining table graces the open-air walkway dividing the space yet flowing into the main bedroom. You can literally roll out of bed and into the pool in the mornings. With an overhead roller-blind that can be raised or lowered with the touch of a button over the table, full shade during the steamy midday can easily be changed to open skies studded with stars at night. The whole retreat of spacious—sometimes secret nooks—is encircled by a wall, so no evil spirits will invade. The moment you shut the gate at the entrance, you are in a world of your own. Decorative Balinese statues grace private spaces. A solitary guardian is standing over the pristine pool water heated during the winter months of June through to October.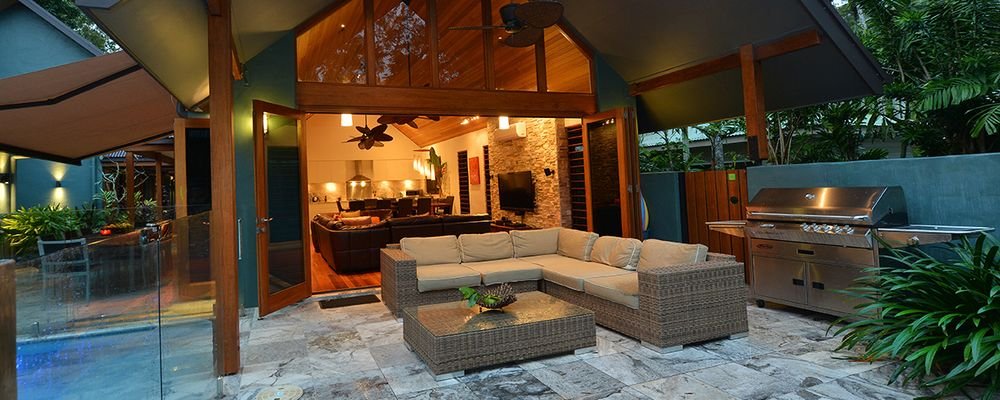 Offering more than just total privacy in beachside chic, nothing has been neglected to ensure your holiday is exactly what you have dreamt of. From the Nespresso coffee machine (complete with pods) to an equipped pantry of mundane but necessary items, you will have time to relax upon arrival before doing a grocery shop, if you wish to cook either on the barbecue by the pool or in the well-appointed kitchen where granite benchtops complement the wooden tones of stunning high ceilings. Two dishwashers provide ample space for cleaning up after family dinner gatherings, and a dedicated wine fridge will ensure that your wine is kept at the perfect temperature. A sumptuous leather lounge provides plenty of room for several bodies in Foxtel viewing mode. If you can't stay disconnected, WiFi is available throughout the property.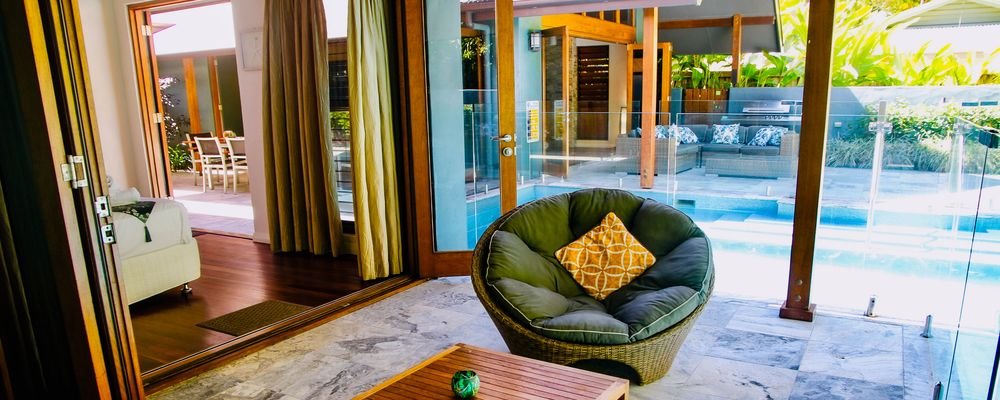 There are five bathrooms, so you won't have to worry about hurrying your ablutions and a well-equipped gymnasium for those who like to exercise in private. Basically, the entire house is wheelchair-friendly. The swimming pool is enclosed with a glass wall and childproof gates to prevent little bodies from jumping into the water when unattended. The double car garage is perfect if you decide to hire a car while on holiday or have driven to Port Douglas from your own home. Alternatively, you can take advantage of a local shuttle or taxi whenever you wish to go to town. It's about ten minutes by car or forty minutes strolling along Four Mile Beach, less if you choose to pedal a bike along the sandy foreshore.
About five seconds from the front gate you can get your feet sandy walking through the beach track that opens up into a panoramic view of Four Mile Beach.
Pick your dates and book directly online at Port Douglas Accommodation.
---
Gail Palethorpe, a self proclaimed Australian gypsy, is a freelance writer, photographer and eternal traveller. Check out her website Gail Palethorpe Photography and her Shutterstock profile.
---