Getting to Know Liz of Fly Isabella
Our latest Wise Traveller blogger interview is with Liz Stark of Fly Isabella. We caught up with Liz to find out a little more about her blog and the destinations that she has visited as part of our series that aims to find out more about the people behind our favourite travel blogs.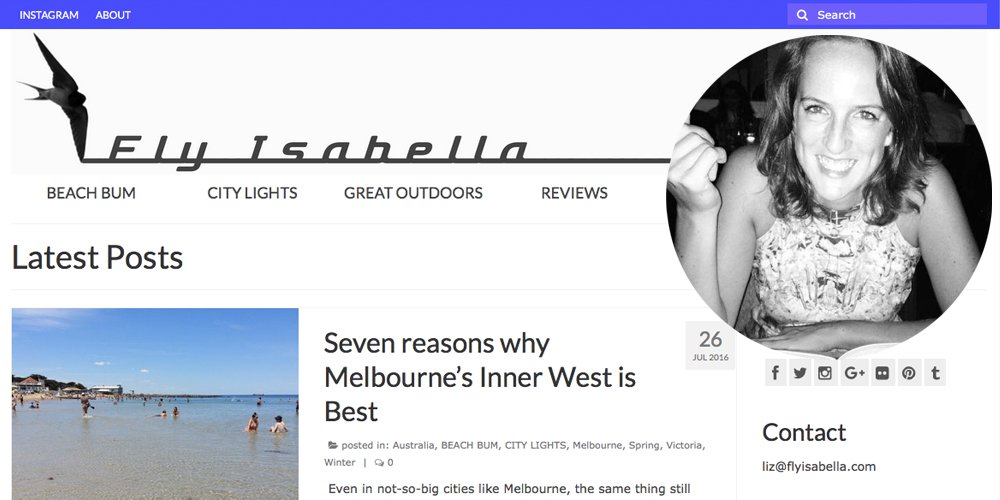 Let's meet Liz
Liz has been travelling since she was eighteen and took a year out before university to soak up the cultures of Australia, Thailand, Bali, Cambodia, Laos, Vietnam, Sumatra and Singapore. Upon returning, she was very much hooked on exploring the world and has been travelling as much as possible ever since.
Rather than staying in five-star hotels and ticking off the most obvious tourist destinations, Liz likes to dig a little deeper and enjoy the places that she visits as a local would. Her aim is to see everything that is worth seeing in the world during her lifetime – a goal that has taken her all across the globe.
Liz also enjoys setting herself challenges, and recently resolved to visit a different European city every month for a year with a strict budget in place. She juggles her travels with a career in Digital Marketing, and is soon to embark on a Masters Degree.
Getting to know the real Liz
We asked Liz a series of questions to find out more about her travel experiences:
Q: Where is your favourite destination and why?
I absolutely love Spain, no matter what time of year or where in the country I visit. I loved Malaga at Christmas; Barcelona's enviable link with Gaudi; Madrid's energy; and Valencia's beauty. The people are incredibly friendly and I enjoy the Spanish lifestyle as well as (trying to speak!) the language.
Q: What has been your worst travel experience?
I honestly can't recall any particularly bad experiences. Positivity can be key to long-haul travelling! My worst was probably eating a burrito with sour cream at a cinema in Antigua, Guatemala. Except this 'cinema' was just a dark room in someone's house and this burrito had me running back and forth to our shared outdoor toilet for the next 48 hours. You don't want more details, but needless to say I missed a planned volcano climb the next day. Perhaps being bedridden was a lucky escape.
Q: What was your most memorable, inspiring or life changing travel moment?
Until a few years ago I had no particular inclination to travel and see America. Then I spent an unforgettable five months visiting 30 states and three cities in Canada. The National Parks in particular completely blew my mind. The beauty, scale, wilderness and power of nature are something I'll never forget. Yellowstone is a must. I'd love to go back specifically to spend more time hiking in the Parks.
Q: If you could only give one single travel tip that you think would be the most helpful what would it be?
Always pack as light as you can! No matter what the destination or occasion, you simply don't need all of that stuff. If you're an organised person who writes lists or packs in advance, still do this but then halve the contents. I always travel with hand luggage only.
Q: Your favourite travel related quote?
Fashion designer Diane von Furstenberg said, "I get ideas about what's essential when packing my suitcase". I like the simplicity of this. I agree embarking on travel makes you think about where you are right now and where you are going, as well as what you will come back for because it's important to you.
Q: Who are your 3 favourite travel bloggers and why?
I try to follow a lot of travel bloggers, primarily for inspiration, so this changes all of the time!
Q: What, if any, is the one thing you would never travel without?
I suppose these days it's my phone. Which is also kind of sad! I do love to take photos though and the reality is mobiles are just so useful.
Q: What was the single most influential moment that drove you to travel blogging?
My memory, or lack of. It really is useless. I was finding that friends would ask, "Oh, you've been there ­ what should I do?" and I couldn't remember any of the details. I wanted to share sightseeing, accommodation and restaurant tips. I tend to explore a place quite exhaustively and I knew I could help a few others with the best bits they should see ­ as well as what not to bother with! Basically my blog is a very visual journal.
Q: What advice you would give someone wanting to become a travel blogger?
Do it! It's a great experience, even if you don't sustain it for long or get much traffic. Learning how to manage a website, keep on top of social networks, write copy and understand analytics are all invaluable skills. Just be realistic too ­ it can end up pretty time consuming and very few make any living from it. It should be your passion not your income. If you're really serious about revenue, I would suggest identifying and owning a really specific niche.
Q: Which social media channel do you think helps your blog most?
Personally I love Instagram, but it doesn't drive website traffic. Facebook currently works best for me despite my smallest following, but this is clearly my friends! Twitter is good for blog rankings as many tools use number of retweets to gauge influence. I use Wordpress.org, but the Reader for Wordpress.com hosted sites seems to drive a lot of engagement between bloggers if you pick this platform.
Q: What do you do when not travelling?
I'm actually about to embark on a full­time MA in Landscape Architecture, so the blog may have to take a back seat for a while! Not only am I going to be able to afford less travel, I'm not sure I'll have time.
Q: Who is your target market?
I write for people like myself, so budget conscious independent travellers who are more intent on seeing it all than staying in a 5* hotel. My passions are enjoying the culture and buzz of cities, visiting beautiful beaches and exploring the great outdoors.
Q: What is the style of the blog?
Fly Isabella is a personal experience based blog, primarily focused on destinations but occasionally with reviews and tips. I adopted a listical structure as that's how I find that I consume online content. My intention was for people to then plan their own itinerary based on the amount of time that they have. I condense each destination into: three things you really cannot miss, three things worth a snoop, three things to steer clear and one thing I wish I'd done.
Summary
Liz's blog offers a more personal account of travelling than your usual travel blog. Alongside photo-heavy posts detailing her adventures and offering travel tips, she also muses on topics such as 'how to pack' and 'how to find the best affordable accommodation.'
Perfect for those who love to get off the beaten track and explore the true soul of the places they travel to, rather than ticking off tourist hot spots and barely scratching the surface, Fly Isabella offers tips for discovering the very best secret spots.
Live like a local when travelling the world with Liz's comprehensive and fun-to-read guides to places as far-flung as Montana and Montenegro.
You can also find out more about Liz at Fly Isabella 'About'
Wise Traveller Rating

| | |
| --- | --- |
| Blog Type | |
| Overall Content | |
| Overall Quality | |
| Overall Engagement | |