Club Med Kani is a very convenient resort in The Maldives that does not require an additional internal flight once you've arrived in the country at the international airport in Male. Unlike many of the others. Although our wait for the transfer was a little longer than preferred the trip out to the island was 35-40 minutes in a comfortable speedboat across a picturesque ocean.
Appearance
This is a tropical resort and looks just like it. You are dropped off at a long jetty that allows you to take in your new environment as you make you way to the central reception area and a small court yard that offers access to all the resort facilities. If you look hard there is a little wear and tear going on, but in general it is a small and pleasant resort in a more rustic and presumably local style than you might expect in one of the glitzier resorts.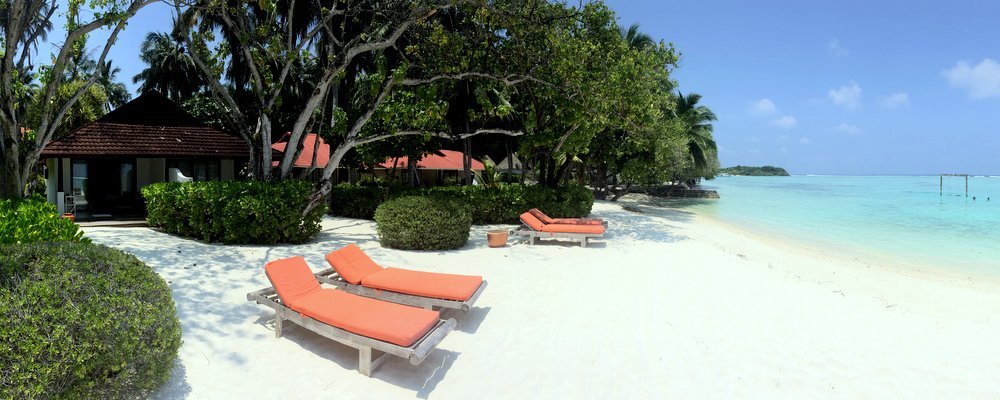 Accommodation
Number of Nights Stayed: 8 nights
Type of room booked: Deluxe Beach Front Room
The room was spacious and had all that was required whilst facing the beach and ocean. The bathroom was very private and included both indoor and outdoor shower options. The room was certainly well maintained on arrival and by housekeeping during the stay. The king size bed was firm and very comfortable, and included a daybed, in our case turned into a single bed for our 9 year old son. Air-conditioning was efficient, but don't hesitate to just open up the sliding doors for the gorgeous ocean breeze.
Outside facing the beach were two sets of sun lounges, one set in the shade immediately outside the sliding doors and the second set on the beach where you could happily enjoy a little sun worshipping.
The room included a minibar which was stocked with a nominal range of soft drinks and some simple in room tea and coffee facilities. Presumably designed to keep cleaning down and encouraging guests to enjoy the various food and beverage options within the resort instead.
Even though the villa rooms were fairly close together, it was always quiet if you wanted to escape to your private area. And our particular room was away from most of the activities, so the only beach traffic was usually the neighbouring guests.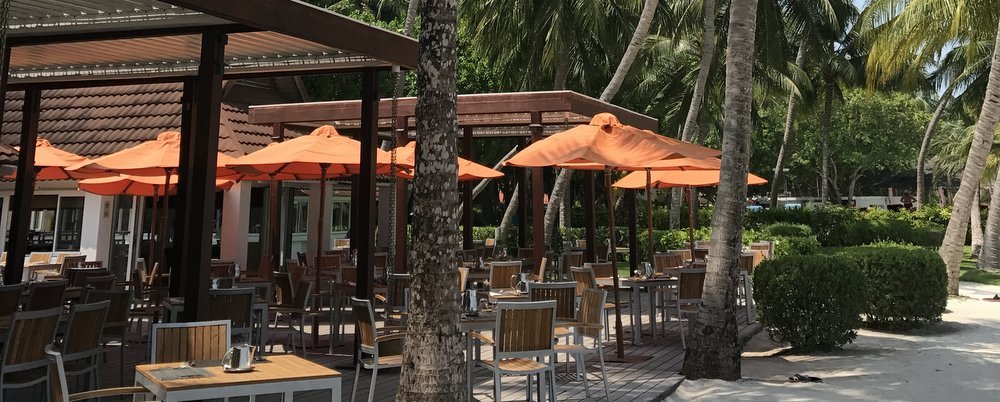 Restaurants & Bars
Club Med generally does food and beverage well, and Kani certainly didn't disappoint. The main restaurant, The Velhi, used for breakfast, lunch and dinner is a buffet style offering a wide variety of cuisines and has a great outdoor seating area for you to enjoy the tropical environment. The menu changes daily and be sure to check the daily specials (including lobster), although usually these are a little extra.
Each evening, in typical Club Med style, dinner are themed to offer some variety and interest, with lobster nights, white nights, seafood barbeque plus a number of others.
The Kandu is a smaller restaurant on the other side of the resort offering a late breakfast and an a-la-carte style lunch and dinner. This is a little more relaxed and much smaller offering a more refined experience. If you manage a table on the water you can watch, fish, turtles, sting ray and small sharks swimming around while you dine. This became our preferred option as it was a little quieter.

For bar options there is The Sunset bar, very relaxed on the beach and The Iru, a bar next to the Kandu restaurant. This again offers a less beachy evening drink. All drinks are included and there is a great range of higher quality options available if you wish to splurge a little or want to have a special celebration.
Room service is an option however the size of the resort facilitates easy access to all amenities and it would frankly be easier and more convenient just to go to one of the restaurants or bars. We did on many occasion brings drinks back to the villa to relax on our sun lounges.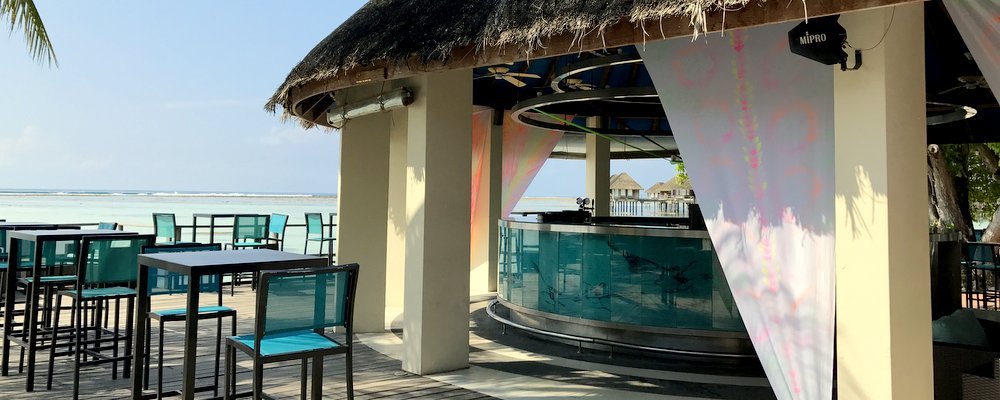 Available Activities
There is the opportunity to enjoy a sunset cruise specifically to follow pods of dolphins swimming around the island while you enjoy a glass or two of champagne. These are bookable daily via the Sunset Bar on the beach and surprisingly quiet returning in time for dinner. This is highly recommended.
We also decided on a couple of extra activities including jet skiing around the island and a half day snorkelling trip to swim with turtles in a designated reef sanctuary about an hour away from Kani, another highlight. Turtles are guaranteed, and we also experienced swimming with reef sharks, checking out the giant clams and lobsters and a huge range of fish – with plenty of Nemo look a-likes for the kids.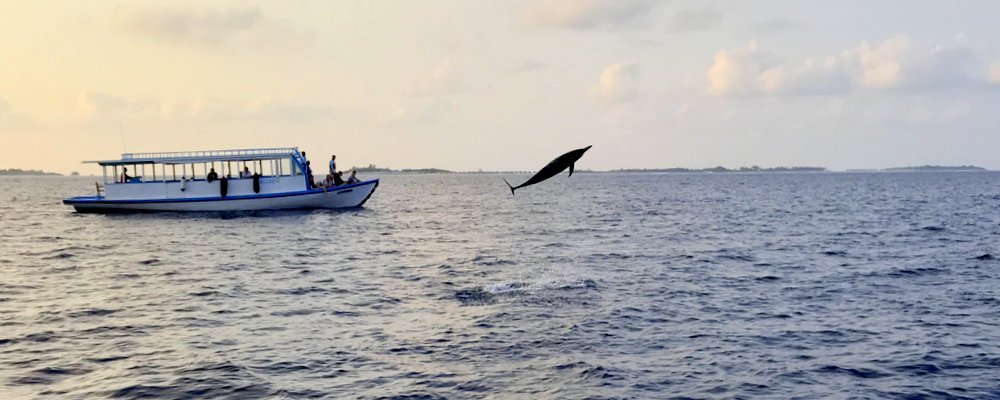 The guides were excellent and looked after the kids ensuring everyone got to enjoy as much of the reef as possible whilst maintaining safety & rightly ensuring you keep your distance from the coral and fish (for the ecological reasons).
There are plenty of other activities available such as sailing, snorkelling around the island, paddle boards, wind surfing, canoeing and day trips into Male. Paid for options include paragliding, jet skiing, private island lobster picnics, scuba diving, fly-boarding among a range of others.
Like all Club Meds there are various daily activities scheduled for those that wish to do more than simply lounge around. These include nature walks through the island, nightly fish finding expeditions and a variety just for fun activities like crabs racing – a lot more enjoyable than it sounds.

Fitness and Wellness
Keeping fit among all the eating and drinking is also achievable with a variety of options on offer. The gym is built on the beach and looks directly out on to the lagoon offering stunning views while you do your morning cycle or jog on one of the many machines. There is also a nice run around the island if you wish to get out for that morning jog, but you may need to do a few laps around the island. There are also daily aqua aerobic sessions, yoga sessions, beach badminton, volleyball and football (soccer) options.
For those seeking a little self-indulgence and a more relaxed pace, the spa, located centrally in the resort offers all the standards (plus some) by way of massages, manicures, body scrubs, foot baths and treatments.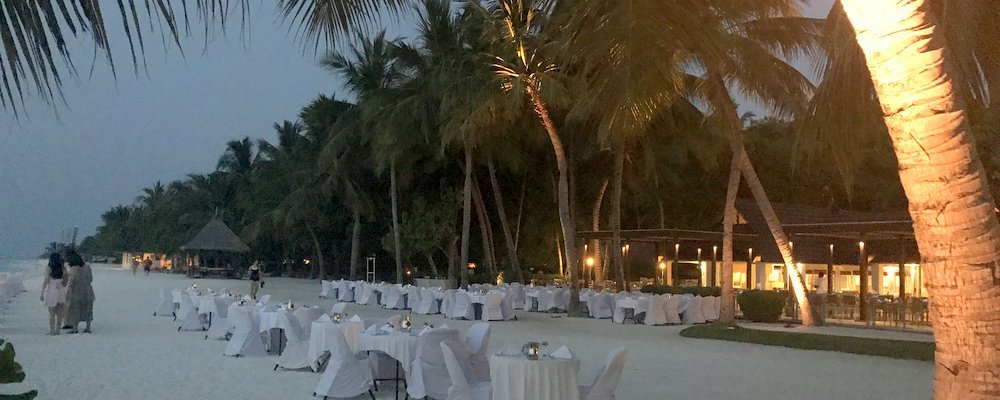 Hotel Staff
Here again Club Med excels, all the staff from the welcome as you get off the boat to assisting with any and all queries are always happy, and nothing seems to be too much. There is a mix of local and expatriate staff and a definite good mix of individuals with multiple languages that can assist. All spoke English and French. The GM, Gillies, was very approachable and would make it his mission daily to chat to as many of the guests as possible. A very affable man he did his round barefoot every day, even when wearing a formal (ish) jacket and tie.
Conclusion on Club Med Kani
The first trip to the Maldives will not be our last. One of very few destinations we've been where reality does look like the postcards. Club Med is not always for everyone, but in this instance, Club Med Kani would be hard to fault it as an island resort holiday option.
The environment, staff, facilities and usual Club Med – look after the guest – approach is hard to beat. It is a resort that accommodates families well but definitely also has adults only options with over water bungalows and even a separate adult only private island for a more exclusive experience – The Finolhu Villas - only minutes away by boat.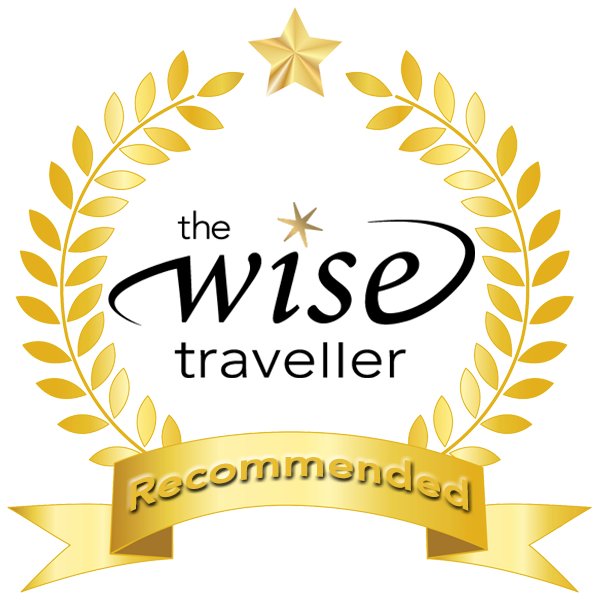 Of the many Club Med's we've now enjoyed this was easily the best and the first experienced with an RFID wrist band that is your room key and your way of paying for extras – so there is absolutely no need to carry any valuables around – ever, other than your camera.
Wise Traveller Star Rating: 10/10
---
Richard Batka is CEO of The Wise Traveller, a some time writer, regular traveller and someone always humbled by the wonders of the world. All images presented are © Batka
---