Speaking the local lingo has never been my forte. My "suitor", Hamid, told me to go to a certain cafe one day that only the locals frequented, but he forgot to mention that no one speaks English there. After a frustrating half hour waiting to be served, I ended up making a complete idiot of myself as I stood up in the middle of the crowded restaurant yelling out, "Does anyone speak English here?" Met with stunned silence, I eventually got a waiter to comprehend that I wanted an orange juice by pointing to one that was being delivered to another patron. There are times when being coy, just doesn't get results.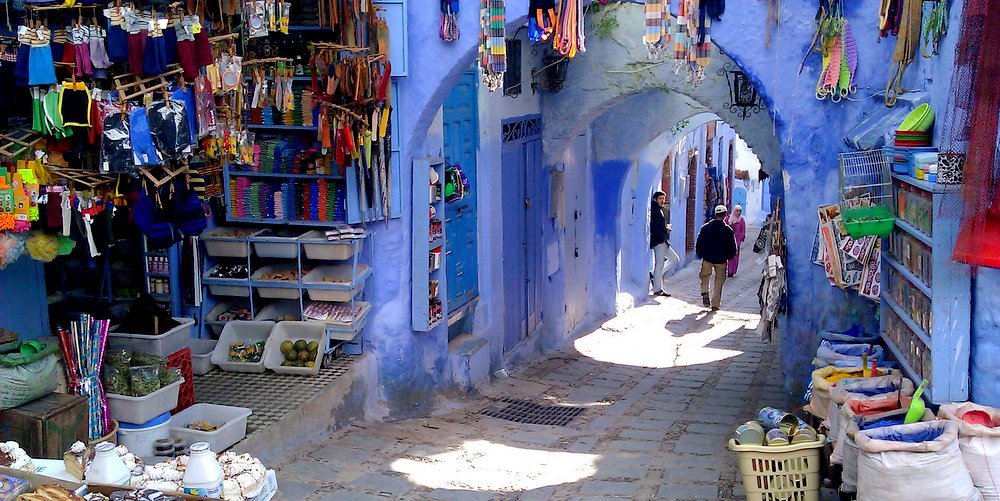 Image: Chefchaouen - Wikimedia Commons
Beasts of Burden
I had a preoccupation with donkeys since arriving in Morocco. Everywhere I went these beasts of burden would be doing their little foxtrot, either loaded up with kids or old men, never women. I decided a ride on a donkey had to be done to complete my Moroccan experience. After numerous tries to even get on top of the donkey brought to me one day, I was unceremoniously thrown on top of the straw saddle by Hamid and led off by a crusty-looking local farmer.
I had to duck my head on numerous occasions to escape being decapitated by hanging vegetables, old toothless men were grinning and giving me the thumbs up in mock admiration, the tourists couldn't believe what they were looking at and the motorists were all laughing. The Berber women were even smiling at me (they usually frowned), as the kids roared with laughter and ran alongside. The donkey slipped going downhill on the old worn and shiny cobblestones in the higgledy-piggledy alleys a few times, which left me in a state of catatonic fear of falling off. But for a couple of hours I provided the town's entertainment.
When I was leaving Chefchaouen, the celebration of Eid al-Adha was nearing and the locals got very busy checking out their meal on hoofs aka cows, sheep and goats, in the daily market place outside the old town. Hamid invited me to partake of their family's festivities, going to great lengths to explain how their goat would be eaten once its throat was cut. After allocating one-third to their own family, one third would be given to friends and neighbors, whilst the remaining one third would be given as charity - to homeless or poor people. The eating of the meat would be done in a strict manner beginning with fried liver for breakfast...at this point I politely declined, stating that I was vegetarian and I was so sorry, but it was time for me to leave the city.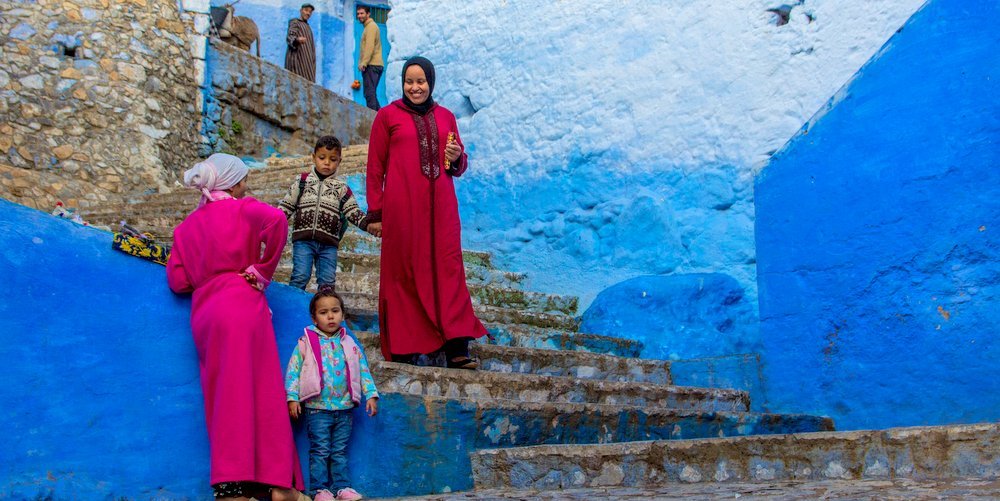 Image: Gabriele Frau @ Flickr
Chefchaouen produces more than half the world's supply of hashish; so for the "discerning" traveller this is a city where you could survive on the region's iconic goats' cheese and hash if you so desired. Throw in some crunchy wood-fired oven baked bread, a chicken pastilla or a tagine (think about 30 different spices exploding in your mouth in one hit) and you have all of the food groups covered for a minimal price.
I was gobsmacked when not a day went by that I wasn't offered some hash. I didn't need it, as the sweet aroma permeated the riad I was staying in 24/7. The other guests would chill out in the living area smoking more than their fair share in the mornings before venturing outside and then again in the evenings, having a toke before going to bed. All I had to do was take a deep breath.
Today Chefchaouen is on many bucket lists and a hot spot for weary travellers looking for some peace and quiet amidst the chaos of Morocco's large cities. You can hike mountains, check out a hash farm, bathe in mountain streams, spend hours trolling through the eclectic boutique shopping or dive into the culinary scene if you are a foodie. Ensure that you learn the art of haggling before buying that hand-woven blanket or shawl, brass teapot or Moroccan slippers that you just must have.
Do remember to always smile and say a heartfelt "shukran"; the locals will appreciate your effort.
How to get to Chefchaouen
There are plenty of buses from Fes, Rabat, Casablanca and Tangier. For the adventurous soul wishing for a true Moroccan experience, share a ride squished into a "Grand" Taxi with other intrepid souls.
---
Gail Palethorpe, a self proclaimed Australian gypsy, is a freelance writer, photographer and eternal traveller. Check out her website Gail Palethorpe Photography and her Shutterstock profile.
---