PLUG ME IN
Short of taking a screwdriver if you had one on you and were silly enough to alter the prongs on your power adapter, remembering to pack an "international" power adapter is like not packing your underwear. Some countries just like to make it difficult when it comes to charging up your gadgets whilst travelling around the globe. From square to round, straight or angled, chances are you won't have the right plug for the hole in the wall.
Today people are travelling with more stuff than ever that needs to be powered up: from camera to laptops, iPhones and tablets to kindles. There are literally hundreds of travel adapters on the market, so how do you pick the right one?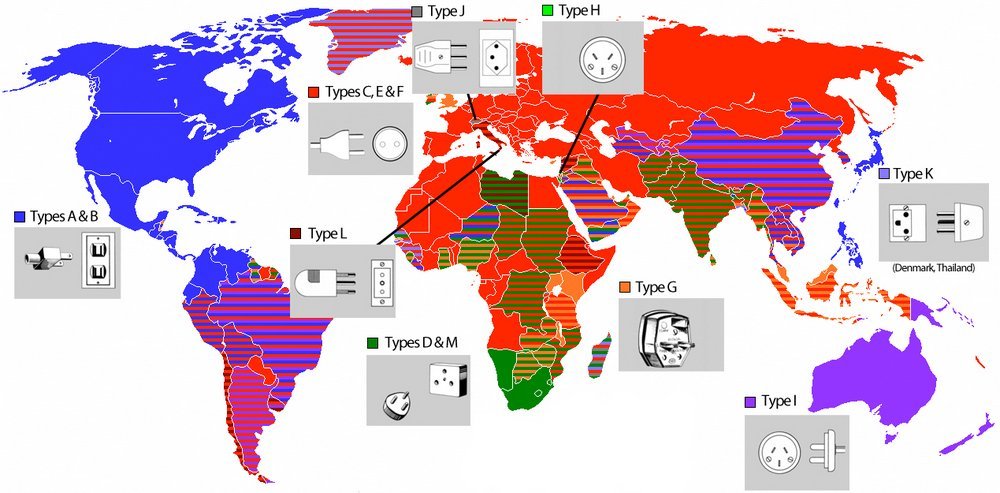 Features to stop frustration and or panic setting in:
Voltage conversion - this may be necessary for items that are not dual voltage. Dual voltage gadgets have a label such as "100/240V". Most adapters do not have a voltage converter.
Universal Plug Adapter - this is talking about the "prongs", as many countries have different types of "holes" in their electrical points.
Compact Size - for ease of packing and in case you need multiple adapters, because you have a plethora of stuff to recharge.
USB plug - this will give you the advantage of being able to charge multiple devices at the same time.
Below are 5 of the best travel adapters on the market:
1. LOOP World Travel Adapter
This one has all of the features that you need and funky colour combinations for those that like a bit of brightness in their lives. A high quality adapter, it has pop-out prongs that will work in 150+ countries including the likes of Australia, Canada, Europe, the UK, the US and the EU. You will have dual USB outlets and an 18-month warranty to make you smile.
2. VLG Universal Travel Adapter
A compact size universal travel adapter, it also will brighten up your traveling life with the color selection available. Best idea is to go for a really bright color so that it stands out in your luggage or from the dark pit at the bottom of your backpack. It even comes with its very own carry case to keep it safe from melted chewing gum or spilt shampoo. There are dual USB outlets plus pop out prongs that work in 150+ countries.
3. Bestek Voltage Converter & Travel Adapter
A favourite amongst the professional travelling fraternity, the Bestek is a voltage converter power strip and the one to choose if your electronic devices are not dual voltage. You get interchangeable plug adapters, 3 USB chargers and 4 USB ports, which will enable you to plug in whilst travelling in 150 countries. You will have a "step-down" voltage conversion from 220 volts to 110 volts if required, but it is definitely not safe to use with high wattage devices like a hair dryer. The voltage conversion element in today's world is not really a necessity, but it will protect your stuff from electrical surges. There is also a more compact version on the market, if you don't want this big mother.
4. Insten Universal Adapter
Value priced with basic features, the Insten Universal adapter has flip-out prongs that will enable you to plug into wall sockets in the US, the UK, Canada, Australia and most of Europe. You only get room for 1 plug and there are no USB outlets. This is totally a no-frills adapter, at a value price.
5. Orei M8 Plus All-in-One Travel Adapters
For the frequent traveller, this adapter comes with a plethora of power plugs so that you can use it anywhere in the world. Use it only on devices with dual voltage, as it does not convert voltage at all. This is an adapter that you can squeeze in your bag, as it has retractable power pins.
Power adapters can be bought on-line, at airports and even at local supermarkets, so don't leave home without one if you intend to go on an international jaunt, unless you want to cut yourself off from the world.