If you have trouble deciding where to go for a holiday, then you will definitely have a hard time picking the perfect bag to hold your goodies in - think delicates or not so delicates in the case of males, enough toiletries to supply a nation, clothes for every occasion including the maybe luncheon date with the Queen and the Imelda Marcos shoe collection. For those that like to cater to every occasion of course they will have a personal Sherpa, but for the well-to-do soul who sticks to their packing list, one simple decadent designer bag is enough. If you didn't bring the whatsit with you, the concierge at the hotel will run out and get it for you.
Do remember that expensive designer suitcases are conspicuous magnets for thieves, so hang onto it even when you are buying your coffee at the airport, you could maybe handcuff it to your wrist. It is all too easy for someone to snatch it and head out the departure doors. Bottom feeders have the perfect reply when questioned if the bag is theirs, "Sorry, I thought it was my roller bag" - in their dreams.
Designer suitcases do have several advantages:
Because they are distinctive, you will probably be the only person on your flight with one - this could come in handy when sorting through luggage at a plane crash scene.
You won't have to contend with a case of "wobbly" wheel mayhem due to the excellent wheel engineering.
They are a "fashion" statement - whether you are stylish or not.
You won't have to carry masking tape around with you in case your bag falls apart at the zipper or seams.
A luxury brand that is a favourite of celebrities "Rimowa" will immediately lift your status amongst the "common" folks.
Many have luggage trackers, so you won't have to worry about your bag going AWOL.
Designer suitcases are functional, beautiful and perfect for those who love the finer things in life and can afford them.
This list of decadence and luxury for the 5 star traveller with a very big wallet who wishes to make a statement waltzing around the airport, at the airport baggage claim or in a hotel lobby. Do make sure you are dressed in your casual Armani with your Bulgari shades on when taking your bag for a stroll, or you may be asked if the suitcase is in fact yours.
1. Gucci Supreme canvas carry-on suitcase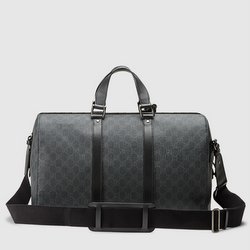 At around the cool 3 thousand US dollar mark, of course it is Gucci, the canvas carry-on suitcase with its trademark leather tag detail in beige/ebony with retractable telescopic leather top handles that will have the conservative wealthy soul weeping with joy.
This is one for the gents and ladies to easily navigate around the airport on its four 360° wheels. Ideal for those short impromptu weekend trips or serious business overnight trips, the Gucci Supreme canvas carry-on has a double zip closure and padlock fastening with a front exterior pocket with magnetic snap closure.
2. Louis Vuitton Horizon 55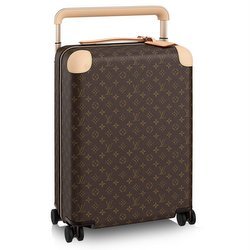 Starting again at around the 3 thousand US dollar mark, the Louise Vuitton Horizon will add a splash of colour and sophistication to your travels.
Combining expert craftsmanship with luxurious leather, this lightweight personally customized (think stripes and initials of your choosing) cabin trolley is for the jet setting globetrotter who wishes to be noticed.
3. Bottega Veneta Trolley In Nero Intrecciato VN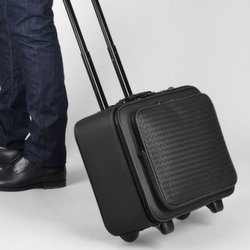 Classy and elegant, the Bottega Veneta trolley was designed with resistance to wear and tear in mind. The suitcase for the intrepid individual who frequently travels, the Veneta Trolley is made out of Bottega's signature VN leather with a detachable internal pouch that doubles as a laundry bag and adjustable straps to ensure that your clothes arrive sans wrinkles.
A favoritie item of Andy Warhol and Jacqueline Kennedy Onassis as well as the odd empress, the handle allows for easy stacking of carry-on bags and will set you back around the 5 thousand US dollar mark.
4. Ermenegildo Zegna Black Pelle Tessuta Holdall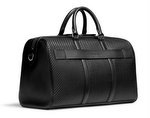 Hitting the high note of a tad over the 5 thousand US dollar mark, the Black Pelle Tessuta Holdall by Ermenegildo Zegna (the fine suit maker), is for the understated person who revels in touching and smelling leather.
Created from smooth calfskin, the sleek black holdall has a detachable leather strap with a hook, as well as two express pockets on the front. It comes with a protective fabric bag to keep dirty fingers off it.
5. Ghurka Trolley military stripe leather rolling trunk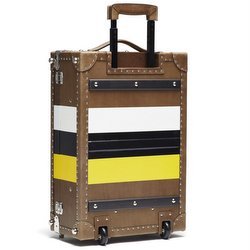 Reminiscent of yesteryear and a true explorer's life, the Ghurka Trolley will make a hole in your budget at around the 7.5 thousand US dollar mark. Morphing design with whimsical aspirations of romantic travel, this leather rolling-trunk displays design harmony in its polished nickel hardware accents, playful colourful stripes and parescoping top-handle.
The Ghurka Trolley is a play on old camping gear used by the British military handcrafted from French calfskin making each piece an individual masterpiece.