The Extremely Challenging Ascent from the Gangotri Trailhead to Tapovan High-alpine Meadow
There is no getting around it; mountaineering in the Himalayas requires an enormous amount of stamina and planning. I had to be as fit as a fiddle for my 10-day, 75-kilometre (46.5 miles) trek and confident to cope with the oxygen-deprived air at 4,700 metres (15,416 feet). Being off the grid meant no electricity, Wi-Fi or telco service, so portable solar panels and power banks were my only options for keeping my cameras operational. Then there was the task of packing the exact combination of clothes for the highly undependable, extended-monsoon weather that might range from -10 to 25°C (14-77°F), with the risk of fog, rain and snow at any moment. The secret was heat-retention, layering and waterproofing. Finally, since showers were out of the question, wet wipes and a few bare essentials simplified our toiletries.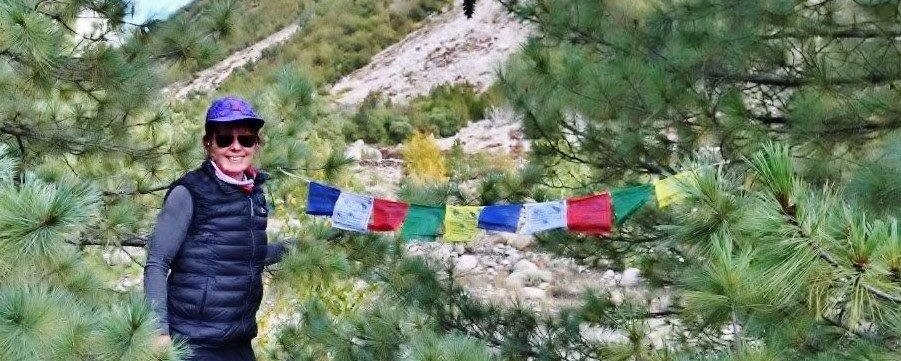 If you have never been on a trek, it is quite unbelievable what all gets hauled up the mountain and how those logistics work. We had hired our guide, chef and assistant in advance, but the porters were assigned at the last minute. Turns out our Sherpas were Nepalese, which really tipped the scales in our favour, as they are adept mountaineers – weathered, sure-footed, unaffected by altitude, always cheerful and capable of carrying backbreaking supplies topping 50 kg (110 lbs). We needed that muscle to lug tons of food, a stove, propane, sleeping bags, inflatable mats, as well as tents for sleeping, cooking and even dining. As soon as the loads were packed and balanced, 5 months of anticipation became a reality and we set off to experience some of the most sacred glaciers and summits the Himalayas offer.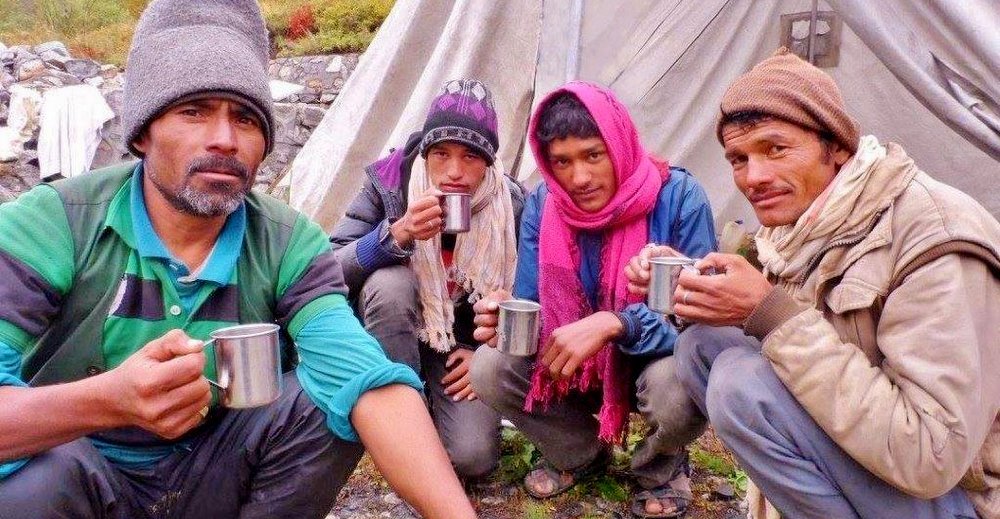 The sun gods gifted us with cobalt-blue skies, which was so uplifting after enduring the peskiest monsoon season in ages. We paralleled the Bhagirathi River, with its gradual rise through lush pines and junipers enroute to our initial camp at Chirwasa, under the watchful eye of the sentinels, Mt. Sudarshan Parbat and Bhagirathi II and III. The route was so remote that we nearly had the valley to ourselves, so I could be fully present to the allure of nature with its mystical essence that has attracted sages, babas, yogis and sadhus for eons. It was magical snuggling into our bags following a long march, undistracted by gadgets, with the primal gratification that we were guests in a very precious and fragile playground.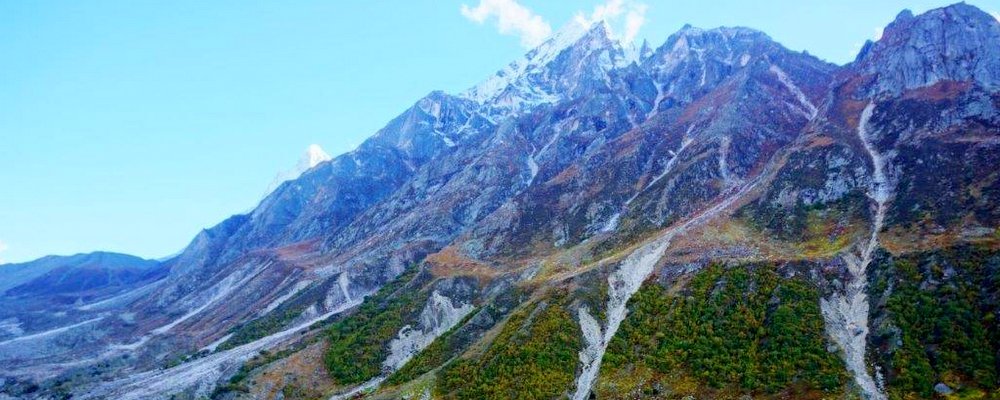 By mid-morning, the forest completely changed, and we passed through silver birch on our ascent to Bhojwasa. As we adopted a nomadic rhythm, the canyon began to further open and we got our first glimpse of towering Mt. Bhagirathi I, Manda I, II, III and Shivling. By far, the trickiest bit was the unstable turf that ranged from simple dirt to sand and rocks – compounded by having to cross three overflowing tributaries with rickety bridges consisting of a couple of logs slapped together with twine. The challenges were all worth it when we arrived at our magnificent campsite, nestled above the treeline, where the stillness was punctuated by the constant thunder of the turbulent and sentiment-laden Bhagirathi River. We had succeeded in escaping civilisation and venturing into the pristine wilderness, where countless stars appeared as night fell, and I was rejuvenated with a sense of wonder.
We had heard day 3 would be our toughest, facing many rockfall areas – including a recent landslide that had wiped out the trail leading to Gaumukh Glacier. Our stocky porters, defying their short legs and onerous packs, were able to boulder hop and skilfully manoeuvre through the chaotic landscape. As I gazed at what was left of the mountainside, I shivered at the thought of running this gauntlet with gigantic pieces of bedrock precariously hanging overhead, an abrupt 150 m (492 ft.) drop into the Bhagirathi on the right, and the constant sound of rubble still thundering in the distance. Compassionately, the mountain men managed to not just traverse the unchartered wasteland, but come back to help us to safe passage.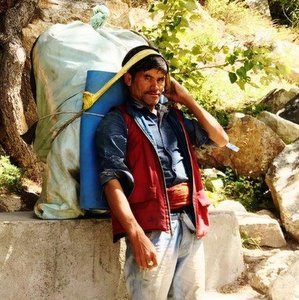 An exceptionally attentive Sherpa was keeping any eye on me – lending a firm hand, a reassuring tone and a hair-raising piggyback ride over the insanely perilous stretches. Though I was, admittedly, way out of my comfort zone, I realised that he knew what he was doing, and in the process endeared me to him. As I mustered my mental acumen, I remembered to breathe and focus on my balance and stable footholds – grateful for my invincible hiking poles, sturdy boots and indestructible gloves.
It was, indeed, inspiring to eventually reach Gaumukh, renowned as a popular Hindu pilgrimage site – now an unlikely gamble for the lion's share of devotees. Sadly, the glacier had been pummelled with so much fresh granite and muck that the icy melt – one of the primary flows into the Ganges River – was now emerging from the left side of the snout, instead from the centre. From the photos, you can see that this is not one of those picturesque blue-ice masses showcased in Alaska, Greenland or New Zealand. On the contrary, we were dealing with black floe shrouded in a thick layer of moraine, comprised of a mishmash of mud and boulders that have perpetually accumulated.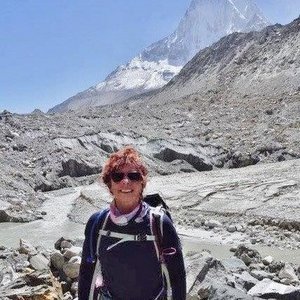 It was no small feat scrambling over the slope, and, once on top, there was no hint of a path with the ever-changing terrain. Crude cairns positioned by fellow adventurers were our sole navigation guides. The arduous 2-hour trudge across Gaumukh tested our physical abilities, yet rewarded us with sweeping panoramas of the surrounding lofty ridges.
With no time to rest, we then focussed on a ridiculously steep 2 km (1.25 mile), 70-degree pitch leading to our destination. Again, there was no track, so the climb up the loose scree entailed fighting tooth and nail to claw ourselves forward. At the end of our dawn-to-dusk, demanding slog, Tapovan ultimately welcomed us with its stunning alpine meadow – chock-a-block with flowers, babbling streams and unobstructed views of revered Mt. Shivling and Meru, as well as the three Bhagirathi peaks and Sudarshan Parbat. The sheer beauty of Tapovan was astonishing and my heart overflowed with joy and appreciation as I marvelled at our haven at the roof of the world.
---
Cindy Payne is a Singapore-based adventure travel writer and photographer who has her own blog Cindy's Travel Tales.
---
All images © CindysTraveltales except for banner image Dan Tasse@flickr