Get your brain into gear and write out a check list if you have to: from the little faux pas such as forgetting a pen on an international trip and having to borrow one from your maybe not so friendly seat companion when it comes time to fill out the arrival forms to let the government know you are putting a foot on their soil, to the big "no no" of sending personal information over the airport's unsecured Wi-Fi. Being disorganized when flying does not make for a hassle free trip.

Below are just a few mistakes that everyone has been guilty of:
1. Travel Clothing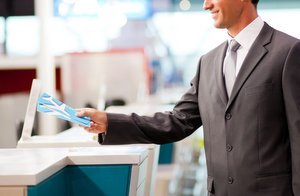 Yes, there is a dress code for getting on a plane and practical choices for getting through security checkpoints more quickly. You are more likely to get an upgrade if you dress up and look as if you belong with the upper echelon of smart travellers, as thongs and a t-shirt won't wash it with the business class. Don't wear anything that is likely to set off the alarms at the security checkpoint, like belts if possible. Wear shoes that are easy to slip on and off so you don't have to worry about bending down with your rear in the air for any length of time trying to get your shoes on - not exactly a delicate pose for anyone.
2. Slap on some Sunblock
Sounds crazy but if you are flying during the day don't forget to put sunblock on your face as 1 hour at 30,000 feet in the sun equals the same amount of radiation as 20 minutes in a tanning bed. Or, you could close your blind and shut out the glare.
3. Luggage - Mark It!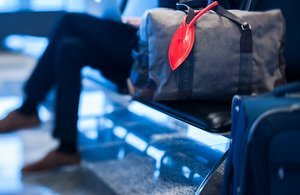 Put your own stamp of some sort - think ribbon, stickers or name tag gadgets - on your luggage, so you don't confuse it with the lookalikes set on confusing you as they bump out of the bag hole in arrivals.
4. Check your bag at the Gate
Only for those that do like to hang around the baggage claim area, many flights will allow you to check your carry-on luggage at the gate. This is helpful if you have a connecting flight and don't want to lug it around the airport. Do ensure that there is nothing in your bag that you may want during the flight and that you did check-in online first.
5. It isn't just you flying
Allow yourself enough time and never count on the fact that there won't be a crowd at the airport. Generally Monday mornings, Friday afternoons, school holidays or any holiday periods, are the peak periods. Either avoid flying at these times all together or be happy with the long queues and the sometimes-grumpy people around you when parking, at drop-off areas and security checkpoints.
6. Check Airport Monitors Regularly for Flight Info
Keep track of your flight via the airport monitors, they can be more reliable than the info on your app, as you don't want to be left sitting in the designated lounge area only to find out that the departure gate number has been changed to the other side of the airport.
7. Cancelled Flights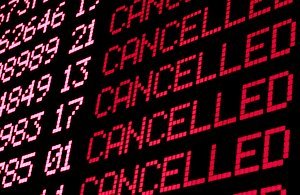 Don't just stand there hanging around, ring the airline on your mobile even if you are waiting in a line at the ticket desk, as there is a good chance you will get through to someone before you reach the front of the queue. You also won't have to engage with a stressed out desk person that is over dealing with angry stressed-out people.
8. Overbooked Flights
Airlines will always increase their offer for passengers to relinquish their seats on an overbooked flight to get the numbers down; so don't accept the first voucher coming your way. If you get knocked off the flight involuntarily, ask for "cash" compensation, instead of a voucher.
9. Carry-on Luggage
This is when size does matter: different airlines have different bag dimensions allowed on as cabin baggage, so ensure that you have the right size bag if you don't want to play Russian roulette with whether your bag is allowed on with you. Always keep your packed liquids (of course in the right sized bottles) in a ziploc bag in an outside pocket of your carry-on or right on the very top, so it can be reached easily at the security check-point. Ditto for electrical gadgets.
10. Check in to your Flight ASAP
Make sure you check in to your flight on-line, as this will save you time especially if you don't need to check in any luggage. You will be able to do a little dance on the way to security bypassing the long queue at the check-in desk, plus you have a better chance of getting the seat that you want and you may even get extra points for doing so.
11. Play Nicely
Kama can be a bitch and if you become angry and abusive chances are a serendipity moment will occur of not the nice kind. Wear a smile and be polite, it will take you far in an airport scenario, especially when it is your turn to need help.
---
Gail Palethorpe, a self proclaimed Australian gypsy, is a freelance writer, photographer and eternal traveller. Check out her website Gail Palethorpe Photography and her Shutterstock profile.
---