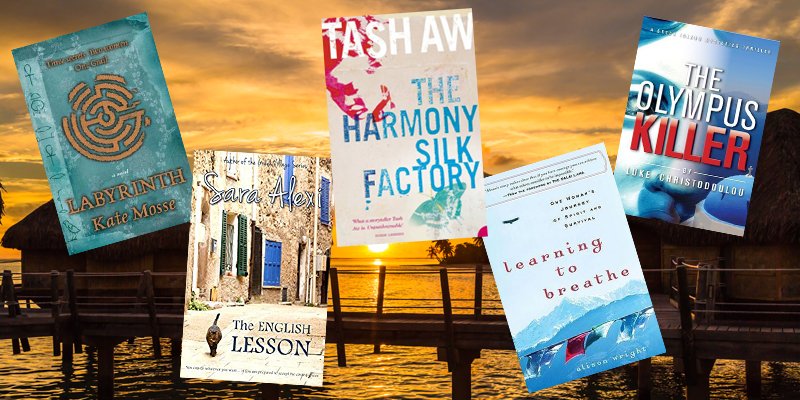 A list of great reads to get a dose of travel inspiration when the Lonely Planet or Rough Guides just aren't doing it for you. These are my personal favorites, not to be confused with Oprah Winfrey's Book Club list.
Labyrinth by Kate Mosse - France
Based in the south of France the story is juxtapositioned between the early 1200s and the current day. The story has it all from war, to romance to mystery steeped in folklore and a fantastical truth. Think the Holy Grail, skeletons in a cave in the French Pyrenees and mystical symbols. This is only one of a series of 3, that if you like a frolicking good read will have you glued to the pages. The other books in the Languedoc trilogy are Citadel and Sepulchre.
The English Lesson by Sara Alexi - Greece
One of the Greek Village Series, there are quite a few of them, but each book will have you roaring with laughter as you read about the quirky people that inhabit a small Greek village and the incessant human interaction where everybody has something to say, whether it is the truth or not. Gossip reigns, arranged marriages still happen and envy will always rear its ugly head.
The Olympus Killer by Luke Christodoulou - Greece
Two detectives, of which one is a foul mouthed food loving individual, chase a sadistic killer that is roaming the Greek Islands leaving mutilated bodies in his wake on pristine island shores. A great read for those into gory murder mystery books.
Learning to Breathe by Alison Wright - Laos
Award winning photojournalist Alison Wright has penned her own memoir of surviving a bus crash on a remote winding mountain road in Laos. This is her tale of how she believed that each breath would be her last and how she survived by relying on years of meditation practice. It is an uplifting book about an adventurous soul overflowing with gutsy moments.
The Harmony Silk Factory by Tash Aw - Malaysia
Sorry guys, but another haunting romance novel set in the 1930s and 1940s during World War II. It is the tale of 4 main characters from diverse cultures and backgrounds that end up in a devastating jungle scenario where cultures clash and emotions run high.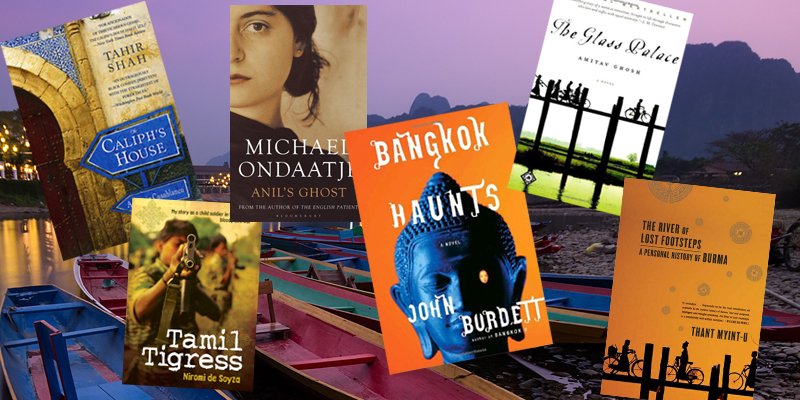 The Caliph's House by Tahir Shah - Morocco
A London family's dream move to the exotic city of Casablanca becomes a frolicking tale that is both hilarious and mortifying as they learn how to adjust to local traditions of mythical proportions, whilst renovating an old abandoned mansion inhabited by "jiins" (aka malevolent spirits). Nothing is as it seems - think exorcism rituals, sacrificial goats and mafia like neighbors.
The River of Lost Footsteps by Thant Myint-U - Myanmar
A personal account based on family stories of Myanmar's turbulent past melded with the present from Portuguese pirates, renegade Mughal princes, British colonialism, World War II and the 60 year civil war to the emergence of Aung San Suu Kyi.
The Glass Palace by Amitav Ghosh - Myanmar
Beginning with the devastation of the Kingdom of Burma, this is a poetic grand love story set amidst social and political upheaval in the late 1800s. When the tide of fortune changes for who was once a young impoverished boy, as a rich man he goes searching for the woman he can't forget.
Tamil Tigress by Niromi de Soyza - Sri Lanka
This is a thought provoking personal account of the author's life as a child soldier in the first female contingent of the Tamil Tigers during Sri Lanka's civil war. It is both a confronting and compelling read of friendship amidst bloody turmoil and the human cost of loyalty.
Anil's Ghost by Michael Ondaatje - Sri Lanka
A mystery read that will have you trying to solve the puzzle presented to a young Sri Lankan woman who has been educated in the West as a forensic anthropologist. An international human rights group send her back to her homeland to identify remains found in an ancient burial site that will have her confronting horrible truths about her birth country and its centuries of tradition.
Bangkok Haunts by John Burdett - Thailand
John Burdett is a master of Thai mayhem, lust and murder in his series of books about the fictional devout Buddhist police detective, Sonchai Jitpleecheep. If you are into gory details and "out there" scenarios distinctly Thai in flavor - think ghosts, bar girls and the supernatural - you will read one book and quickly devour the others, Bangkok 8 and Bangkok Tattoo.
Gail Palethorpe, a self proclaimed Australian gypsy, is a freelance writer, photographer and eternal traveller. Check out her website Gail Palethorpe Photography and her Shutterstock profile.