Photography is a key element of commemorating your engagement or wedding with your partner and, in the quest to create a wedding album as unique and exotic as possible, more and more couples have chosen to combine an overseas trip with an engagement or pre-wedding photoshoot. But there are only so many scenic spots suitable for romantic poses, and if you're well-travelled enough you probably prefer not to be another couple posing at the Eiffel Tower or the Crawley Edge Boatshed.
Thankfully, there's an alternative gaining ground: adventure wedding photography. Instead of making lovey-dovey eyes at your partner, you'll have to brave the elements together, put mutual trust to the test, and see each other at your ugliest - literally. Here's what some couples did to create a memorable album. Crazy in love? You bet.
1. Chase the Northern Lights Together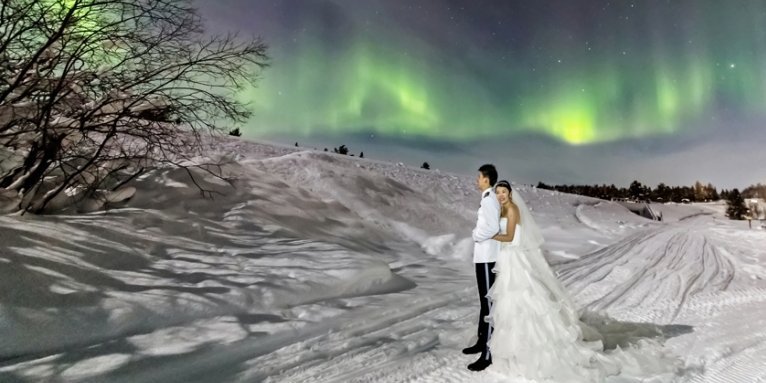 Image: William Chua Photography
Watching the mythical dance of the Aurora Borealis is one thing. Standing in the snow at below-freezing temperatures, in a wedding gown and suit, is another. Still, that's just what numerous couples have done in what seems to be the ultimate romantic setting.
"Sometimes we were shooting at temperatures as low as -26°C," says photographer William Chua, who has led bridal workshops to Norway, Finland, and Iceland for several years. "The couples have to be able to move fast and tolerate the cold, and I prepare plenty of heat packs for them!" If you can handle the cold, though, the results are stunning.
2. Travel like True Nomads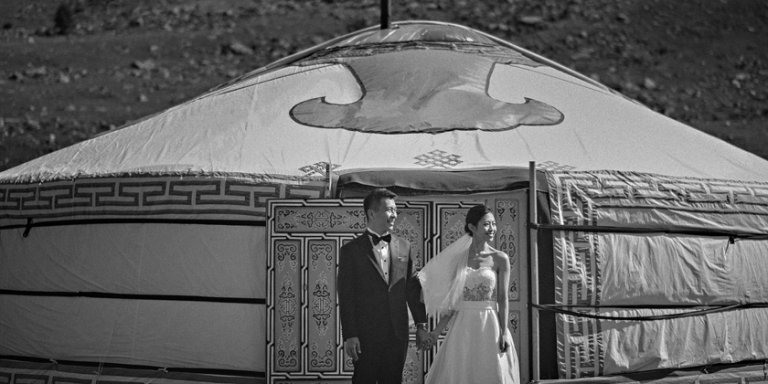 Image: William Chua Photography
Another extreme shoot William shared with us was one that he did in Mongolia, for a good friend and his fiancée. "He fell in love with the country in his younger days, visiting it over 20 times, so when he got engaged he wanted his wife-to-be to see for herself how beautiful it was."
In addition to unpredictable weather conditions ranging from the Gobi desert to mountainous western Mongolia, the long trip meant that the bride didn't get a chance to shower for nine days – not that one could tell from the photos!
3. Get Married with a Rocky Start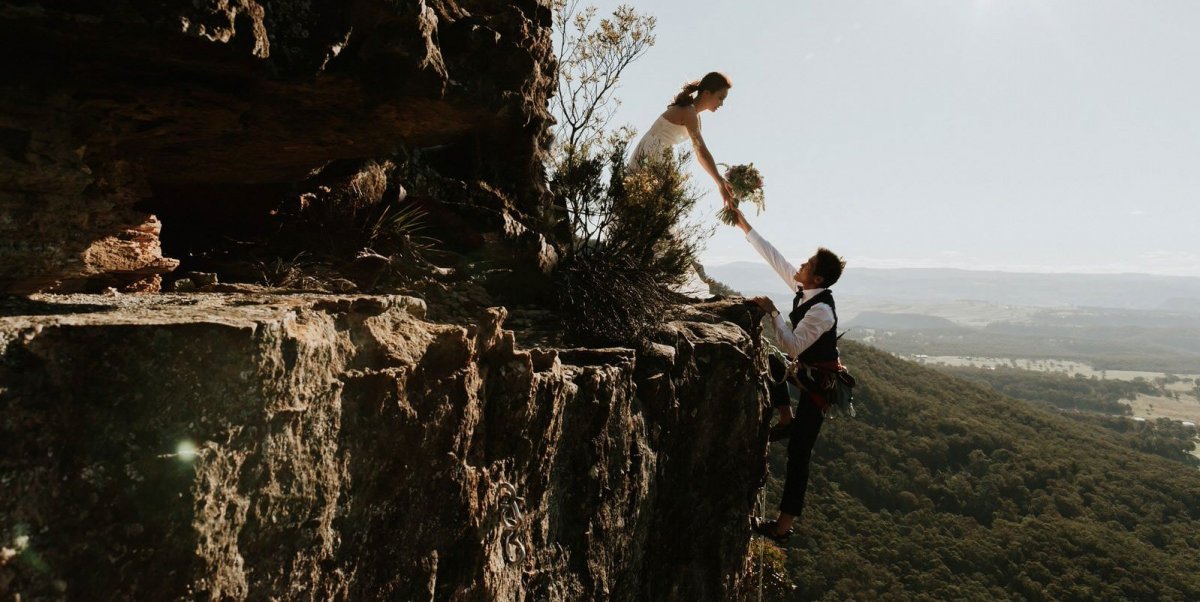 Image: Zoe Morley Photography
For those of you who found your significant other through a shared interest or hobby, nothing beats making it the highlight of your wedding photos. Rock climbing couples have got an extreme edge on this, though, as photographer Zoe Morley found out when shooting this couple in Australia's Blue Mountains.
4. Dive Deep for Love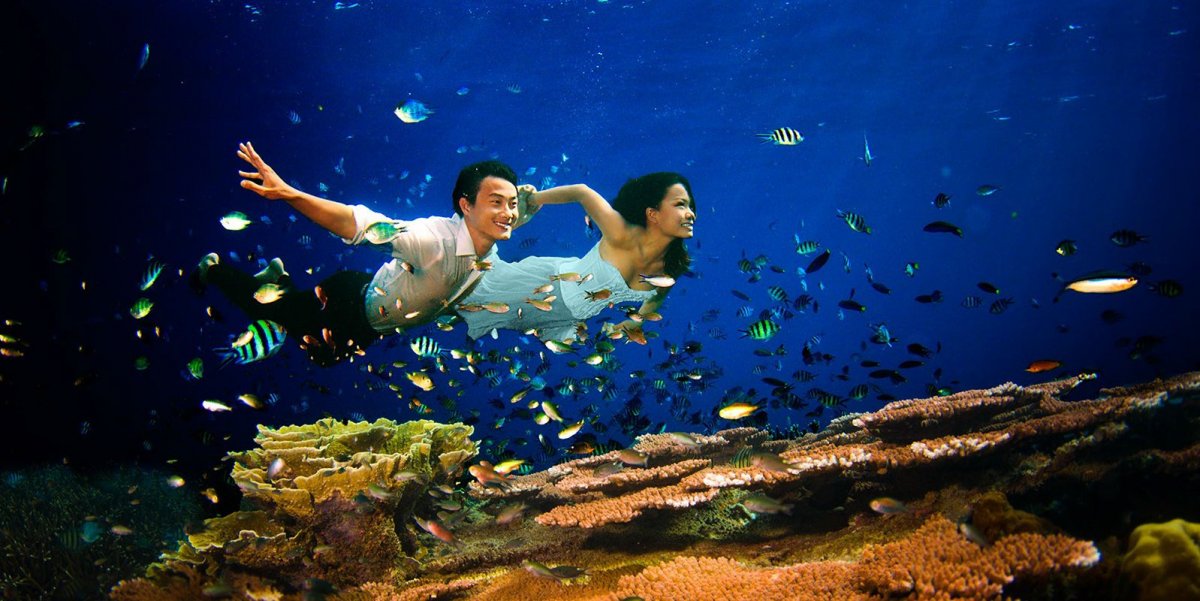 Image: Tuckys Photography
If you're an avid swimmer, diver, or ocean-lover, underwater wedding photography is something you should consider. While stylized shots can be done in swimming pools, the flora and fauna in natural lakes or oceans adds a whole other level of stunning beauty to your wedding photos - just make sure you're an adept diver and also have a certified dive master around to ensure safety.
5. Molten-Hot Passion on a Volcano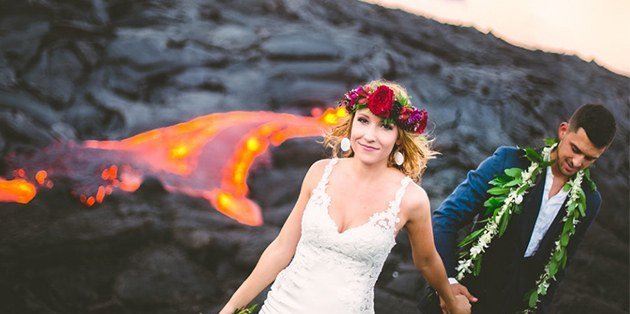 Photographer Jenna Lee and the couple she was working with were indeed very lucky - and extremely spunky - to have this once-in-a-lifetime shoot on an active, lava-spewing volcano in Hawaii. "As you walk across the ground you can see the magma glowing from cracks beneath your feet – with each crunch you feel like you could fall through the solid ground and get swallowed by the lava at a moment's notice," shared Lee with BRIDES magazine.
While you may not have such luck (or even want to be in this situation), there are plenty of dormant volcanoes or mountains that will make a stunning backdrop for your wedding photos.
Image: Scottyphotography
6. A Wild Safari Wedding
T
his is probably the dream wedding of those who love and/or work with animals. Although being on safari doesn't guarantee wildlife in your wedding photos, the landscapes make for stunning shots. Some lodges also function as sanctuaries where you may be lucky enough to be joined by elephants or giraffes, like Reddit user Corey Perkins experienced during his wedding in Zimbabwe.
Given the extreme nature of adventure wedding photography, you should make sure you hire a highly experienced and dedicated photographer who, like the professionals above, may even put his or her life on the line to get the perfect shots for you!
Image: Scottyphotography
Brooke Thio is a freelance travel writer with a predilection for local experiences, like going shopping in North Korea. Read about her adventures at Roamscapes.com.