Buenos Aires is a wealth of experiences to be had; get creative and make up your own bucket list of must-do things or sights. You don't want to be wandering around in a daze of confusion, especially if you have limited time in this dynamic city.
Below was my list of essentials:
Recoleta Cemetery
Considered to be one of the most beautiful cemeteries in the world, Recoleta Cemetery is much more than the resting place for Eva Peron. I did a cemetery tour via the Buenos Aires Tourism Site. My guide, Nicolas, was a wealth of information and great company, as we walked around this grand domain that was once the burial ground for paupers when it was a small monastery.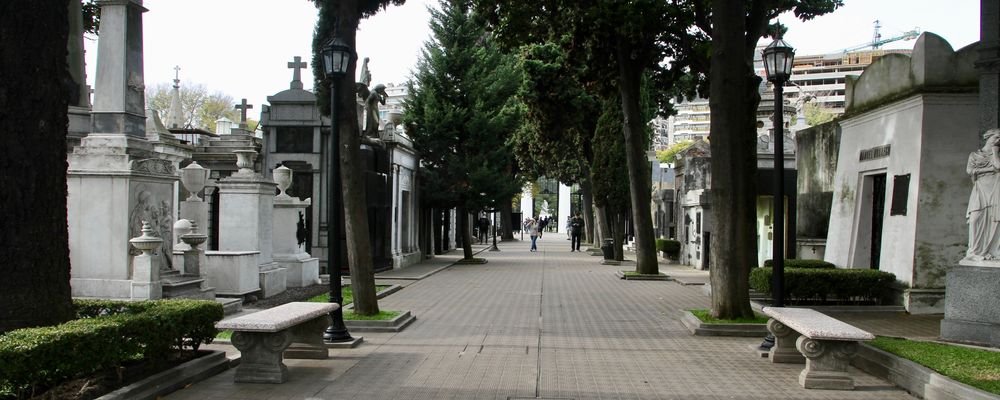 Buenos Aires history is literally written in what you see, from its dominating white entrance to its "city in miniature" of elaborate mausoleums, tiny ornate plazas and cobblestoned streets. It's like walking through an art gallery honouring the dead with plenty of winged angels posing in relief and huge crosses guarding its sleeping residents.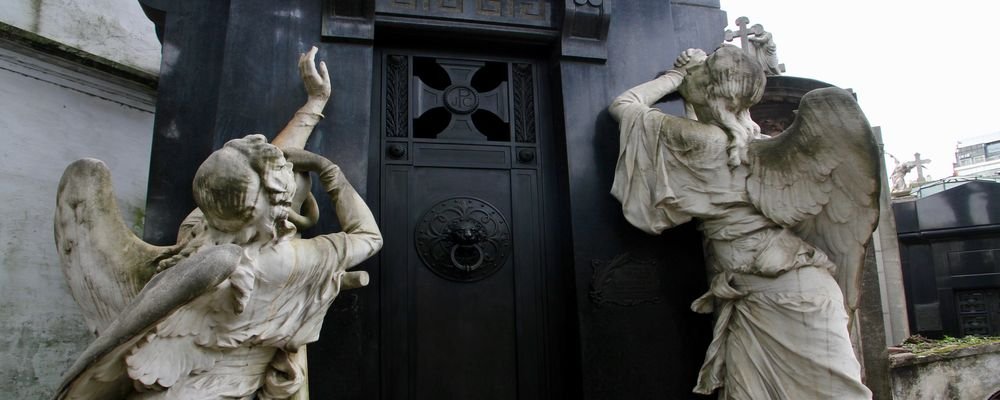 There are over 6400 souls laid to rest in this hilly enclave of diverse architecture from plain tombs to grandiose vaults of wealth and power. It's only the most influential Argentinians that get to sleep forever within the Recoleta Cemetery - think 26 presidents, founding wealthy families, revered artists and scholars. Some are family vaults, while others are devoted to single people of note. Space is at a premium, so the vaults sit rubbing shoulders with each other in a hodgepodge of different styles.
Plaza Intendente Alvear (aka Plaza Francia)
Located just down from the Recoleta cemetery, Plaza Intendente Alvear becomes inundated with locals and tourists at the weekends when its market is in full swing. Argentinians love to hang out in their green parks, sharing their mate and gossiping, and this one is no exception. The weekend market is a great place to find a souvenir as it's predominantly overflowing with artisanal goods such as jewellery, without a lot of the trash that can be seen at the other Buenos Aires markets. Entertainment comes in the form of tarot card readers, acrobats and musicians in this somewhat elegant but bohemian barrio.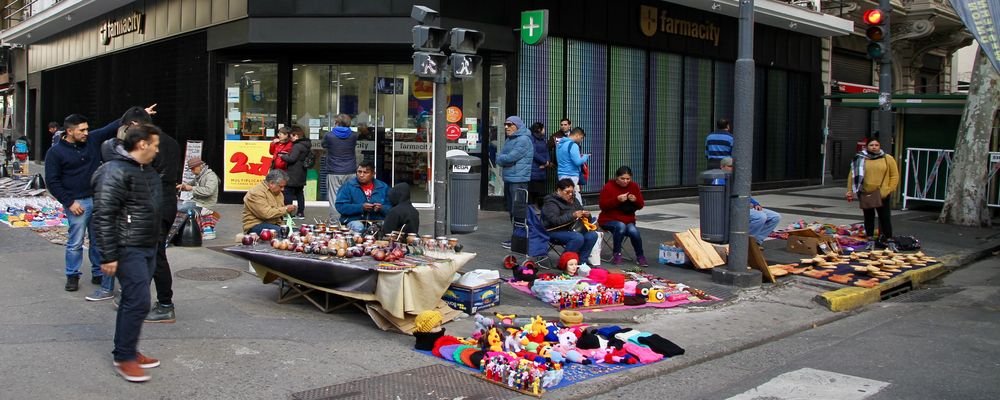 You could be confused between Paris and Recoleta, as this Argentinian neighbourhood wears a distinct French influence in its streetscape and buildings that were modelled on the French capital.
Basilica de Nuestra Senora Del Pilar Church
The second-oldest church in Buenos Aires that was completed in 1732, Basilica de Nuestra Senora Del Pilar Church will give you one of those gob-smack moments when you enter its hallowed white-washed walls of the Colonia era. Once the parish church when the Franciscans were expelled in 1821, its Peruvian altar is decked out in Incan ornamentation with engraved silver from the northwest of Argentina.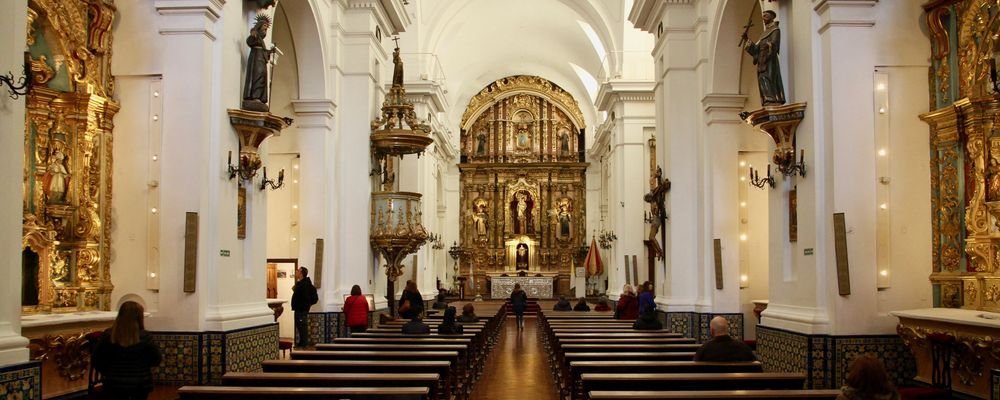 Make sure you take a peek at the ceramic tiled artwork in the courtyard, giving you a glimpse of Buenos Aires in 1794 when the church was built in the open countryside outside the main city.
Museo Nacional de Bellas Artes
If you want to feast your eyes on a few paintings by the big masters, head to the Museo Nacional de Bellas Artes where you can see the wonders created by Edgar Degas, Francisco de Goya and Pierre-Auguste Renoir, to name a few. Argentinian art plays a huge part in the gallery's showpieces, and there are regular exhibitions that will pique your interest. Since its humble beginnings 120 years ago in a building far removed from where it's located now, the Museo Nacional de Bellas Artes has amassed over 12,000 pieces of national and international artworks.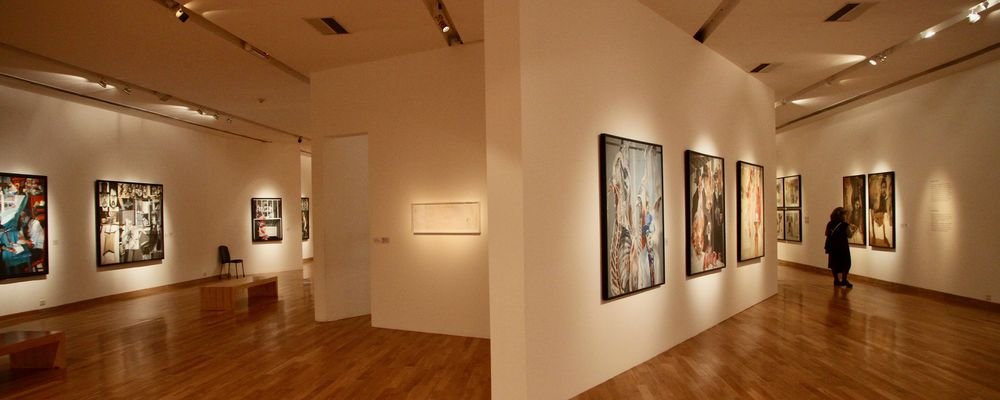 I was lucky to see the incredible and mind-blowing artwork of Carlos Alonso whose exhibition was running from April to July 2019. His provocative pieces are a reflection of the violence in Argentinian's recent history.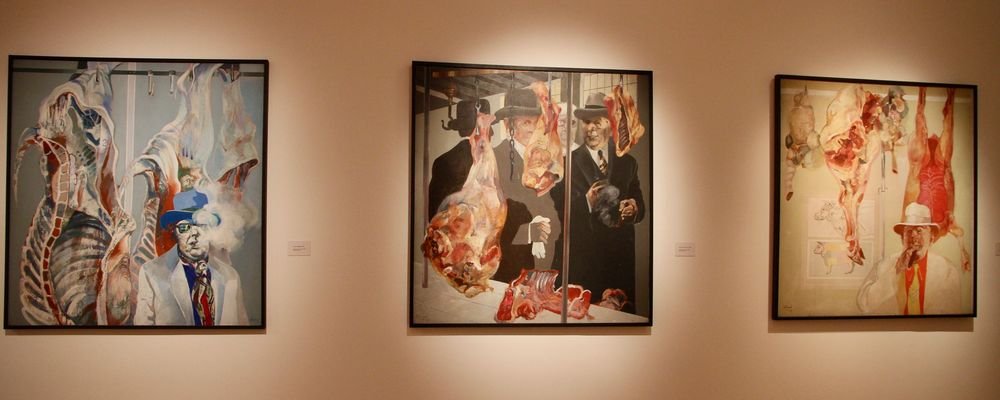 Wandering around the museum, you can get totally wrapped up in your own thoughts of what your eyes are feasting on, but at some point, you may be in dire need of a good steak.
The Barrio of Puerto Madero
The revamped dockside area of Buenos Aires can be quite empty during the weekdays, but at the weekends you will be hard pressed to push your way through the shuffling crowds and getting a table at one of the waterfront restaurants may turn out to be impossible. Here you will find a mix of history, cosmopolitan flair and the unmistakeable Puente de la Mujer ("Bridge of the Woman") that is said to represent a girl's leg in the air doing the tango. Pedestrian-only, walking over the bridge will give you incredible views.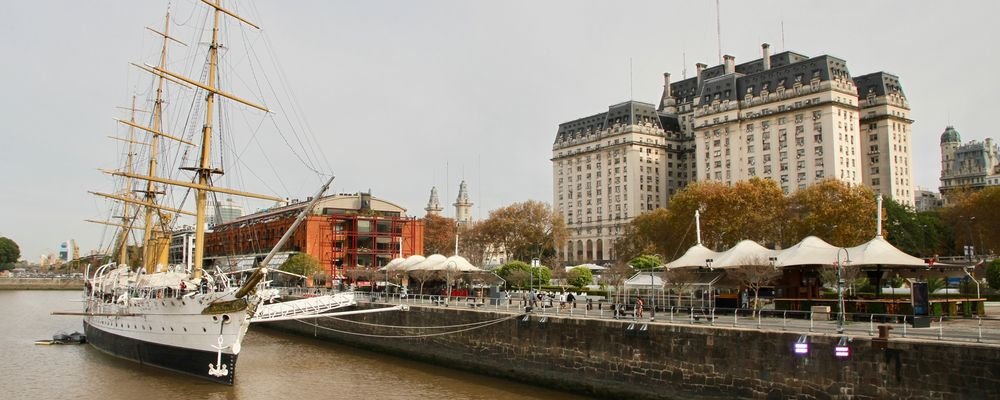 Puerto Madero is the "new" place to be with its sleek, glassy skyscrapers that are home to multinational corporations and top-end apartments for those with deep pockets. Families and joggers can be seen doing their thing on the trails that loop around numerous lakes at the wildlife habitat of Costanera Sur Ecological Reserve where you can explore marshes and lagoons.
Plaza de Mayo
Meander around this city square that is the beating heart of Buenos Aires and the scene of the most significant events and most massive demonstrations in the history of Argentina. Sitting in the heart of the Monserrat barrio, this is the financial district where 3 avenues meld; Avenida Presidente Julio Argentino Roca, Avenida Roque Saenz Pena and Avenida de Mayo. Several monuments are within the vicinity such as the Buenos Aires City Hall, the Metropolitan Cathedral and the Bank of the Argentine Nation's headquarters.
The skyline is a dramatic picture of buildings reaching for the clouds while the plaza is a constant stage for tango dancers. End your day by stopping off for a vino or 2 at one of the outdoor cafes soaking up the Argentinian vibes.
---
Gail Palethorpe, a self proclaimed Australian gypsy, is a freelance writer, photographer and eternal traveller. Check out her website Gail Palethorpe Photography and her Shutterstock profile.
---