At 2.30am my girlfriend, Verity and I arrived in Sheremetyevo II Airport, Moscow and made our way through the intimidating customs barriers, laden with backpacks and carrying my acoustic guitar. As I reflected on the situation that lay before us I felt privileged to be following in the steps of the folk-punk heroes that have influenced my life. Since the last summer I had painstakingly spent my free time planning a short 5 date European tour that was set to start in Moscow, then onto St. Petersburg before winding its way through Eastern Europe finishing in Latvia. As we made our way out of arrivals we were greeted by the picturesque sight of a multi-storey car park covered in freshly fallen snow and a slightly eccentric taxi driver.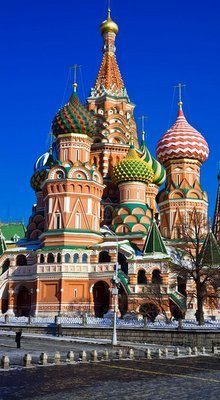 As we made our way from the airport to the hostel our over eager, happy-go-lucky driver was worryingly relaxed as he weaved through the Moscow traffic, leaving ambulances and police cars in his wake. Whilst making nonsensical conversation with us, our driver was also attempting to convert us to the latest Russian pop music blaring from the car stereo. Between pointing out famous sights, such as a second airport that various celebrities had flown into, he had a habit of unashamedly asking to swap worthless items for some of our possessions. After begrudgingly handing over a t-shirt and some stickers, we arrived at the hostel and made our way up to the 12-bed dormitory we would be staying in for the rest of our time in Moscow.
We had a few days before the tour started so made the most of the time to go sightseeing around Moscow's famous sights such as St. Basils Cathedral, The Kremlin and the embalmed body of Lenin in Red Square.
On day 3 we met up with our friend and promoter, Denis. Denis led us to the venue, called the Squat Café, that I would be playing that night. Based on my previous experiences of touring, the first gigs are always the ones which give you an opportunity to get to grips with the set list and also to decide how best to interact with the audience at different times during your show. Moscow was no different. I played to an audience that, whilst interested, were not quite as forth coming as the typical folk-punk audience that I usually encounter. Nevertheless it was an enjoyable time, and definitely a good way to start a European tour.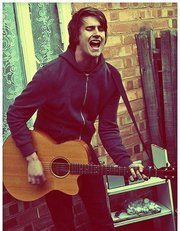 We had pre-booked an overnight train to St. Petersburg leaving that night so it was vital that we made our train or we not make it to the next show. Since the train station was at least an hour's walk away, the only solution was to take a taxi. In Russia it seems that a taxi can be just about anybody! In the bigger cities in particular you are able to flag down a car by simply holding out your hand, similar to hitching a ride, only in Russia you are expected to pay. After our Russian friends did a few minutes of bartering with a passer-by we had secured ourselves a lift and made it to the train station with minutes to spare! We located our bunks high above the sleeping Russian families and settled down to catch some sleep.
As soon as we arrived in St. Petersburg the promoter, Dima, greeted us. Noticing our bleary eyes, he offered us a chance to catch up on some much needed sleep at his 4th floor apartment, located a stones throw away from some of St. Petersburg's greatest architecture.
After a short power nap we headed out to see the sights of St. Petersburg and sample some Russian cuisine. Walking around the former capital of Russia we visited The Winter Palace, Peter and Paul Cathedral and The Marble Palace. We even saw a woman feeding a bear cub on a bench - easily the most controversial sight of the tour! (why?)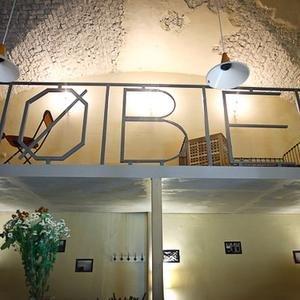 That evening we made our way to Køpen, a bar tucked away within a maze of darkened alleyways. As we struggled to open the bars giant wooden doors it dawned on us that they were in fact locked. As we waited I noticed people beginning to arrive out of the shadows and soon a small crowd had gathered outside the backstreet bar. As it happened, the owner, and only bar staff member, had locked up whilst he popped out to do his shopping! Eventually the bar opened and people flocked in, filling Køpen from wall to wall. Køpen was a small, homely bar without a P.A, so I played a completely unplugged set through gifted shots of vodka and Irish whiskey. The wonderful audience of St. Petersburg took part in the set, singing along and showing their support by buying merchandise and generally welcoming Verity and I to Russia.
Later that night I committed an act that can only be described as sleep deprived madness. As our overnight bus approached border control I realised that I had a significant amount of Russian Roubles about my person and thought it might seem slightly odd for a shabby looking traveller with a backpack and guitar. In my over-tired state it seemed that the only logical thing to do was to store the Roubles in my hat! As I strolled past customs officials the reality of my utter stupidity dawned upon me. Fortunately, we made it out of Russia safe and sound, and I count myself extremely lucky to have experienced such a unique country!
Practical Information
Useful Phone Numbers
Police: 112
Ambulance: 112
Quick Facts
Country: Russia
Capital: Moscow
Currency: Russian Ruble
Language: Russian
Time Zone: +4 UTC
Population: 143 million