A melting pot of cultures, Cape Town is a cool and hip enclave of contrasts in its people, its food and its striking landscapes, with a love of "Uber" transportation instead of taxis. From its natural wonders such as the dominant Table Mountain to its natural inhabitants, the waddling penguins of Boulder Beach, this is a city that begs to be explored with a touch of caution for the traveller.
If you only have one day, and it just so happens to be a Saturday, as this is market day, check out what you can get up to when you put on your typical tourist hat and runners:
Breakfast at The Old Biscuit Mill
Sitting in the street-art hub of Woodstock that is being totally taken over by large meccano-like cranes perched on top of half-completed apartment/shop complexes, the Old Biscuit Mill is the place to be first thing on a Saturday morning. The wafting aromas of succulent offerings will call to your empty stomach like a siren to a sailor. It's a smorgasbord of hunger-titillating offerings, from traditional fare to international mouth-watering goodies set up in a market style with huge long communal tables where the hungry hordes gather to gorge. Bands thump out tunes in the sunny courtyard area on a makeshift stage by a convoy of boutique coffee vans.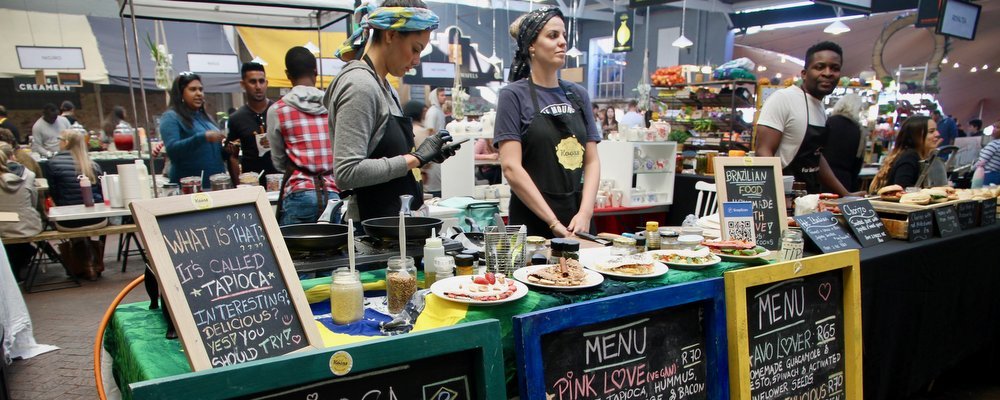 The enclosed domain of the Old Biscuit Mill hides its secret from the main drag that it sits on and the only indication that there is something going on behind its walls is the fact that hordes of people walk through the guarded gates. The building was constructed in the late 19th Century, and the base does still exist somewhere, but little is known about this industrial relic where you will now find pop-up stores of avant garde designer clothing, hand crafted jewellery, leather goods and a handmade- chocolate shop that will have you drooling in anticipation of pigging out on the samples on display. This is the arty space where the trendy souls hang out, whether it is a Saturday or not.
Either grab a taxi, of which there are plenty at the front gates, or start tapping away on your Uber app and head off to Groot Constantia Wine Estate, once you have had your fill of food and trashing your cash.
It also helps that Cape Town is considered one of the best foodie cities in the world.
Lunch at Groot Constantia Wine Estate
One of the top wineries in South Africa, Groot Constantia Wine Estate is cradled in the Constantia Valley, and it is the oldest wine-producing farm in South Africa.
The perfect space to overwhelm your palate with brilliant wine tastings from the seductive Grand Constance to a bold shiraz, there are three wine tasting spaces on the property to choose from. Do one or do all three of them, including the wine tasting that is paired with mouth-watering chocolate.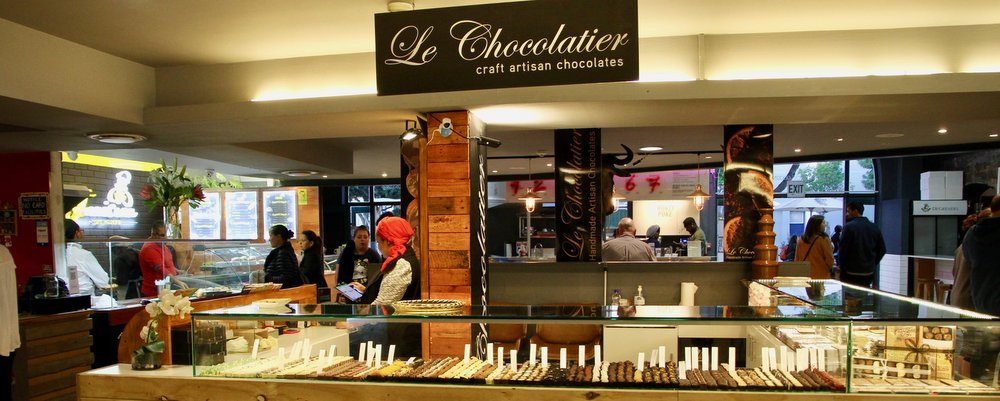 The estate is elegant and rich in history, with its old Manor House to explore, manicured lawns draped with aged oaks for impromptu delicatessen-inspired picnics, or award winning restaurants for laissez-faire long lunches. You can dine al fresco at Simon's or grab your luscious picnic of gourmet treats. Or, head to Jonkershuis Constantia sitting beside the historic homestead and delve into its old world charm reflecting Cape Malay characteristics as you sip and dine in a Slowfood style.
Make sure you check out the famous Cloete Cellar, browse the wine museum and the cultural history museum and take in the memorable South African art on display. A visit to Groot Constantia Wine Estate is a feast for the senses, from sights to tastes and the odd amusing touch of ducks constantly bobbing with legs and rear ends in the air, as they too hunt for succulent treats, albeit at the bottom of the duck pond.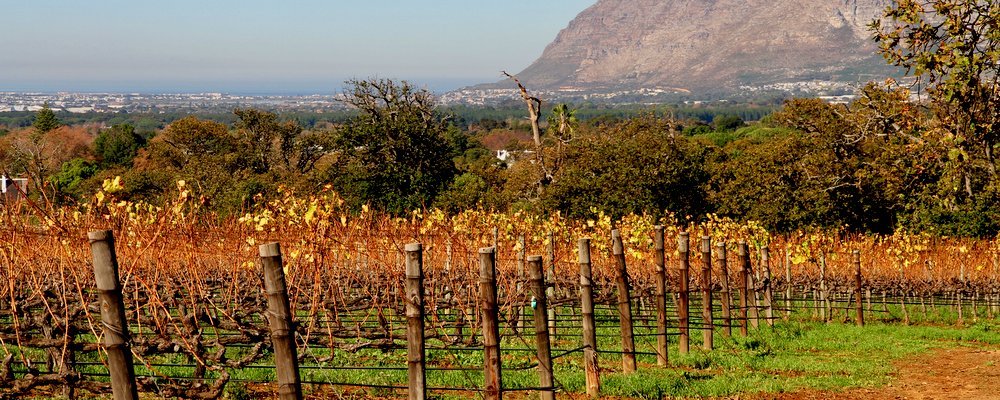 When you have had your fill of good wine and food, get back onto your Uber app, or the alternative would have been to keep your taxi waiting for you, so that you can make a getaway to the thrill of riding the cable car up Table Mountain.
Afternoon at Table Mountain Cable Car
No stay in Cape Town is complete without taking the ride up to the summit of Table Mountain, the guardian of Cape Town and Disneyland for the adrenalin junkies who love to scale cliffs, trek up mountains or abseil down. It dominates the skyline when the skies are clear and enthrals about 800,000 visitors annually. The centrepiece of many travel selfies, when Table Mountain is shrouded in mist and clouds it is believed that a smoking contest with the devil is in progress, creating a tablecloth of fog. From being known as an angry giant Greek God named "Adamastor" by Portuguese sailors making their way to India, to being the double-headed Roman god "Janus" for those sailing from the old world to the new world, Table Mountain is shrouded in myths and legends.
Riding the cable car up its craggy face is great fun, as the base of the cable car actually turns 360 degrees, so that you get the complete panoramic view from every angle. The cableway took two years to build, after a few false starts and has been operating since 1929 with a totally accident-free record, so you don't have to fret about the cables breaking. You won't be alone at the top, but the views are to die for, and you may get the chance to chat to a rock hyrax, a small furry animal commonly known as a "dassie", who ironically is a hoofed mammal related to the elephant.
Once you have had your fill of milling around with gawking people and getting no replies from your friendly dassie, head back down in the cable car and again, either Uber or taxi your way to the Victoria & Albert Waterfront.

Sunset at The Victoria & Alfred Waterfront
Technically a working harbor, the V & A, as it is commonly referred to, is slightly on the glamorous side, with hints of its real use, from wallowing tugboats to its industrial seafaring vibe. The most-visited destination in South Africa, think about 24 million visitors each year, you will find enough here to keep everyone happy at any time of the day or night.
You have five different shopping districts with about 450 shops to thrash your plastic credit card at, numerous eateries of all descriptions, some with incredible views over the bustling harbour where boats dance in a practiced rhythm. Sunset cocktails can be had from balconies, espresso sipping is de rigueur on cafe terraces and the V & A food market is where to find artisanal cheeses, breads and exquisite hand-made chocolates. History buffs can meander 22 landmarks dating back to 1725, and there is the Two Oceans Aquarium to explore and even the infamous Breakwater Prison to walk around.
At the end of your tourist day, sipping a gin that is locally crafted amongst the beautiful people at the hip Shimmy Beach Club or going wine crazy at Belthezar, where you will find the largest selection of wine by the glass in the world, gazing over the Atlantic may be the perfect ending to a perfect day in Cape Town.
See also Nick Kruger's local view of Cape Town.
---
Gail Palethorpe, a self proclaimed Australian gypsy, is a freelance writer, photographer and eternal traveller. Check out her website Gail Palethorpe Photography and her Shutterstock profile.
---