I'm wearing head-to-toe waterproofs, walking boots, and a safety helmet. I'm strapped into a harness which is attached to an abseil rope, and I know that behind me is the most stunning view of Bassenthwaite Lake. So far, this doesn't sound like an unusual Tuesday morning for someone who lives in the Lake District, until you learn that I'm sat in my wheelchair, which is also strapped into a harness, and hanging at a 45 degree angle off a concrete slab.
Adventure for All
The Lake District Calvert Trust offers wonderful experiences for disabled people who want to enjoy the countryside and test their limits. They are accessible to people of all ages with sensory, learning or physical disabilities, including those with the most complex needs for which most outdoor centres cannot cater. They endeavour to run as many activities as possible out in the wider Lake District so that our residents also get to explore one of the most beautiful parts of the UK. Schools, groups, families and individuals are all welcome.
I arrived feeling anxious, as someone who many people would describe as not at all adventurous, but the lovely team soon put me at ease.
After we'd completed safety forms and fitted my harness, my instructor Matt pushed me in my wheelchair up to the abseil platform. Now was the time!

The Big Push
As my chair was lowered on to the ramp, I slowly fed the ropes through my hands and started to relax and enjoy it. So much so that, once I reached the bottom I went straight back up for another go… which was as much of a surprise to me as it will be to anyone who knows me reading this.
Afterwards I was assisted out of my kit, and given a hot drink to warm up. Once I'd come back down to earth (quite literally) I was given a guided tour of the Calvert Trust centre.

Amazing Facilities…
And what an amazing place it is. As well as the abseil and climbing walls there a fully accessible zip wire, challenge course, facilities for canoeing and kayaking, archery, horse riding and sailing. The centre also boasts a hydrotherapy pool, sensory room, games room and lots more.
For those looking to do their own thing, they have 2 self-catering accommodation units for groups of up to 14 people in bunkhouse style accommodation. Both are located well away from the main centre and can be booked for any length of time. There are no restrictions on which day of the week your stay starts, with both open to disabled and non-disabled groups on a sole use basis. They are however very different in character and location, although both are dog-friendly!

… And Very Special People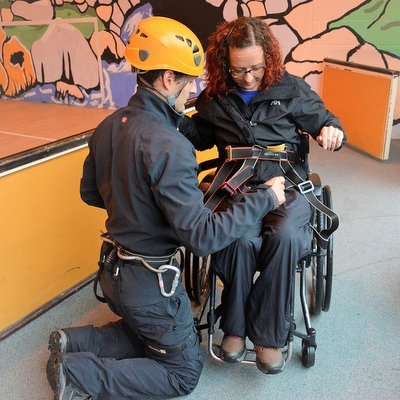 But for me, the facilities only form a part of what is so good about the Lake District Calvert Trust. The setting, on the shores of Bassenthwaite is simply stunning, in the kind of environment that is usually off-limits for disabled people. But the shining star is the wonderful team of staff that the Trust has; from the moment I arrived, it was clear that the word 'can't' just wasn't an option. I was encouraged to get out of my comfort zone, and I was assisted in a kind and respectful way.
Testing Your Limits
There is no better feeling than having conquered – and enjoyed – something that scares you, and that was my ultimate take-away from my day at the Calvert Trust. Everyone contributes to the Calvert Trust belief that 'it's what you can do that counts'.
---
Carrie-Ann Lightley is a traveller, a blogger and an inspiration for the less mobile traveller. She doesn't let her Cerebral Palsy slow her down from enjoying the world, near and far. Living with the mantra of 'there is always a way' her travel blog provides expertise and inspiration for accessible travel. Visit Carrie-Ann at https://www.carrieannlightley.com