If you're looking to travel on your own for the first time, it can be daunting. There are so many destinations to choose from, and it's important that you pick the place that's right for you. There are some places that are more suited to solo travellers than others, which make a great starting point for your first solo trip. Here are six suggestions for destinations suitable for your first solo travel adventure.
Paris, France
Paris is the perfect option for a first-time solo travel experience, thanks to its easy-to-navigate public transport systems and the abundance of places to see. If you're visiting Paris on your own, you don't have to compromise with your travel companions—you can spend your days doing exactly what you want to do—making the most out of the city. If you want to visit the city's museums and galleries, buy a Paris Museum Pass and spend a week seeing as much as possible, or simply allow yourself the freedom to wander the streets, admiring the architecture and stopping whenever you fancy a cup of coffee at an outdoor café.
Bangkok, Thailand
Bangkok locals are used to solo travellers, and you'll find that most people here are friendly and accommodating. There are many tourists, plenty of whom are also travelling solo, allowing you to easily make friends, especially if you stay in hostels and head out in the evenings for drinks. Whether you're looking for culture, full moon parties, a relaxing beach getaway or a jam-packed adventure across Southeast Asia, Bangkok is the perfect starting point to meet the right people and get a taste for Thailand.
Marrakech, Morocco
Don't be scared of exploring Marrakech on your own. It's an incredibly welcoming city and the perfect place for a first-time solo traveller. Book into a riad in the medina, where you'll be able to retreat for a little peace and quiet, with an unlimited supply of fresh mint tea. Spend your days exploring the souks, admiring the treasures and bartering with stall owners, before experiencing some of the city's best restaurants. If you need a break from the city heat, spend a night in a luxury desert camp, where you'll dine at communal tables and sit around fires beneath the stars, giving you the chance to meet fellow travellers.
London, England
It's impossible to be bored in London; there's so much to see and do. If you're travelling on your own, you can forge your own path and head to the area that most interests you. Avoid the big tourist sights and instead get to know one of the neighbourhoods like a local, staying in an Airbnb, eating at street food markets, walking in the parks and drinking in the local pubs and bars. Walk down Columbia Road on a Sunday morning to admire the flower market, catch a gig at one of London's many venues and explore the numerous independent shops across the city, easily fitting into the local way of life.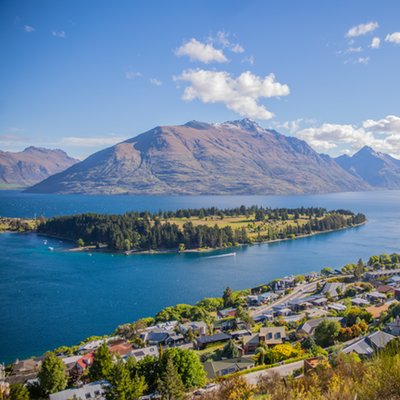 Queenstown, New Zealand
New Zealand is one of the easiest places to meet fellow solo travellers, as many people choose to explore the country on their own. Queenstown, on the south island, is the adventure capital of New Zealand, providing the perfect base for anyone with an interest in extreme sports, such as bungee jumping or white-water rafting. It's also the perfect base for day trips to locations such as Milford Sound. There are plenty of bars packed full of fellow travellers, making it easy to meet new friends.
Bali, Indonesia
Another place that attracts plenty of solo travellers, Bali is perfectly geared towards people travelling on their own. Join a retreat, if you're looking to make friends, or opt for affordable accommodation of your very own. Choose an area that suits your style of travel and hire a bike and cycle around, getting your bearings and easily fitting into the local way of life. If you're working while travelling, there are plenty of digital nomads here, with a variety of places set up for relaxed remote working.
---
Emma Lavelle is a UK based writer and photographer and has her own blog Field and Nest.
---