This is a question for the ages: What did Leonardo da Vinci have to do with France, and why did he die there? It so happens that da Vinci spent the last three years of his incredibly industrious life at the Chateau Clos Luce, a grandiose castle in Amboise, France, in the middle of the Loire Valley, where he was a guest of the King of France.
For the 500th anniversary of the death of one of the world's most renowned painters, Chateau Clos Luce has pulled together an extraordinary schedule of cultural events and exhibits marking his death, including the unveiling of an additional building in autumn 2019, which will present exhibits of two of his other skills: painting and architecture.
Leonardo da Vinci left Tuscany and settled in at the castle in the fall of 1516 as the King's painter, engineer, architect and chief tinkerer. There, da Vinci worked on as many art and science projects as possible, before he passed away on May 2, 1519.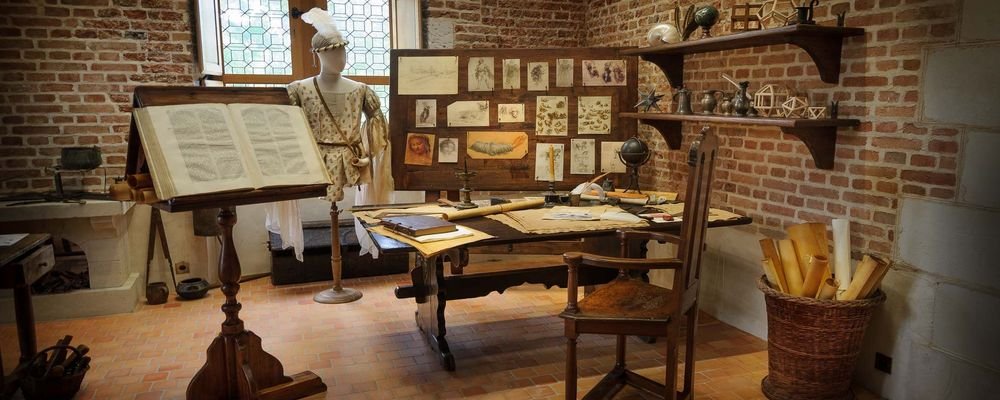 In preparation for this exhibition, two years of research and renovation were needed, along with 30 people working full time, representing 15 trades and crafts for the restoration of the atelier (workshop), library, and study in which da Vinci worked at the castle. Visitors enter the exhibit and go through the three ground-floor rooms, and a series of interactive exhibits shows da Vinci's work environment. Visitors can experience what he did on a daily basis with "ghost technology" which projects images at certain points, such as a large canvas on which da Vinci is seen painting. In the library, facsimiles of his sketches and ancient texts he used as resources are on view alongside a cabinet of his curiosities.
In each of the three rooms, the décor has been recreated with incredible attention to detail. Original frescoes have been repainted using pig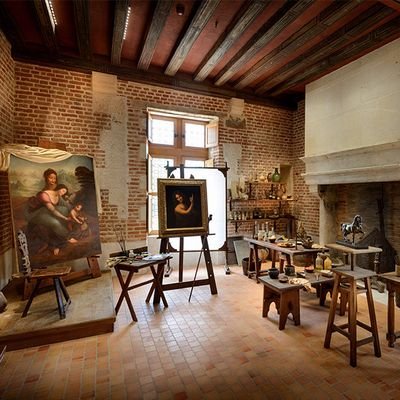 ments from the Renaissance, and furniture has been reproduced from plans of the era. Stained glass with the same small, circular panes bathes the rooms in a captivating atmosphere of shadow and light, which are the hallmarks of da Vinci's painting.
From June until the 8th of September 2019, and for the first time since the 16th century, the tapestry of Leonardo da Vinci's Last Supper, "Ultima Cena", will be on exhibit from the Vatican Museum. The tapestry, which is nine metres long (29 feet), was commissioned by Francois I and woven for Louise of Savoy and her son, the future King of France, Francis I around 1514. The tapestry was later gifted to Pope Clement VII in 1533.
When the second building opens in the fall of 2019, it will present an immersive virtual sound and video experience and bring to life 17 of da Vinci's masterpieces on the first floor. This new presentation will focus on details of faces, smiles, scenes of nature and landscapes.
The second floor will feature models, interactive touch tables, 3D animation and virtual reality exhibits about da Vinci as an architect and civil engineer. For example, visitors can see his plans for the Ideal City, as well as plans for basilicas, domes, churches, quadruple helix staircases, fortresses, hydraulic engineering, canals and locks, and more.
Outside, on the castle grounds, there are gigantic sculptures for visitors to discover, which represent some of da Vinci's inventions. Another feature worth investigating is the garden, called "Jardin de Leonard" (Leonardo's garden), where plants are laid out in the spirit of his paintings and drawings to capture his fascination with nature. Da Vinci's curiosity was rampant, and in the last years of his life, thanks to the first King of France, he was able to explore his passion for discovery with a virtually unlimited budget and resources.