The UK Parliament is open to visitors on Saturdays throughout the year and on most weekdays during parliamentary recesses, to take a tour of one of the world's most iconic buildings.
Discover where history is still being made, and find out how Parliament works as you travel through the Commons Chamber and the Lords Chamber, follow in the footsteps of the Queen at the State Opening and be inspired by Westminster Hall.
All visitors to Parliament are welcome, and they continue to work towards greater accessibility.
Visit Parliament have produced a video 'How to access the Houses of Parliament' which includes a welcome from Tanni, Baroness Grey-Thompson and five other chapters.
For visitors with hearing impairments, induction loops and a screen-based version of the audio tour are available at the Information Desk in Westminster Hall. British Sign Language interpreters can be arranged.
For UK residents who are blind or partially sighted there is an opportunity to attend a tactile tour which must be requested and booked in advance. Assistance dogs may accompany their owners on tours.
The length and content of a tour can be adjusted to accommodate the specific needs of a group. This should be requested and agreed in advance.
There are a wide variety of public transport options for getting to Parliament including bus, underground, train, taxi, car and river boat. Alternatively, for blue badge holders, there are limited blue badge parking bays situated slightly further away.
After airport-style security checks, you arrive at the start of the tour - The 900 year old Westminster Hall.
There is bench seating in Westminster Hall, and visitor assistants can escort visitors with disabilities from Westminster Hall to Central Lobby. This part is particularly interesting, as the accessible route takes you to areas that visitors don't usually get to see, and assistants are very keen to share even more information at this point. It is worth noting that the lift used is very small, we just managed to squeeze the 3 of us in as my manual wheelchair doesn't take up much space. The tour is step-free from Central Lobby onwards.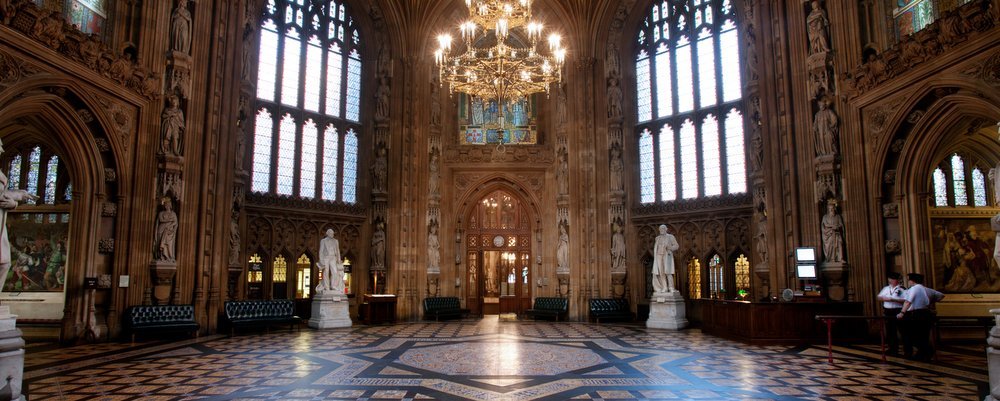 The tour is self-guided using an audio tour, which offers a fascinating insight into the history and traditions that make up Parliament, whilst you are surrounded by beautiful art and architecture. The sheer size of the Palace of Westminster is amazing, and following the same route as the Queen at the State Opening of Parliament is pretty special.
Helpful staff advise of alternative routes where space may be too narrow for a wheelchair to pass, and thankfully I managed to pass through the very lavish Lords Chamber without scratching the leather benches!
At the end of our tour visitors are encouraged to visit the Houses of Parliament Shop, accessed via a more modern lift. Here you can buy everything from books, to cufflinks, to wine. There is also a café on the same level serving homemade Panini's, coffee & cake, and lots more yummy treats! An accessible public toilet, including a changing bench and a hoist, can be found in Lower Waiting Hall just off Central Lobby.
Accessible tourism sometimes gets a bad reputation but we received an impeccable level of service at all points. To me, this raises the question – If historic buildings such as the Houses of Parliament can adapt, why can't all others? After all, culture is for everybody.
---
Carrie-Ann Lightley is a traveller, a blogger and an inspiration for the less mobile traveller. She doesn't let her Cerebral Palsy slow her down from enjoying the world, near and far. Living with the mantra of 'there is always a way' her travel blog provides expertise and inspiration for accessible travel. Visit Carrie-Ann at https://www.carrieannlightley.com
---