If the thought of soaking in naturally warm hot springs makes you want to book flights, I have a travel recommendation for you – and it's not Iceland. Sao Miguel, the largest island in the Azores archipelago is rife with geothermal pools just waiting to be discovered. Read on to discover more about this enchanting island that lurks off the tourist trail.
Of all the things that lured me to Sao Miguel – beautiful lakes, towering mountains, an abundance of greenery – it was the hot springs that I was most excited about visiting. During a previous trip to Iceland I had become enamoured with soaking in nature's Jacuzzis and found myself searching for other European locations where I could have a similar experience.
The Azores are a relatively untouched group of islands that have not yet succumb to mass tourism. On Sao Miguel, public transport is pretty much non-existent so you'll have to hire a car in order to easily navigate the island. All of the main sights, including the hot springs lie some distance away from the capital, Ponta Delgada. The drives are short, but you won't find coach tours here.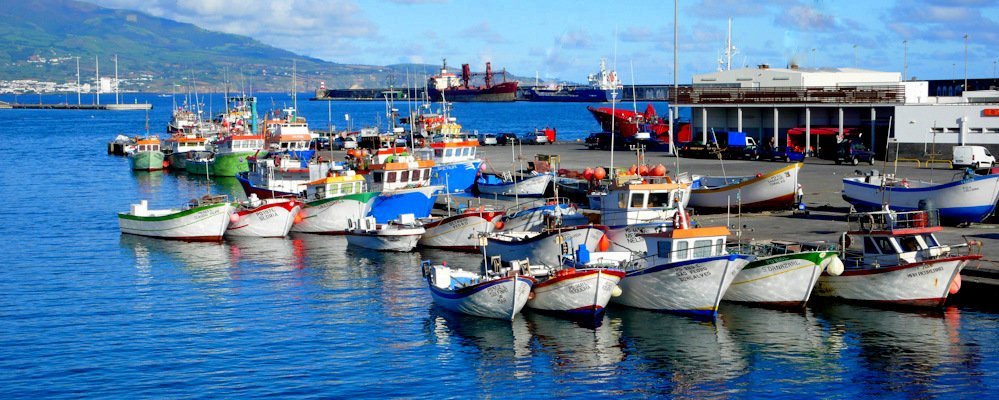 On our first day, we decided to seek out Ponta da Ferraria, located in the north-west of the island close to the Sete Cidades lakes. To reach this remote hot spring, you must first drive down a steep twisting road before parking close to the sea. A pastel pink walkway leads to a striking changing hut before continuing down to the shore. As you descend the stone steps, the view before you is dominated by black cliffs, white-tipped waves crashing into their base. The hot spring is actually in the sea itself, contained in a small rock pool that mixes the hot water with cold bursts every time the waves crash in. Visitors access the pool via a metal ladder and must hold on to the ropes to ensure that they're not swept away!
While Ponta Ferraria was by far the most adventurous soak we experienced during our trip, the second hot springs that we visited were easily the most relaxing. Caldeira Velha is located half way up a mountain, on the way to the lookout over Lagoa do Fogo. There's a small charge to enter the sub-tropical forest that contains the springs, and it's just a short walk through the luscious green trees before you arrive at your destination. I'd recommend bypassing the first spring that you see and first heading up the hill in front of you towards a couple of wooden changing huts. Once you are ready, submerge yourself in the spring beside these huts, marvelling in the beauty and tranquillity of your surroundings. The water here is lukewarm but the waterfall trickling down the rocks in front of you more than makes up for the lack of heat.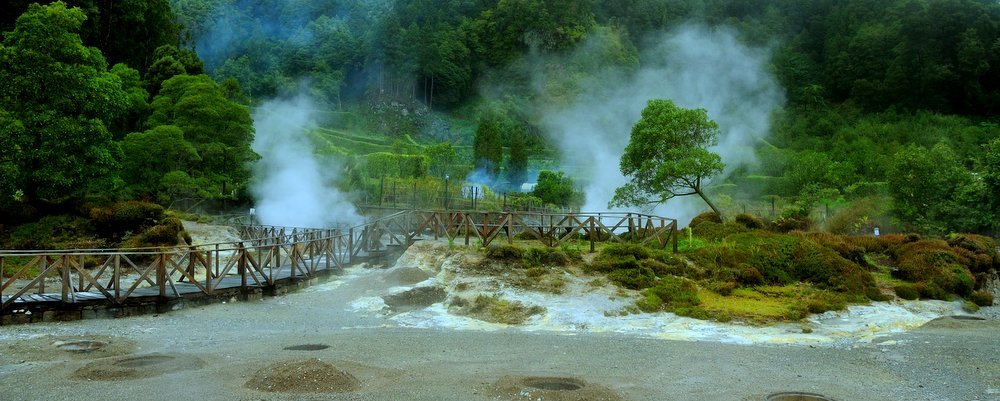 Once you're feeling suitably relaxed, gather up your belongings and stroll back to the lower springs, which were more crowded but no less pleasant during our visit. This pool is much warmer, fed by a trickle of water from a scalding hot spring above. The temperature alters slightly as you move around the pool, searching for a rock to perch on; I could have stayed there for hours.
The final geothermal area of the island is perhaps the most impressive. Located right in the centre of Sao Miguel, the town of Furnas is located inside the crater of a volcano. Here you will find bubbling calderas and steam vents alongside two beautiful parks containing hot springs. Just outside the town, Poca da Dona Beija offers a series of small pools with temperatures of around 39 degrees Celsius; perfect for a relaxing soak. My favourite hot spring, however, was located inside Parque Terra Nostra. The beautiful tropical gardens contain a small cluster of naturally warm jacuzzis, but it is the huge yellow lake that is its most impressive feature. Swimming in a naturally warm lake in the middle of a botanical gardens, in front of a luxurious hotel is a once-in-a-lifetime opportunity!
If you're searching for an unusual European destination where you can guarantee a relaxing soak in a geothermal hot spring, then I highly recommend Sao Miguel. Four or five days on the island is sufficient to explore all of the dramatic scenery and to fit in plenty of tranquil outdoor baths. The weather is unpredictable, but there's nothing better than floating in warm water while rain splashes on your face.
---
Emma Lavelle is a UK based writer and photographer and has her own blog Field and Nest.
---