You might not think of visiting Marrakech for a relaxing getaway, picturing the city as a vibrant but hectic destination. When I first arrived, driving through the tiny streets packed with motorbikes, donkeys and pedestrians, I couldn't imagine ever relaxing in this bustling city. I had five days ahead of me and was worried that I'd find it all too much. I like to take thing slowly when travelling, and couldn't envision that happening in Marrakech.

Then we arrived at our first riad, Riad BE. We were escorted from a bustling street down a series of empty alleyways, before being ushered inside a small doorway. The door opened to a peaceful oasis that seemed like it belonged in an entirely different destination that the world outside. The space was only small, several comfortable chairs surrounding a plunge pool and a staircase leading upstairs to an equally peaceful roof terrace. The honking horns and chaos of everyday life were left outside, inside all that you could hear was bird song and the quiet tunes of traditional Moroccan music.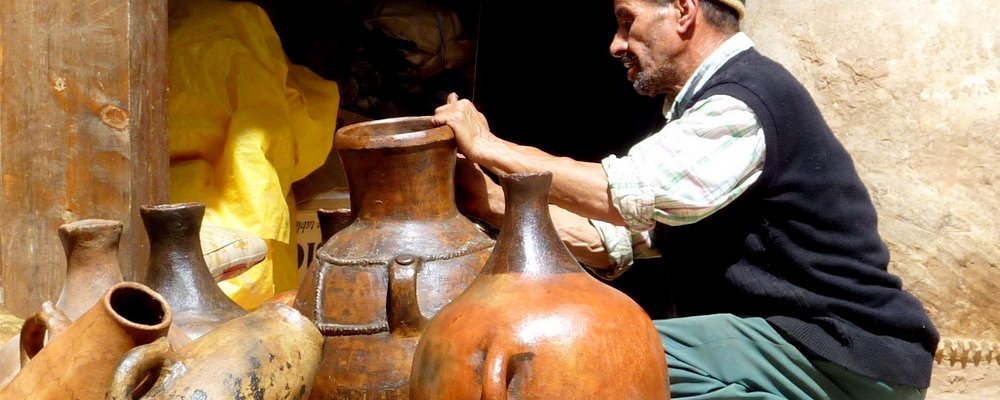 When the chaos and heat of the souks became too much, we hopped in taxis and returned to our riad to relax. The small pool was perfect for cooling off, the sun beds surrounding it providing the perfect spot for reading a book. Up on the roof, hammocks, swing seats and more sunbeds beckoned, clever designing providing plenty of shade from the scorching sun. Breakfast and dinner were both served on the roof, the latter providing the perfect opportunity to watch the sun set over the Atlas Mountains in the distance.
Our riad wasn't the only sanctuary from the souks. There are plenty of calming cafes and restaurants dotted all around the medina, all aimed towards offering a peaceful place to relax and cool down. Le Jardin provided a green oasis that felt like it was located in a completely different city, tortoises wandering on the floor among the abundance of plants. Nomad offered a bird's eye view of one of the souk's bustling squares while providing shelter from the sun. Directly opposite, Café des Epices was the perfect place to stop for a cooling lemonade.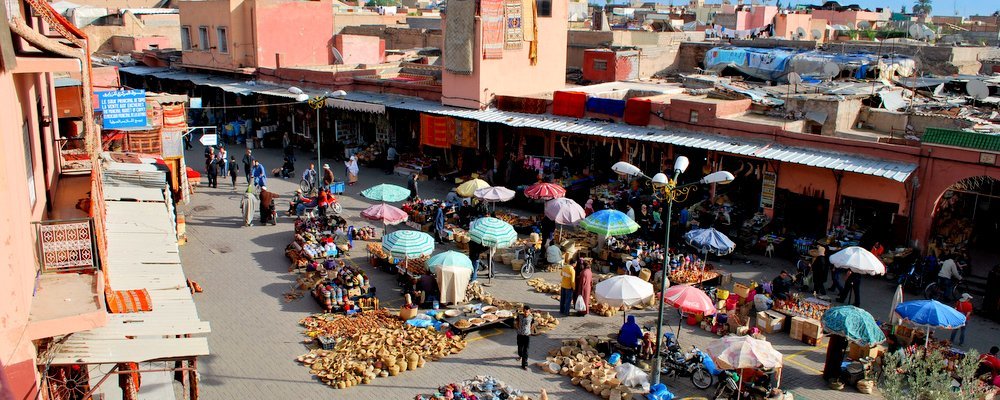 One evening, we sought out one of the city's most iconic boutique hotels. El Fenn is a step up from a traditional riad, providing a curious maze of outdoor terraces, small pools and chill-out rooms for guests to sit in comfort and relax. We headed up to the roof terrace to seek out a secluded spot to enjoy a glass of wine while watching the sun set. Despite many guests and other tourists flocking to the same roof terrace, there were enough little nooks and crannies to ensure that it still felt peaceful.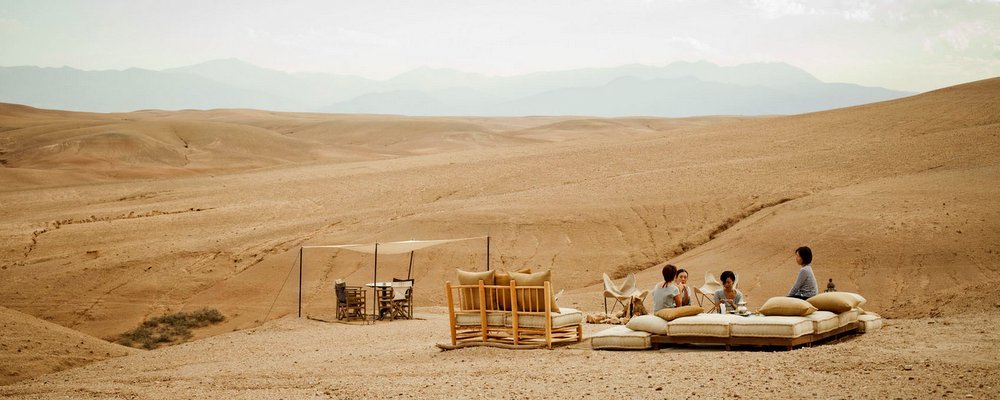 For the ultimate in relaxation, we spent 24 hours away from the city in a desert camp. Scarabeo Camp is located in the Agafay desert, just an hour's drive from the medina, but couldn't feel more different. Guests can enjoy massages or camel rides, but we chose to simply sit and relax, drinking mint tea and soaking up the surroundings. The desert was completely quiet, other than the noise from the camp itself. At night, everyone fell silent and gazed up at the night sky, watching shooting stars and listening to a talk about the stars.
Rather than returning home in need of another holiday (as I'd been expecting), I boarded the plane back to England feeling calm and relaxed. Yes, there had been times when we'd got lost in the souks, laden down with purchases, hot and sweaty and in need of somewhere to sit. The streets are a rabbit warren filled with exhaust fumes and confusing signage. But we'd also discovered another side of Marrakech; a calm and peaceful destination that was the complete antithesis of the hectic city break we'd been imagining.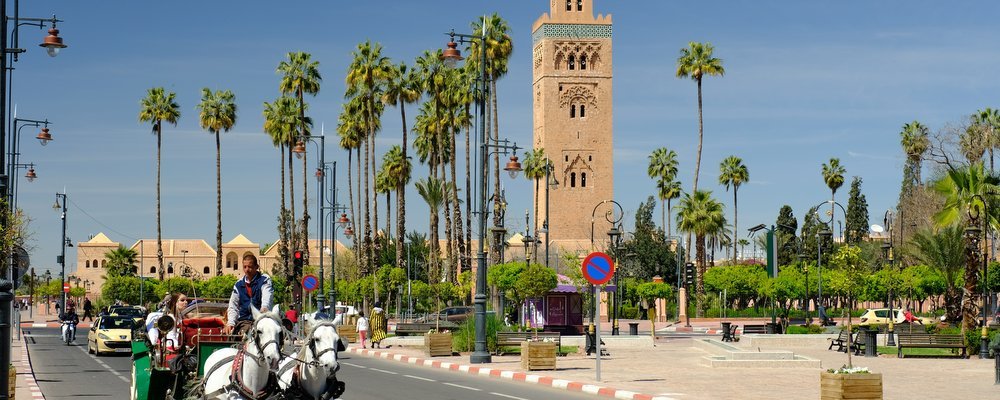 Five tips for enjoying the calmer side of Marrakech
Stay in a riad in the medina, so that you have a place within easy reach to escape to if you need a break.
Spend a night in the desert, completely getting away from it all.
On your first day in the souks, seek out a relaxing café that you can return to anytime you need to sit down and enjoy a cold drink.
Allow yourself breaks from the souks to simple sit and relax in a café or in your riad.
Don't panic! If you get lost or feel stressed out, use an app such as Maps.me to navigate to a place where you feel safe and can get your bearings.
---
Emma Lavelle is a UK based writer and photographer and has her own blog Field and Nest.
---