Scarabeo Camp Location
Located just 35 kilometres outside Marrakech, Scarabeo Camp is nestled among the dunes of the Agafay stone desert. For miles around, all that you can see are the undulating dunes with the Atlas Mountains towering in the distance.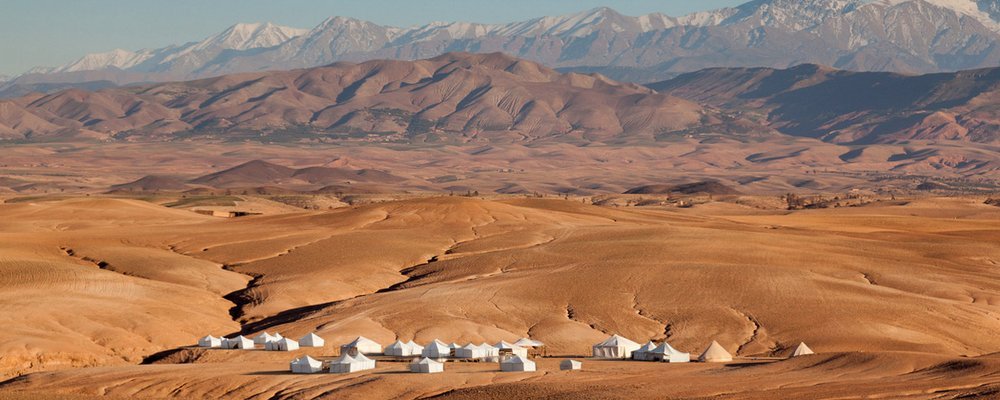 Appearance
The first sight of Scarabeo Camp will make you gasp with delight, as your 4x4 sweeps around a steep bend, a cluster of white tents suddenly come into view. A small cluster of communal tents are filled with dining tables, lit by candlelight once the sun sets. Leather pouffes, Berber rugs and lanterns are scattered outside the tents with a variety of chairs, benches and sun loungers placed spaciously for guests to sit and relax in privacy. The sleeping tents are designed in a colonial style, complete with wood burning stoves, a writing desk, plenty of lanterns and accessories such as globes and old suitcases.
Number of Nights Stayed: One
Scarabeo Camp Room: A double suite
Hotel Restaurants & Bars
Upon arrival, you are asked to take a seat and served a jug of traditional mint tea and Moroccan sweets. Dinner is served in the evening, with guests seated on private tables. We enjoyed delicious soup and freshly baked bread, followed by vegetable and beef tagines served with cous cous, and a tasty slice of cake for desert. Breakfast in the morning is a traditional Moroccan meal with plenty of bread, fruit, yoghurt and omelette.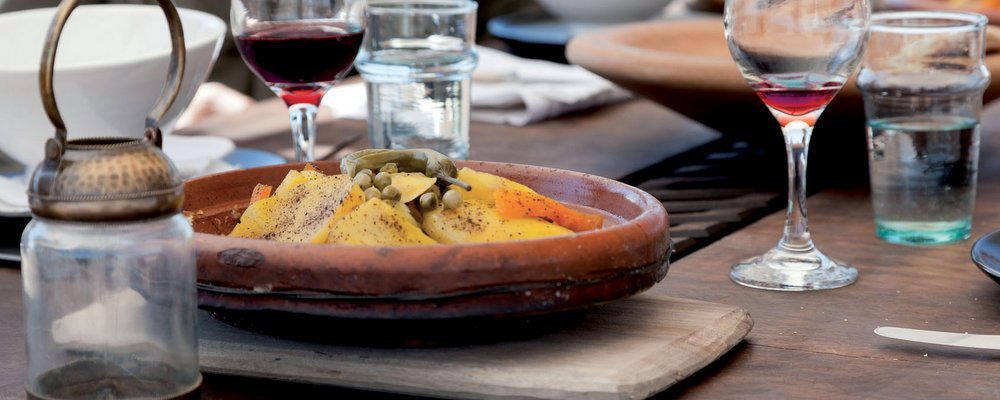 Room Service
There is no room service, but the camp's staff are on hand all evening to serve beer, wine or soft drinks.
Fitness Facilities
There are several options for additional leisure activities which are designed to help guests take advantage of their surroundings. Relaxing options such as enjoying a massage or joining in a yoga class are offset by more energetic activities including camel riding, a dune buggy tour or a half-day hike through the desert. At night, when the sun sets and the camp is lit only by a few fires, the Milky Way is visible to the naked eye. An astronomy professor is on hand to point out the constellations and help guests to spot shooting stars.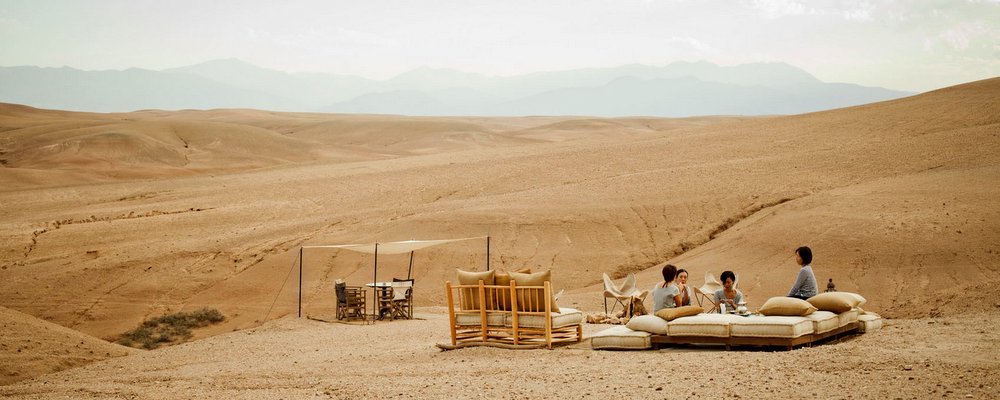 Hotel Staff
The staff are all incredibly welcoming and cater to your every need. We had forgotten to bring a torch and were immediately supplied with one for the duration of our stay which really helped as the camp descends into darkness at night.
Scarabeo Camp Conclusion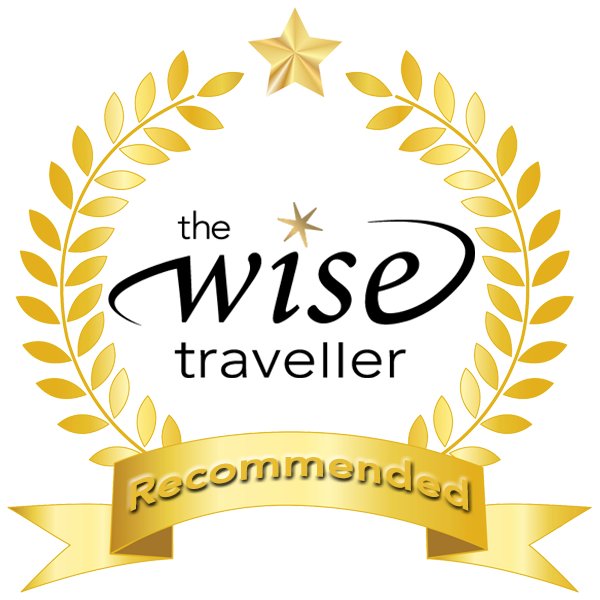 Our night at Scarabeo Camp was an incredible experience, providing the perfect relaxation after a few hectic days in Marrakech. Not only did I visit a desert for the first time in my life, but I stayed in an incredibly luxurious glamping site that was a true once-in-a-lifetime experience. Despite staying in tents, the accommodation was wonderful, with comfortable beds and kept nice and toasty as the staff light the fire and lanterns before guests retreat to bed. When the sun sets, climb one of the hills that surround the camp to take in the views as the fading light turns the landscapes varying shades of pink. After dinner, I would recommend taking several blankets from those provided and settling down on a sun lounger to watch the stars with a refreshing glass of wine.
Wise Traveller Scarabeo Camp Star Rating: 10/10
Booked direct: http://www.scarabeocamp.com/en/philosophy
---
Emma Lavelle is a UK based writer and photographer and has her own blog Field and Nest.
---