Sicily is a foodie's paradise.
Not only is the Italian influence evident across the island's cuisine, but Greek, North African and Middle Eastern flavours appear frequently, creating rich and flavoursome dishes.
Expect to find an abundance of fresh seafood (particularly anchovies, swordfish, prawns, tuna, sardines and clams) all across the island, with pork and lamb being the main sources of meat from the land.
Vegetables are often the main focus of a meal, particularly aubergine, and pasta dishes are common, as to be expected.
Sicilians eat local, and the produce that is grown on the island are the most popular ingredients in their dishes.
This includes garlic, pistachios, citrus fruits, capers, tomatoes and olives.
A food tour of Sicily should include a diversity of eating establishments, ranging from gourmet restaurants in popular tourist resorts, to traditional trattorie in the mountains and unusual street-food discovered on the winding streets of Palermo.
Read on to discover a selection of local delicacies and exciting eateries that should be experienced during your stay.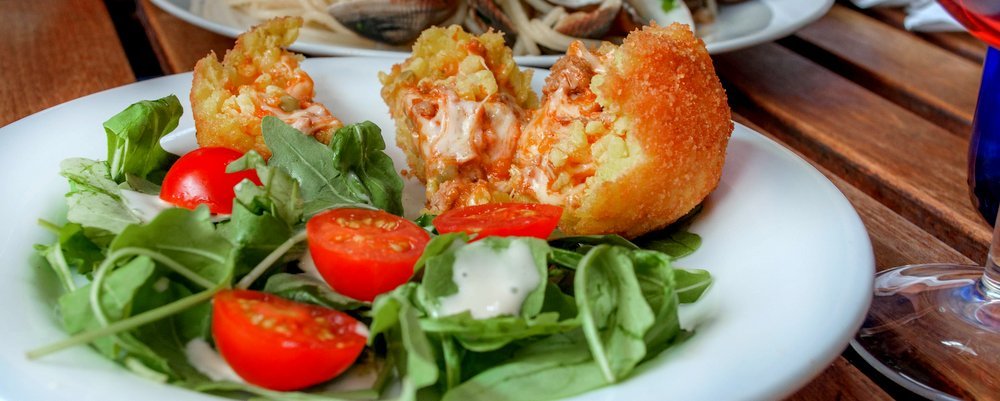 What to Eat
Sicily has many local delicacies that should be sampled during a visit.
Our top tip is to be adventurous and try things that you haven't come across before, straying away from dishes that you could eat anywhere.
Arancini
A firm staple of the Sicilian diet, the preferred recipe for Arancini (or, deep-fried rice balls) alters dependent on your location on the island with fillings as diverse as tomato and mozzarella, chicken liver, or ragu.
Pane con la Milza
Palermo is famed for its street-food (an age-old tradition, not a current fad as in other countries), and this is the crème-de-la-crème of the options available.
Bread rolls are stuffed full of boiled pork spleen, which tastes a lot better than it sounds.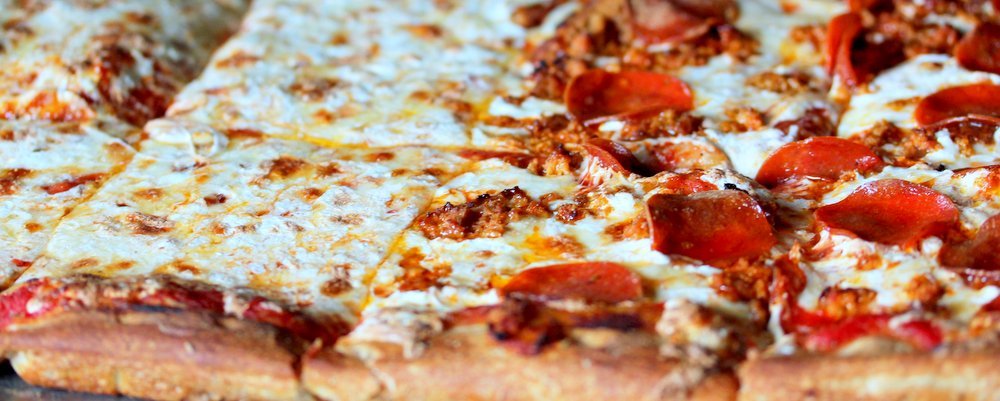 Pizza
Different to traditional Italian style pizza, Sicilian pizza is more likened to an American deep-pan variety.
Usually eaten as street-food, the toppings are normally based on cheese, with a notable absence of tomato.
Panelle
These fried chickpea fritters are another street-food favourite.
Locals like to pick one up as a quick snack whilst on the move, or placed within a savoury bun with a squeeze of lemon for a tasty sandwich.
Pasta alla Norma
You'll find an abundance of pasta dishes on menus across Sicily, but this tasty and fresh combination of aubergine, tomatoes, basil and solid ricotta cheese is the most common and one of the most delicious.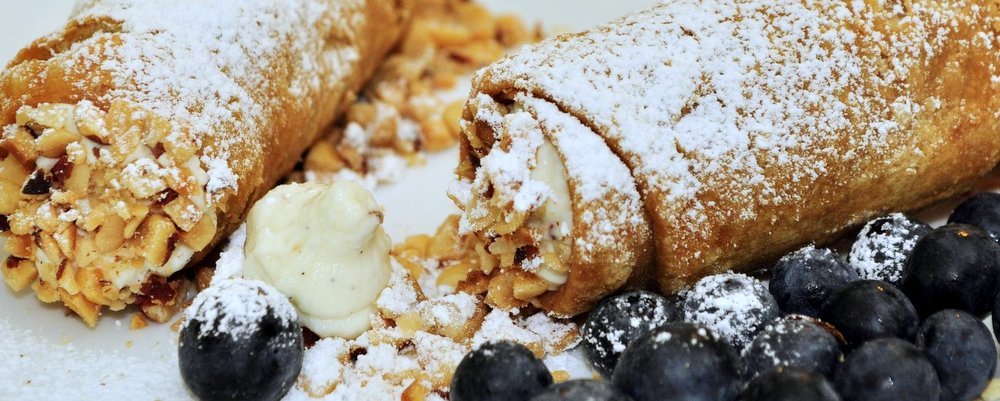 Granita
This traditional sweet dish was historically made from ice gathered from the tops of the mountains.
Mixed with water, sugar and flavourings such as watermelon, coffee or almond, granita is served in a glass with a spoon to eat as a breakfast or dessert option.
Top with whipped cream and pair with a brioche bun for a traditional experience.
Sicilian Cannoli
And finally how could you not have a real Sicilian Cannoli, with memories of the Godfather to match.
These are delicious fried dough tube filled with sweetened ricotta and or mascarpone cheese and feathered with icing sugar.
Best eaten freshly made there is nothing better than enjoying a cannoli with a good cup of espresso.
Where to Eat
There's a vast variety of dining establishments in Sicily.
Our top advice would be venture out of the tourist hotspots and seek out local favourites, as well as ensuring that you don't miss out on Palermo's street-food stalls.

Al Padrino, Messina
Dine with the locals at this simple trattoria that specialises in meat and fish dishes.
The décor may be basic but the menu will give you a chance to taste a selection of local delicacies such as aubergine stuffed with ricotta and chickpea pasta.
La Grotta, Acireale
If you like to discover unusual restaurants, then La Grotta's location inside a cave is sure to tickle your fancy.
Located above the harbour of Santa Maria La Scala, fresh seafood is the highlight of the menu here, whether you opt for a salad, pasta or charcoal-grilled dish.
Ambasciata Del Mare, Catania
Booking is essential for this cosy seafood restaurant located in the popular town of Catania.
Located next door to a fish market, it's hardly surprising that the focus is on seafood.
Choose your fish of the day from the display case at the front of the restaurant before enjoying it grilled simply with oil and lemon, allowing the full flavour to shine through.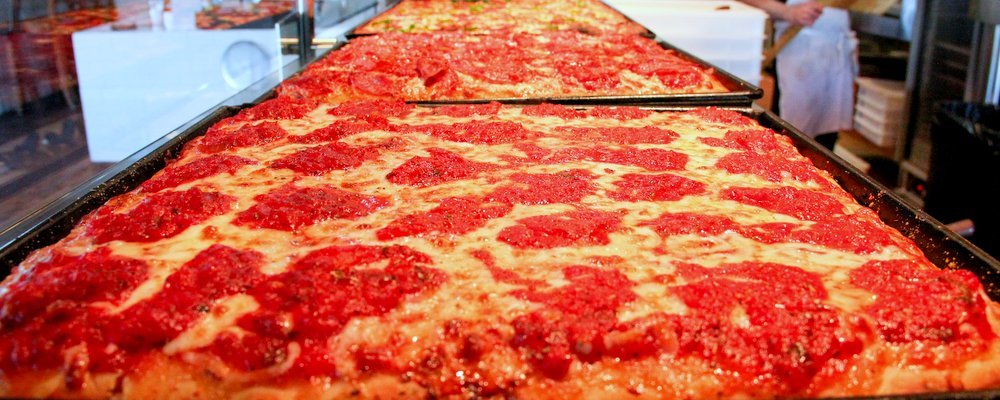 Pizzeria ai Comparucci, Palermo
Head here for fast, cheap and delicious pizzas, served the Neapolitan way.
It's often open later than other restaurants, making it a great choice if you're eating late, after takeaway or want to eat quickly.
Trattoria Altri Tempi, Palermo
Favoured among locals who prefer traditional Sicilian cuisine, this trattorie is famed for its rustic meals with excellent service.
Start your meal with traditional antipasti before moving onto a wholesome option from the main menu, which concentrates on tomato-based pasta dishes and local flavours.
Finish your meal with a complimentary glass of fruit liquor and delicious cannoli.
Food & Wine Tours
If you're really keen on discovering all that Sicily has to offer in terms of cuisine, why not book onto a food and wine tour?
You'll discover hidden restaurants, vineyards and local producers, alongside learning how to cook your favourite dishes yourself.
You'll stay in a private 19th Century farmhouse where you'll learn how to make a selection of traditional Sicilian dishes.
Excursions include visiting a local vineyard, dining in seafood restaurants and discovering cultural highlights of the island.
Travelling across the country, this trip includes cookery demonstrations, visits to olive oil estates, and tours of Palermo's food markets.
Highlights include wine tasting and private dining experiences.

Sicilian-born Katia Amore offers week-long cookery courses that aim to teach guests traditional Sicilian recipes.
Holidays include visits to local producers, group dinners and sightseeing tours.
---
Emma Lavelle is a UK based writer and photographer and has her own blog Field and Nest.
---