Up front I need to confess the Sydney Cove Oyster Bar has been one of my favourite eating places for some time. With views over Sydney Harbour and proximity to much of the Sydney CBD I am pretty sure we have made some effort to have a meal here three out of every four visits over the last 14 years.
The decision to do a proper review of this iconic restaurant (and building with a long history) that has been open since 1988 was a little overdue.
Dining Period: Lunch
Turning up at lunchtime, around 12:15, it seemed fairly quiet with only a few tables occupied. I was ushered to a table that was literally in the middle of three tables one side and three tables the other. A nightmare for a single person once it gets busy, however, after asking if I could I sit somewhere a little quieter, without hesitation I was escorted to a pleasant table set up for two a little away from the tourists.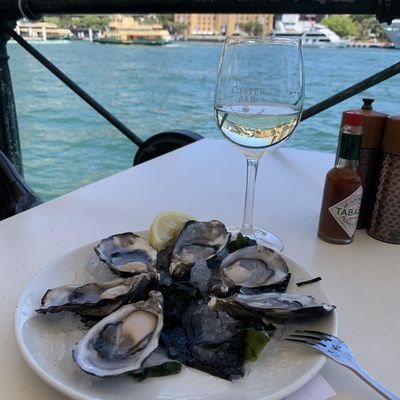 Drinks & Starter
On a pleasant sunny day by the harbour the only order for drinks would be a half-litre carafe of NZ Sauvignon Blanc—it was a nice drop. Along with this very nice and mandatory grape juice you must, without hesitation, try the oysters. And for goodness sake, take note of the name of the restaurant before you go and mistakenly order something else.
This sitting was a half-dozen of the Pacific oysters, from Coffin Bay. They had a slight sea salt taste—juicy without being overpowering—and with a squeeze of lemon they were just perfect. You could add a little red wine vinegar, but I honestly think a squeeze of lemon is enough.
Next Course
Opting for a couple of smaller dishes, the san choy bau an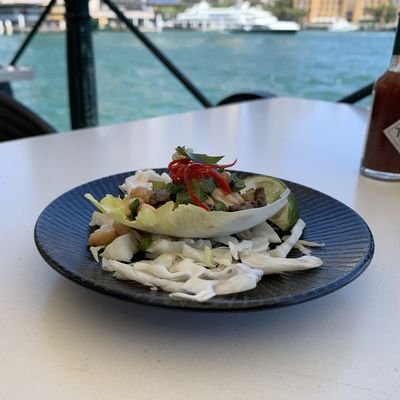 d the kingfish ceviche turned out to be a nice follow on from the oysters.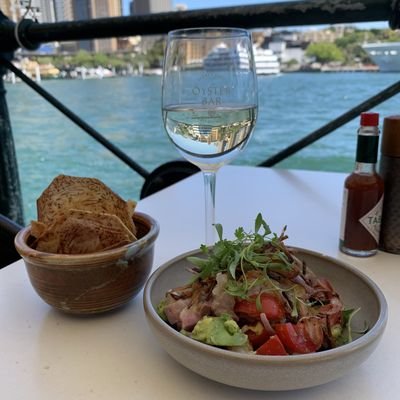 The san choy bau looked a little bite sized when it arrived given the price, but it did exceed expectation. There is a definite chilli kick adding to the tender Wagyu beef and prawn filling. If I had a choice, and being a silly 'if', I would add a tiny amount of hoisin (diluted with mirin) over the top, but that's just me.
Now I love ceviche, in any form. If you've never tried it, it is essentially raw fish (or other meat) basically semi cooked in citrus juice (lime, lemon and even orange). The acid in the fruit will partially 'cook' the meat—some kind of chemical reaction I am sure you can look up on Google if you really need to know.
Here the chef at Oyster Bar combines the kingfish ceviche with avocado, baby tomatoes and perfectly crisp taro chips providing a great combination of flavour and texture in each bite: Note—if you leave anything behind on the plate you are committing a sin and will burn in your version of hades.
Follow up
As much as I would have liked more seafood, I decided to opt for a dessert so I could provide a fuller review (yeh, right). A little bit old school though, I went with an amaretto affogato matched with a South Australian dessert wine from Joseph's Estate to top off a very nice lunch by the water.
Pros to Sydney Cove Oyster Bar
Great location, harbour bridge views, Sydney city skyline views, close to city hotels
Great oysters pretty much all the time
Ever improving menu, and I have been dining here more than a dozen years
Current chef needs way more recognition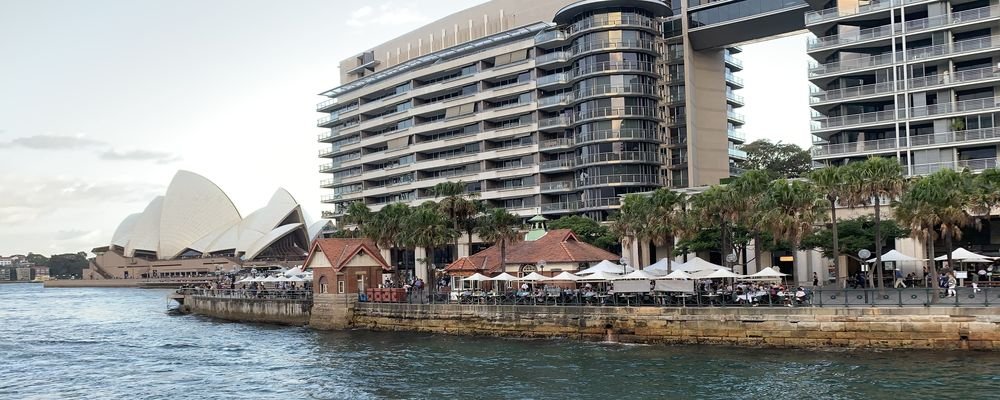 Cons to Sydney Cove Oyster Bar
Tourists & obnoxious locals for that matter can be a little more prevalent given the location.
Not cheap, but also not super expensive either.

Tips to dining at The Oyster Bar in Sydney
Book ahead or go a little earlier than you might normally, to get a better table.
Going during the day? Bring sunglasses.
Going in the evening in winter? Rug up—and go anyway. Ask for a table under a heater.
Get a table tucked away, if you walk in from the ferry terminal direction. These are at the back toward the kitchen, closer to the Opera House.
Personally, I say go for the Pacific oysters as a starter with a glass (or bottle) of champagne.
Do not order anything but seafood—if you want red meat go to one of the dozens of good steak restaurants in Sydney. Order oysters and any other seafood that you feel is palatable that is on the menu and enjoy the waterside experience—you are paying for it. You cannot go wrong with the flathead beer battered fish and chips—it is fantastic.
---
Richard Batka is CEO of The Wise Traveller, a some time writer, regular traveller and someone always humbled by the wonders of the world.
---