For night owls who like to roll out of their hotel bed after an evening nap and hit the dance floor, we've found a few select nightclubs around the world that promise headlining DJs, riveting, panoramic city views and the possibility of celebrity guests.
When the disco movement blossomed in the 1970s in New York City, it introduced a genre and subculture that encouraged dancing to pulsating beats at noise-breaking decibel levels. ("You Should Be Dancing" by the Bee Gees is still one of the era's anthems.) It quickly became the new norm, with dance clubs of all sizes sprouting up everywhere.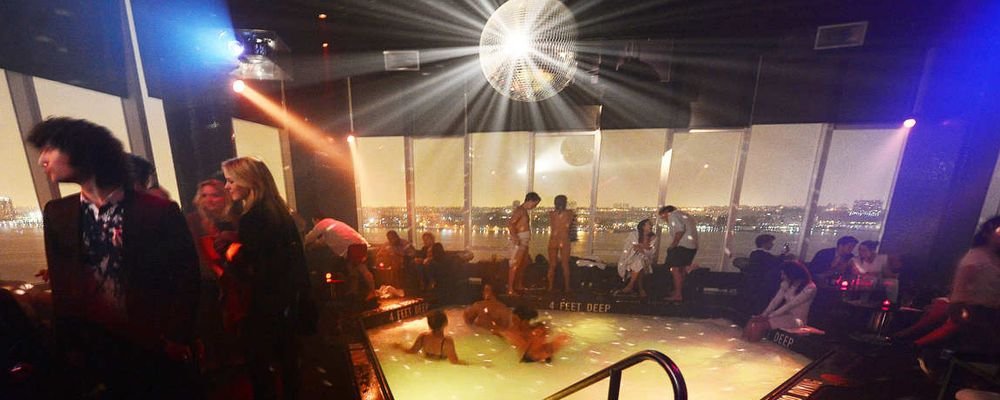 Le Bain, The Standard Hotel, New York City
Inspired by the legendary Parisian nightclub of the same name, Le Bain at The Standard Hotel in New York's Meatpacking district is anything but stale since it opened in June 2010. A penthouse discothèque and rooftop bar on the top floor of The Standard, the first hotel in the High Line neighborhood, it continues to draw crowds and world-famous DJs, with a fabulous sound system and exclamation-inspiring views. During the summer, there's a plunge pool (yes, jump in) on the dance floor and a crêperie on its grass-covered rooftop.
W Hollywood, Los Angeles
On the West Coast of the US, the W Hollywood, part of the hotel chain known for a spot-on, trendsetting, after-hours bar scene, also has a rooftop nightclub. There is not a more gorgeous scene, view or vibe in Los Angeles than the W Hollywood rooftop, according to its fans. The nightclub is open only Fridays, Saturdays and Sundays, with an early closing time of 2:00AM. They are strict about a dress code, which these days can be interpreted loosely: "upscale fashionable attire".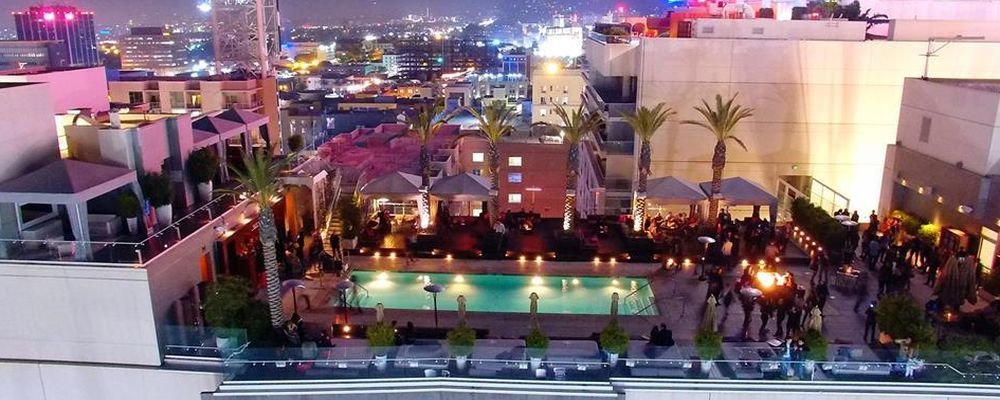 The Jewel, Aria Resort & Casino, Las Vegas
Las Vegas may be best known for "what happens in Vegas, stays in Vegas" which makes it the perfect place let go. The Jewel at Aria Resort & Casino is a nightclub that hosts not only celebrities and their entourages but well-known DJs and performers in its LED-lit, 24,000 square feet of space. Vantage points in every direction mean that you can always see and be seen. And check out the five themed VIP suites with custom amenities and luxe furnishings which can be reserved in advance through the club's website.
Red Square, The Moscow Hotel, Dubai
Another party city, Dubai, boasts the Moscow Hotel which might seem like a dubious place to have a nightclub, but the hotel's Red Square club promises a good time with its nights of fun, frolic and discovery. Situated on the ground floor, the nightclub is outfitted with excellent sound, superb lighting and a stylish décor, ironically Russian-esque, that brings in live bands and DJs every night.
Crane Hotel Faralda, Amsterdam
Here's a place where high gets a new meaning. Amsterdam Crane Hotel Faralda is both a small hotel and tiny club located 50 meters above ground in a crane that's outfitted with a platform. You'll have to message their Facebook page to nab yourself an invite, but it's worth it.
The Imperial Erskineville, New South Wales
Down under (for some of us) in Australia, is a much-loved haven for the LGBTQIA crowd at The Imperial Hotel, a colorful and expansive basement club that hosts international artists and DJs. Upstairs, there are nightly drag shows where you can sing along to classic party tunes.
Sing Sing Theatre, Bangkok
From multi-level, mega dance halls to hole-in-the-wall haunts, Bangkok delivers on every level of nightlife as the capital of Thailand. One of the more creative concepts in clubbing can be experienced at Sing Sing Theatre, with its Chinese Theatre-inspired interior design, attracting international DJs and crowds every night.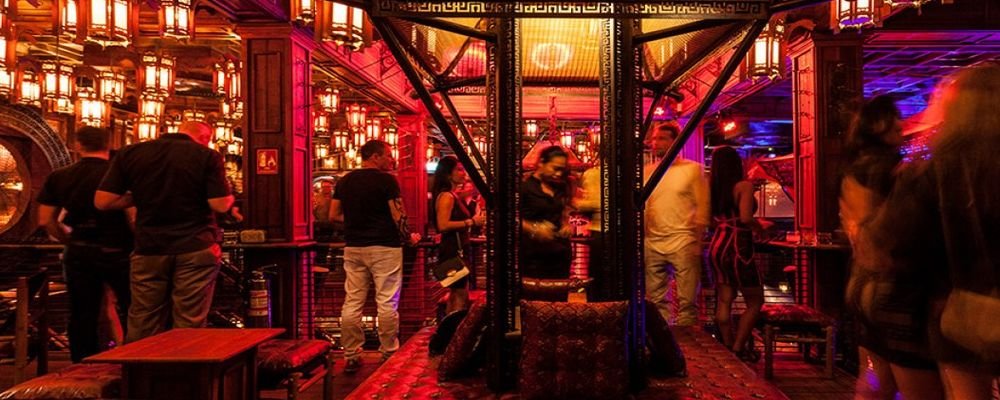 Jimmy'z, Monte Carlo
Although not situated in a hotel, this nightclub deserves a mention. Jimmy'z, next to Hotel de Paris Monte Carlo, is the ne plus ultra of an over-the-top boite de nuit (night club) that has been going strong for 40 years. A waterfront nightclub encircled by its own manmade lagoon, Jimmy'z takes velvet rope exclusivity to the extreme. Reserve a bijou bistro table on the dance floor for 2,500 Euros or order a bottle of Dom Perignon for 800 Euros. Here dynamic pricing is not only alive and well, it's treated like an elitist privilege.
The best part about leaving these nightclubs could be the ability to get to your hotel room without getting lost!
---
Isabelle Kellogg's press relations career, with a speciality in travel and hospitality, enabled her to make an easy transition to journalism and write about the topics she loves.
---