Sydney Restaurants With Amazing Views
When it comes to dining, Sydney Australia boasts a multicultural menu, with celebrity chefs from all corners of the globe. Many restaurants add flavour to their meals, with panoramic views of Sydney Harbour, the Sydney Opera House and the Sydney Harbour Bridge. With a city that boast so much water front real estate it would be almost impossible to list every quality restaurant and bistro that offers a view of Sydney, so we have selected a few more notable for their views and quality.

Fly and Dine With Sydney Seaplanes
Step into a state of the art Cessna Caravan Aircraft and fly over Sydney's famous Harbour, Eastern Beaches, Northern Beaches, and the beautiful Hawkesbury River. Stop for a gourmet lunch at the acclaimed Cottage Point Inn Restaurant. Situated in the Ku-Ring-Gai Chase National Park, this restaurant offers exceptional Australian cuisine in a spectacular setting Price is $500. Drinks are sold separately. Other notable restaurants with views also serviced by Sydney Seaplanes include Jonah's at Whale Beach, Berwora Waters Inn and Bells At Killcare on the NSW Central Coast.
E: reservations@seaplanes.com.au
A: Seaplane Base, Rose Bay, NSW 2029
T: 1300 732 752
Sydney Seaplanes Website
Fort Denison: Dining Flavoured With Lights and History
The best time to dine at Fort Denison is during the Vivid Festival. Held in late May to early June, this lights and music festival draws travelers and artists from all parts of the world. Fort Denison provides panoramic views of this event. For $75 per person, savour a two course dinner, as you watch the harbour come to life in a mosaic of thousands of colours. An extra $25 gets you a boat ride back to your hotel, entrance to the park and a guided tour of the Martello tower.
Open: Lunch only 11:30am - 3:00pm Monday to Sunday (brunch offered during year please check website)
E: reservations@fortdenison.com.au
A: Fort Denison Port Jackson (Sydney Harbour)
T: +61 2 93615208
Fort Denison Website
Italian Village
Serving up luscious views of the Sydney Opera House and Harbour Bridge, Italian Village provides an extensive selection of Italian specialties. The restaurant claims a prime location on the shores of Sydney Harbour at Campbell's Cove. Its terracotta and sandstone walls, timber detailing and atmospheric lighting blend rustic charm with what can only be described as "gourmet homestyle cuisine." The amazing views provide added value. Average meal price is $55, based on an entree and main course.
E: enquiries@italianvillage.com.au
A; 7 Circular Quay W Sydney NSW 2000
T: +61 2 9247 3666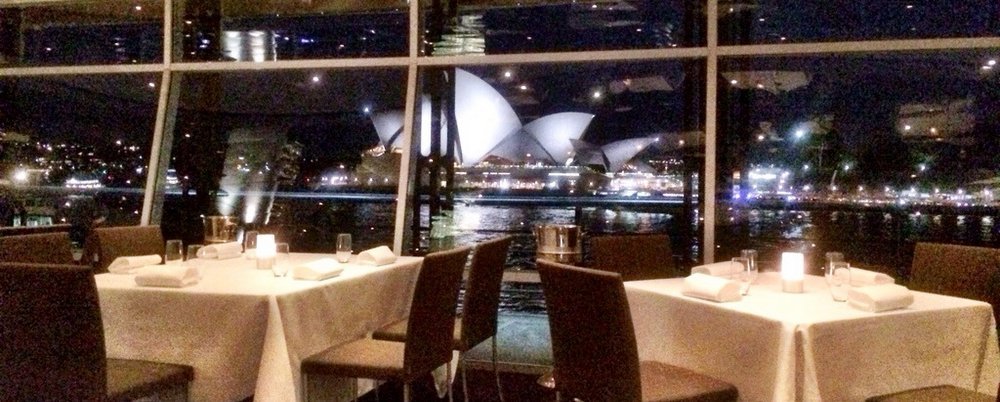 Quay
Quay enjoys a prime location in the dress circle of Sydney Harbour. Its patrons enjoy some of Sydney's most spectacular views of the Opera House to the Harbour Bridge, along with the awe-inspiring food creations of chef Peter Gilmore. Gilmore's signature dessert, the Eight-Textured Chocolate Cake recently appeared on Masterchef. Prices, according to Eatability.com
Lunch: Set Menu - 3 courses $135.00 & 4 courses $155.00
Dinner: Set Menu - 4 courses for $175.00; Degustation 8 courses Tasting Menu $225.00pp With optional accompanying wines $95pp or $175pp
A: Upper Level, Overseas Passenger Terminal The Rocks, Sydney NSW 2000
T: +61 2 9251 5600
Quay Website
Aria
Located in Circular Quay, Aria combines the most coveted views of Sydney Harbour with a luxurious dining experience. Start with a cocktail topped with a slice of candied bacon, and continue with unique specialties such as Murray cod with sour blueberries, guanciale and rosemary. This restaurant also offers a Sydney Opera House and Opera Australia Dinner Package, $348 per person. Prices includes a three-course dinner, opera tickets, and a guided tour of the opera house.
E: ariasydney@solotel.com.au
A: 1 Macquarie St.,Sydney NSW 200
T: +61 (0)2 9252 255
Aria Website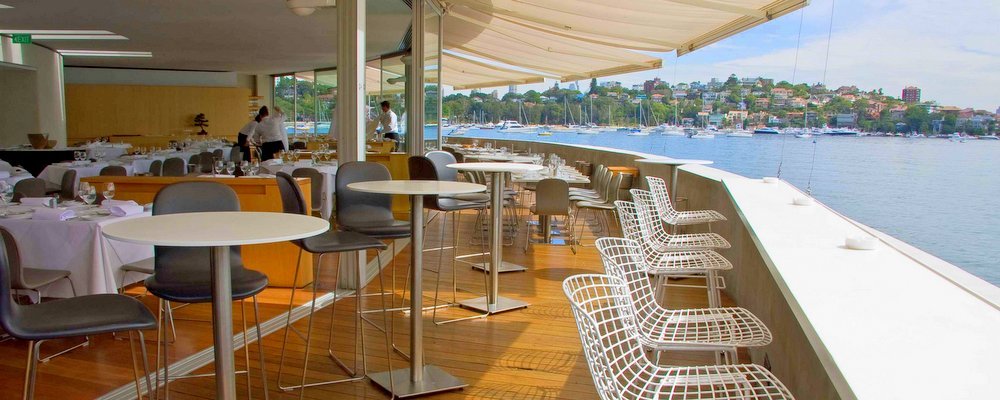 Catalina
Catalina has been a mainstay of harbour front dining for many years, located in Rose Bay it has an expansive view of Sydney's Port Jackson. Head chef Mark Axisa has been with Catalina since his apprenticeship ad offers an amazing consistency of quality to the menu across a selection of seafood, meat and poultry dishes for all tastes such as crispy skin coral trout, venison loin and black ink infused fettuccine with lobster.
E: reservations@catalinarosebay.com.au
A: Lyne Park, Rose Bay, NSW 2029
T. 9371 0555 f. 9371 0559
Catalina Website
What about restaurants with views in Paris and San Francisco?
Casual Choices
In Sydney, casual refers to dress code and child-friendliness. It does not necessarily imply cheap. Here are some options.
Sydney Tower Buffet
Sure revolving restaurants are a touristy thing to do, but go ahead, be a tourist! Sydney Tower Buffet serves over 40 freshly-prepared dishes, ranging from modern Australian, Vietnamese, Chinese, Japanese and Italian cuisines. There's also a sinfully tempting desert bar. Savour your meal, whilst enjoying 360-degree views of the city. Even better, kids 3-12yrs eat for free every Monday and Tuesday, for lunch and dinner, all year round. Further towards the Quay you could also try O Bar & Dining atop Australia Square also offering a revolving restaurant option.
Lunch: Monday – Friday $55.00, Saturday – Sunday & Public Holidays $59.50
Dinner: Monday – Thursday $69.50, Friday – Sunday & Public Holidays $85.00
Children (3 – 12 years inclusive): $27.50
E: enquiries@sydneytowerbuffet.com.au
A: Sydney Tower Dining, Reception Level 4, Sydney Westfield Centre, Between Pitt & Castlereagh Streets, Sydney NSW 2000
T: +61 2 8223 3800
Guylian Cafe
Stunning Sydney views combined with Belgian chocolate topped off with a glass of champagne. Are you in heaven? No. You're at the Guylian Cafe. With three locations dotted around the centre of Sydney you can get your chocolate fix almost anytime anywhere. Arguably the best views belong to the Circular Quay location, however the venues at Darling Harbour and The Rocks also offer great surroundings to enjoy the pleasures of both scenery and chocolate. Open for breakfast, lunch and high tea. Prices range from $5.50 to $20.50.
Open: 8:00am to late.
A: 91 George St, The Rocks; Opera Quays, 3 Macquarie St Sydney (Circular Quay) & TR5 1 Harbour Street, Sydney (Darling Harbour).
T: +61 2 8274 7500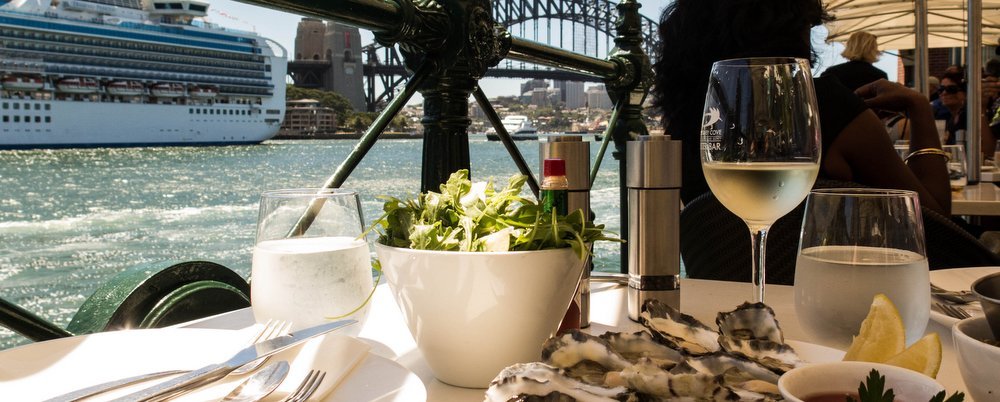 Baroque Bistro
Located in a rustic heritage space within The Rocks, Sydney, Baroque Bistro offers a casual yet elegant dining experience, along expansive views of the Sydney Harbour Bridge and Opera House. Going to the theatre? Try their three course, pre-theatre set menu, priced at $49. Price includes wine.
A: 88 George Street (corner of Hickson Road) The Rocks, Sydney NSW 2000
T: +61 2 9241 4811
Sydney Cove Oyster Bar
As the name suggests this oyster bar offers a variety of oysters selected from the best available on the day from the markets. The menu has a great selection of other seafood whilst catering for other tastes as well. Located literally on the concourse at Circular Quay this is a perfect spot to enjoy a Sydney sunset over the Harbour Bridge and watch the world go by with a dozen oysters and glass of champagne.
Open: 8:00am to midnight
E: info@sydneycoveoysterbar.com
A: Lot 1 Circular Quay E, Sydney NSW 2000
T: +61 2 9247 2937
Sydney Cove Oyster Bar Website
Cruise Bar - Sydney Passenger Terminal
Classy yet casual, Cruise Bar offers creative cuisine and cocktails, with the illuminated Sydney Opera house in full view. Entrees start at $21, Main courses, $32. All deserts are $17. Also in the Sydney Passenger Terminal are Quay (above) as well Yuki's at Quay (for sushi).
A: Level 1, 2 & 3, Overseas Passenger Terminal, Circular Quay West Sydney, NSW 2000
T: + 61 2 9251 1188
North Bondi Fish
Boasting casual dining with epic views of Sydney's Bondi Beach, this restaurant appeals to the "fish and chips" crowd, as well as sushi lovers and fans of Asian fushion cuisine. Try the crumbed Barrumundi Burger.
Single oysters start at $4. Main Courses range from $22 to $35
E: hello@northbondifish.com.au
A: 120 Ramsgate Avenue, North Bondi NSW 2026
T: +61 2 9130 2155
Other Sydney Restaurants With A View
Altitude, Shangri La Hotel, The Rocks
Aqua Dining, Milsons Point
Bathers Pavilion, Balmoral Beach
Cafe Morso, Joan's Bay Wharf
Cafe Sydney, Circular Quay
China Doll, Wooloomooloo Wharf
The Deck, Milsons Point
Doyle's On The Beach, Watsons Bay
Gunner's Barraks, Georges Heights
Hugo's, Manly Wharf
Icebergs Dining Room, Bondi Beach
Ormeggio, The Spit, Mosman
Ripples, MIlsons Point
Sails, Lavender Bay
The Waterfront, Circular Quay West
Wolfies, Circular Quay West