The Gobi Desert Gives Us Four Seasons In One Week
Crowded House wrote a song some years ago, Four Season In One Day, not aware that it would today epitomise the Gobi March 2015, the first couple of verses go something like:



Four seasons in one day
Lying in the depths of your imagination
Worlds above and worlds below
Sun shines on the black clouds hanging over the domain
Even when you're feeling warm
The temperature could drop away
Like four seasons in one day




Smiling as the shit comes down
You can tell a man from what he has to say
Everything gets turned around
And I will risk my neck again, again
You can take me where you will
Up the creek and through the mill
Like all the things you can't explain
Four seasons in one day
These words would end up haunting for the whole week of the Gobi March 2015.
So after a days training for volunteers, a mandatory equipment check for competitors and a 4 hour bus trip out to camp one the 2015 Gobi March was suddenly very real.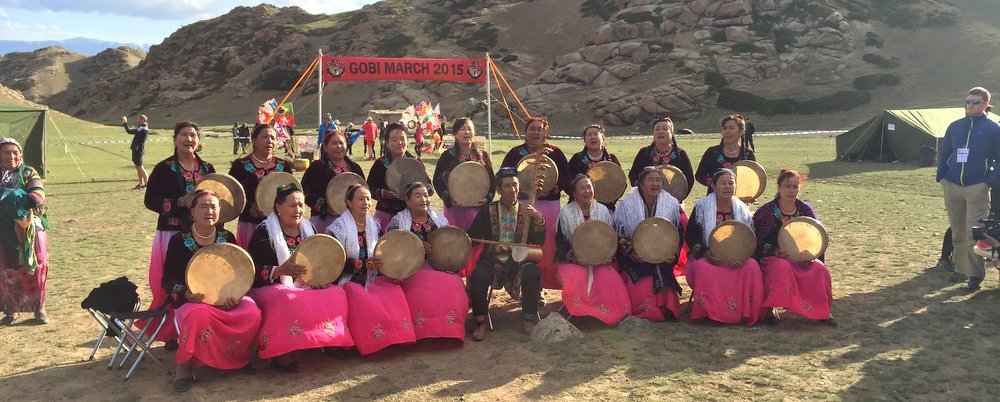 Camp one, the race start line, was a site filled with tents and equipment … and a local SWAT team, yes SWAT. Apparently there was some decision that we might need protecting. From what, I'm not sure. The sheep and camels looked pretty friendly as did the local villagers that came out in force to welcome the 4Desert circus that came in.
Nonetheless, the show of force from the AK47 wielding officers did provide some level of comfort and a feeling of security – at least that's the way I chose to look at it, the alternative thoughts might have been a little uglier.
For the volunteers the first evening was a huge learning curve getting check point equipment ready, moving literally a ton of water and ensuring everything was ready for the days ahead. The competitors were treated to some local culture and started to get to know each other around the campfire.
Season 1 - Winter
Did I mentioned it was cold – f**king cold if you are an Australian living in Singapore. The ambient temperature was down to around 3 degrees Celsius. Not freezing but cold. With a 4:30am start the next morning this cold certainly gave you pause to think 'WTF am I doing here – I didn't read this in the brochure'.
For my sins I was allocated to Check Point 4, with a doctor, another volunteer and our 'Captain', Tony, an experienced 4Desert Volunteer and veteran of 4 races as a competitor.
My assigned check point was the last before the finish for Stage 1. Strategically placed at the bottom of a sand dune that the competitors were to run up before a steady decent to the finish some 10 km beyond.
As we arrive to set up we all commented on the scenery, albeit a little cool, particularly since we had all expected a desert with corresponding weather.
As we set up camp, cool turned cold, so extra clothing was donned by all.
Lead competitors started trickling in around mid morning, rain started coming down around the same time and temperature began to fall. Within 30-45 mins of the first runner coming past the check point the sleet began, with a not so pleasant bitterly cold wind making a show.
I had never intended participating, however at this point I started envying the competitors. As they were moving the cold would have been balanced out a little by the exercise. For the volunteers and CP (Check Point) staff, this upside did not exist.
The weather continued to deteriorate to such an extent that it started snowing. Yes … snowing. Another 'WTF' moment.
Amusing at first, the snow, bolstered by the wind, literally consumed the Check Point and the sand dune and quickly turned into what could only be called a blizzard. At this point the top of the sand dune was lost, making it too dangerous for competitors. With a quick confirmation the course team re-routed the course to circumnavigate, the now lost in the blizzard, sand dune rather than traversing it.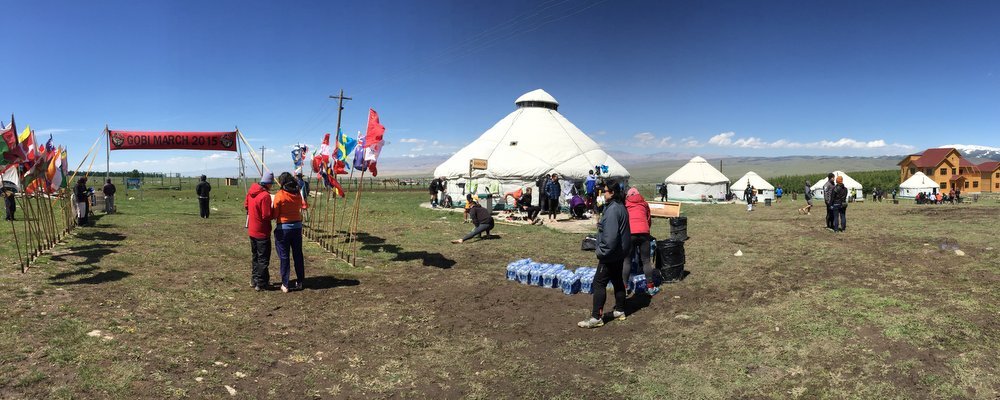 For the next 4 hours our little check point was subjected to weather more suited to Everest than the Gobi. All of us in various states of 'freezing', none of us having been prepared to be cold, wet and in the snow. Definitely all of us pondering the specific point in our lives where we might have pissed someone off enough to deserve this. Sadly I came up with a few too many options.
The first haunting from the song made itself apparent "Even when you're feeling warm, the temperature could drop away".
Although I think I missed the 'feeling warm' bit of those words on the day.
Stage 1 finished in a village where competitors and volunteers were afforded accommodation in yurts. Basically big canvas tent like structures and remarkably warm.
Stage 2, the next day I was assigned Check Point 1. A check point that followed a 200 metre assent by competitors, that was above the snow line of the mountain range. Again I missed this part of the brochure. So all day this check point team dealt with snow, a little easier as we were a little more prepared than during stage 1, however still quite surreal in context.

This part of the run was fairly treacherous as not only did competitors need to deal with a climb that ended in snow covered conditions, the resulting decent took them along a path that quickly became icy. Something many were not expecting, as I didn't notice anyone with crampons strapped to their Nike's during this section.
Once below the snow line the terrain became a little easier and descended into something more akin to desert conditions, weaving through a number of quite picturesque valleys and ending some 35 kms away in a small hilltop village, home to only 17 families. An interesting prospect for those families as the circus of 200 competitors and extras turn up.
Season 2 – Autumn
Of course we all know Autumn does not follow winter, however no-one had explained this to the weather Gods during the event. After a pleasant enough evening in the hilltop village the circus again started for volunteers at 4:30am with a quick breakfast and then off to the next days CP. My assignment on this day was CP 4 the finish line and Camp 4.
We arrived, 40km away, around 7am. Camp here was back in tents. However ….. the location for the tents was something that looks somewhat like a photo sent back from one of the Mars rovers. Not quite as red but rocky, as rocky can be. Weather was still cold mind you.
Us volunteers pitched in preparing the camp & helping with tents. A fair sized local team was responsible in general, but as they say, many hands make light work, or so you might think. Due to the very rocky conditions, one not so pleasant task was removing the rocks from within the tents once up. To date the worst task for the week, particularly since there were thorn bushes all over the place and I ended up spending much of the later part of the morning pulling splinters/thorns out of every finger. In fact I'm still doing it as I type!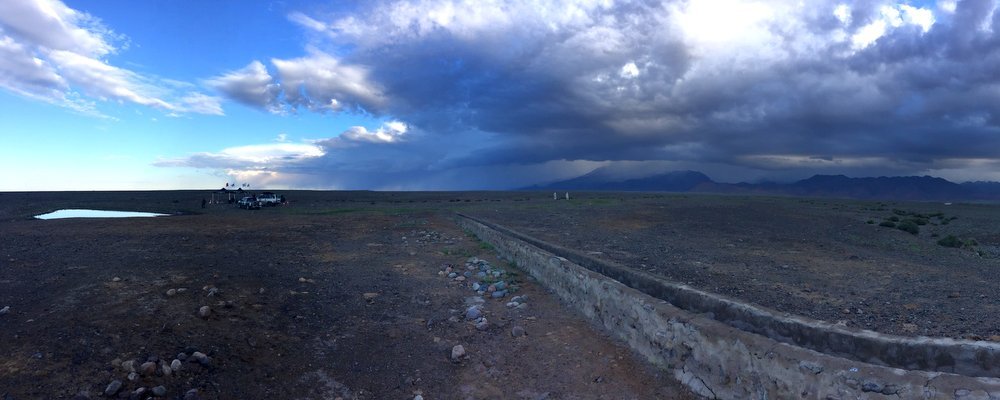 Competitors started coming in around midday, as did the rain. Once again the weather Gods were spitting at us, literally. It rained consistently all day and was cold all day and was annoying all day. We just couldn't get warm until we started filling empty plastic water bottles with hot water. Here I will stop with details as some of these water bottles made there way to unmentionable places just to alleviate the bitter cold. I know there was a point where I was prepared to sacrifice another virgin to have the snow return. At least the snow is dry and cold, a marginally better option than the miserable rain being wet and cold. At one point one of the volunteer tents had its own internal swimming pool, not heated mind you!!!
Haunting line number two from the Crowded House song - 'smiling as the shit comes down' or at least trying to smile sprang to mind.
After employing some basic camping skills a number of trenches were dug around the tents at which point sometime late afternoon the rain decided to stop – of course - heaven forbid all that work digging trenches should actually be useful. The upside though was the evening had turned to be fairly pleasant, mostly – still cold though.