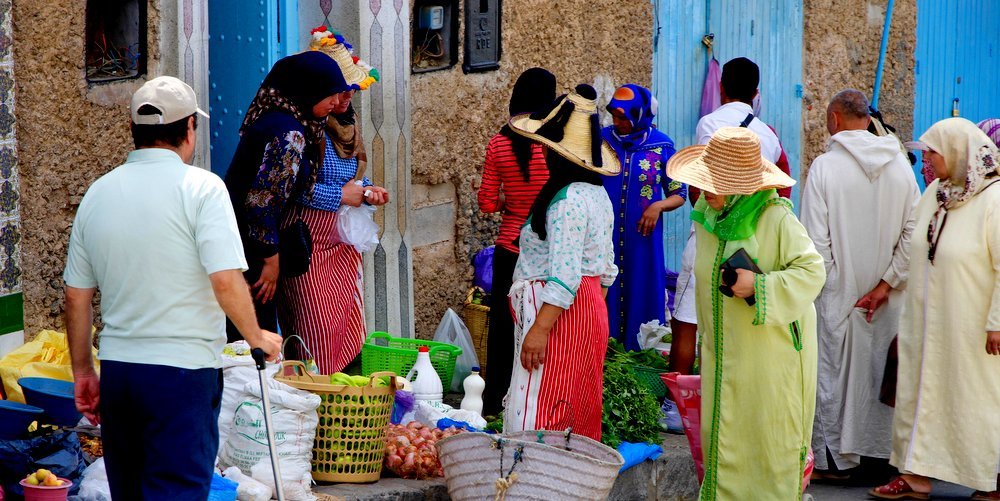 Perched precariously under the jagged peaks of the Riff Mountains where hashish farms flourish, goats climb trees to feed, Berber women flounce around in candy stripes wearing broad brimmed hats dotted with dancing bright pom-poms, and winding cobblestoned alleys lead forever uphill hiding houses in different hues of blue; Morocco's Chefchaouen is sheer eye candy for the traveller.
The city that I went to for a week and stayed a month: will have you spellbound. Once a Moorish fortress for exiles from Spain, Chefchaouen was founded in 1471. The city grew and welcomed Christian and Jews alike. Awash not just in various hues of blue, the city is a rich cultural haven, woven over time with the tapestry of the Berber tribespeople, Muslims, Jews and Christians. It sits in its own world, caught in a time warp with the old medina calling out prayer time. Amidst this patchwork of Moroccan and Andalusian red-tiled roofs proudly sits a restored Kasbah claiming the central Plaza Uta el-Hammam.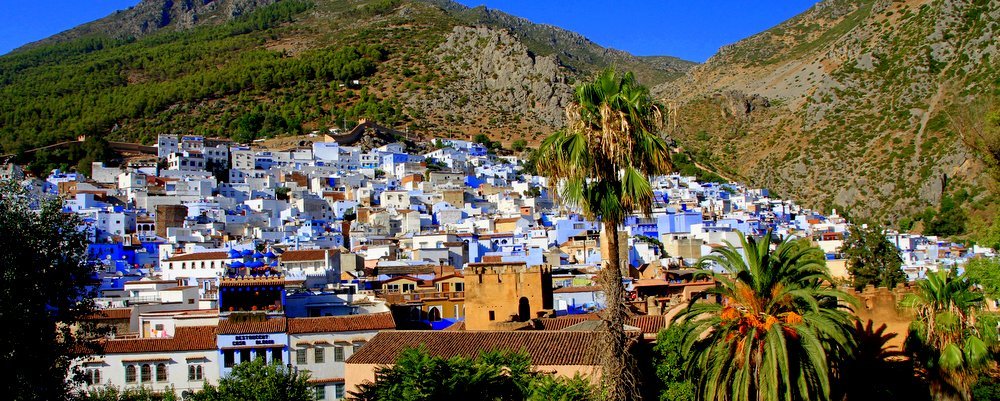 Your bed may be in an oversized cupboard, as was the case in the riad where I happened to find myself. A tall skinny building of ingenuity where French double doors opened guest rooms (aka closets) onto balconies and the main shared bathroom was a rock cavern with a shower area that rivalled any mini-waterfall I have ever seen, was an artist's playground. The sun played on the bright colourful mosaics throughout the open centre of the four-storied building where greenery flourished and washing hanging over the balconies dried in the breeze. There was little privacy, to the point that any guest with a bad stomach – a common and frequent complaint – had to put up with their gruesome and untamed bodily functions reverberating throughout the riad.
Beware of the divorced riad owner looking for his next wife. The share kitchen was perched on the 3rd level where the making of mint tea became de rigueur after a lesson from the riad owner and the fact that mint was growing in a colourful pot right beside the kitchen. Hamid, the riad owner, took to buying me coffee every morning and delivering it to my door, telling me that I would look beautiful in a headscarf. He was divorced and obviously looking for a replacement of a more exotic flavour than that of his indigenous first wife.
His mother and sisters began to include me in their daily gossiping sessions. One sister could speak English, but most of the time they would yammer away in Arabic or French. I became a surrogate family member, especially after I was stung by a bee and laid up on the couch with a leg the size of an elephant's for a week. I am allergic to stinging creatures and had failed to make sure my EpiPen or antihistamines were in my travel first aid kit, much to my dismay.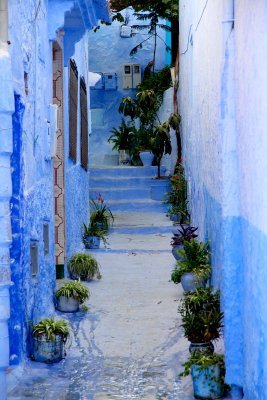 Hanging out with the locals is why I travel. I would gorge myself each morning on shortbread biscuits stuffed with jam and smothered in coconut or junks of chocolate or almond cake, bought from the toothless old lady in the bakery a few doors down. I would sit on my haunches with another elderly lady who sold flat bread each afternoon at the end of our little lane. Despite the language barrier, we would smile and nod at each other like co-conspirators. Kiddy stools became the afternoon seating arrangement, as Hamid and I would perch on them watching the comings and goings of the locals and the tourists at the top of our lane. A mixture of English, French and Arabic belted out between the shop owners and us.
Every couple of days the local fresh produce market was set up in the laneways near the gates of the old town. Berber women would set up their meagre offerings at their feet of fresh eggs, spices and herbs, olives, dates and a vast array of fruit and vegetables. Their traditional candy-striped skirts swirled around them, whilst their straw pom-pom hats kept the morning sun off their weather-beaten faces. There were innumerable tiny shops that only opened in the afternoons to sell that morning's fresh goat's cheese. It is a local product traditionally associated with Chefchaouen, due to the goats' feeding in natural pastures that are rich in aromatic and medicinal plants. Blended with unpasteurized milk, making it creamy smooth, the production of this treasured product is minimal. Many of the local men would stand beside the small wooden counters and scoff down a whole bowl within minutes.
Continuing reading Part 2 of Gail's experience in Chefchaouen – featuring donkeys and lots of hash.
© All images Gail Palethorpe
---
Gail Palethorpe, a self proclaimed Australian gypsy, is a freelance writer, photographer and eternal traveller. Check out her website Gail Palethorpe Photography and her Shutterstock profile.
---