Are you dreaming of dining under the stars in the Sahara Desert, meandering through a maze of alleys in a Moroccan souk, learning the art of wrapping a Bedouin scarf around your head without looking like an idiot, or scoffing an aromatic curry? Think ancient casbahs, indulgent and luxurious riads behind medieval walls and stretches of sandy shores with loping camels entertaining swimmers. Morocco is a colorful land of contrasts built upon eons of ancient civilizations.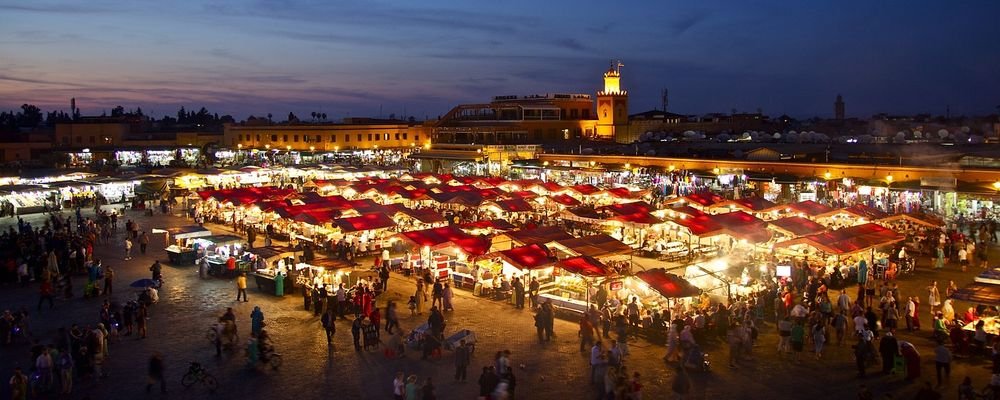 Imagine you are lazing on a cushion-swamped lounge on a rooftop in Marrakech as the fiery sun creates a pink haze in the twilight. Stately tall palm trees are silhouetted against crimson skies, and cats slink atop rustic walls like ballerinas on a tightrope. The odd local will be opening up their pigeon coops to let their homing birds take flight. Dark shapes take form on the roofs—masses of aerial satellite dishes and sculptured chimneys, and a gentle breeze makes the washing dance on long makeshift clotheslines. The sunset haunting call to prayer issues from the minaret.
Got the picture? No long-haul flight, no customs or immigration to jump hoops through, no language barrier, and no scurrilous taxi driver to take you to your accommodation.
Now that your brain is where your body wants to be, let's get your ears tuned in. The Moroccan music you will hear depends on where you are. There are six basic genres: Berber, Chaabi, Gnawa, Malhun, Rai, and Sufi. Instruments include fiddles, lutes, a violin-like instrument named "kamenjah," drums and tambourines, to name a few.
From instrumental trance-inducing music to folk music, the Moroccan music scene is vibrant and distinct. Turn the volume up on your computer and head to the Northwest Language and Culture Centre to fill your four walls with Moroccan sounds. Or, you could listen to Jimi Hendrix's "Castles Made of Sand" that was influenced by his stay in the seaside city of Essaouira.
Get inventive and make a Berber inspired tent in your backyard with lots of plush pillows to recline on. You may be missing out on the Sa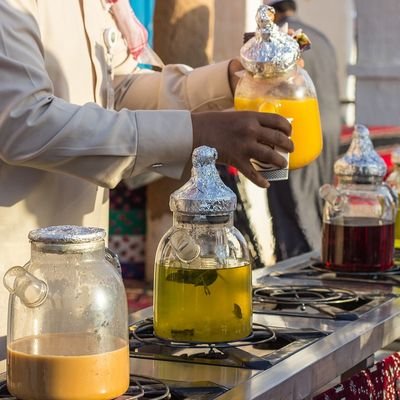 hara desert sand atmosphere, but a kids' sandpit might do the trick. As for the necessary camel at your door, a huge cardboard cutout could be used, if you can't hire a camel for a night.
Dressup time means getting totally creative with what you have in your wardrobe. Put on anything brightly colored and flowing if you don't have a djellaba or kaftan lurking in the back of your cupboard. Find those daggy leather Moses sandals if you aren't in the habit of wearing soft, leather slippers decorated with either silver or gold tinsel. Tie a tea towel around your head instead of a scarf. If you do have a scarf, check out how to tie it properly here.
Mint Tea is constantly sipped, slurped, and supped on. Believed to have plenty of medicinal benefits such as relieving symptoms of heartburn and indigestion, it's an antioxidant. Refreshing and fragrant, there's a whole ceremony around the way this national drink is made and poured until the pot is finished. Check out the website of Spruce Eats to get that perfect cup.
Cook up a Moroccan storm in the kitchen. It's a heady mix of herbs and spices, a chaotic confusion of Mediterranean, Berber, Arabic, and Andalusi tastes. It's turmeric, cumin, saffron, cinnamon, ginger, mint, cilantro, and parsley tossed into couscous, tagines, and pastilla. The sweet and savory flavors shine amidst fresh produce of eggplant, zucchini, onions, garlic, and bell peppers.
My favorite dish is a classic Moroccan chicken tagine with olives and lemons. You can learn from the master, Chef Mourad Lahlou, and make a mess in your kitchen.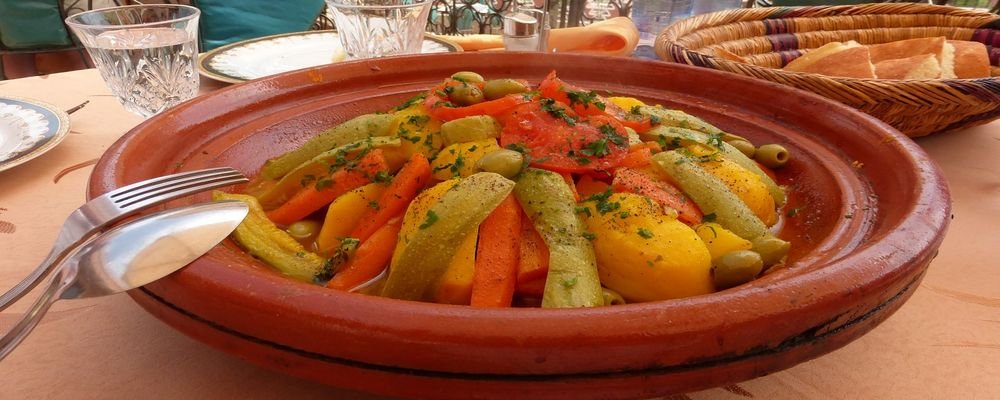 Foodies might like to get their taste buds quivering while watching these videos on YouTube: Morocco Street Food, Moroccan Village Food, or Insane Street Food of Morocco.
Surf the Internet for some droolworthy eye candy of Morocco, or head straight to BBC Travel while you sip your mint tea.
Wanderlusting strategists can get busy planning a bucket list trip with one of the many factual travel books such as DK Eyewitness Travel Guides on Morocco. You can take flight like a fairy from the astounding Atlas Mountains to the psychedelic colors of crowded alleys in Meknès and Fès. Plan your itinerary, calculate distances on maps, and shortlist the necessary sights you can't miss out on. It will keep you occupied for hours.
List-makers who like adrenaline-pumping action can practice their skills in preparation. Head to the beach and prepare yourself for sandboarding at Erg Chebi, in the desert or for kitesurfing at Essaouira. Take a trek or a mountain-bike ride through a national park for hiking in Todra Gorge or biking Dades Gorge.
Meanwhile list-makers of the cruisy-type can mellow out on fluffy cushions planning for more sedate adventures. Think about taking a walk around the ancient city of Ait Ben Haddou, hot air ballooning over the Ourika Valley, getting a shopping fix in bustling souks, meandering through alleys in the postcard-perfect blue town of Chefchaouen or having your body scrubbed in a traditional hammam.
Bookworms should shove their noses into the fiction work "The Caliph's House – A Year in Casablanca" by Tahir Shah. It's an amusing tale of renovating a crumbling ruin inhabited by invisible evil beings known as jinns. You will be doubled over with laughter when reading of sacrificial goats, gangsters, and weird exorcism rituals.
Movie buffs can plop themselves in front of movies that were filmed in Morocco, such as the old classic "Lawrence of Arabia." It was filmed at Ait Benhaddou, a UNESCO World Heritage Site. Other popular movies include Alexander, Babel, Inception, and Gladiator, to name a few.
Salivate over accommodation options for this exotic destination:
Whatever you do to experience your pseudo Moroccan adventure, wear a smile, as the lockdown won't last forever.
---
Gail Palethorpe, a self proclaimed Australian gypsy, is a freelance writer, photographer and eternal traveller. Check out her website Gail Palethorpe Photography and her Shutterstock profile.
---