In-Flight Wi-Fi Without Breaking the Bank
In-flight Wi-Fi can be a critical necessity for business travellers – or simply a more interesting way to pass the time than in-flight entertainment for leisure travellers. While a recent boom in interest has made in-flight Wi-Fi available on a vast majority of commercial flights, Wi-Fi on board is rarely cheap.
Here is a set of tips and tricks to score cheaper Wi-Fi for your next flight and ensure you still have a full wallet when you reach your final destination:
Pay Before You Board.
While in-flight Wi-Fi prices vary by airline and route, travellers can expect US coast-to-coast trips to cost about $29.95 if pre purchased. Because this is a pass for that particular flight only, passengers with multiple flights are especially poised to lose out. Instead, try pre-purchasing a Gogo internet pass which offers several options at a reduced rate. An all-day pass with no restrictions on the number of flights you take costs only $16. Monthly passes are also available for frequent travellers starting at $49.95.
Google Coupon Codes
It may seem basic, but many travellers forget that in-flight Wi-Fi programs work like any other commercial venture which mean there's a high possibility of an available deal. A few weeks before departure, search the web for any discount options. If you're renting from a car service or staying with a hotel, it's worth inquiring whether they have any useful coupons too.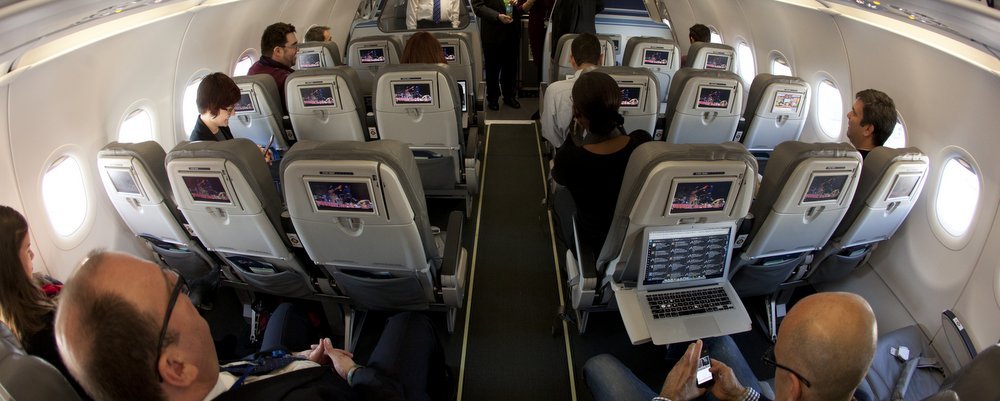 Find apps to use for free.
It's possible to use some apps with very limited results without actually paying for access. Most Google apps work (Gmail, Google Maps, Google Voice, Google Plus, etc.) once you've connected to the Wi-Fi, even if you haven't paid. The drawback is that the functionality is very limited – don't expect to receive notifications as usual, you'll need to update the program manually.
Sweet Talk Staff
If you forgot to get in-flight Wi-Fi access before arriving at the airport, don't despair! There's still a final option: making nice with airline officials. Get creative: ask travel agents, desk agents, or flight attendants. They all likely know an access code and if you catch someone on a good day, you might be able to get connected for free.
Pick An Airline With Free Wi Fi
If Wi Fi is super important and you need to stay connected but cannot afford the costs then there are a growing number of airlines that are starting to provide free or 'semi-free' Wi Fi access. These include Emirates, Norwegian, Philippine Airlines and Turkish Airlines, amongst the others. This list is sure to grow over the coming months and years so yu definitely want to watch this space as airlines look for differentiation - will free Wi Fi be one of them?
For a list of airlines offering Wi-Fi check out eDreams blog that recently posted a 'List Of Airlines Offering Wi Fi'
You might also enjoy Midnight In The Garden of Wi-Fi