I fell asleep peering through the circular dome of my yurt at the brilliant winking stars in a sky the color of coal. Morning broke with a floating caravan of fluffy pink clouds turning the snowcapped mountains into peaks of rose-hued candyfloss. This was my introduction to a stay at Patagonia Camp.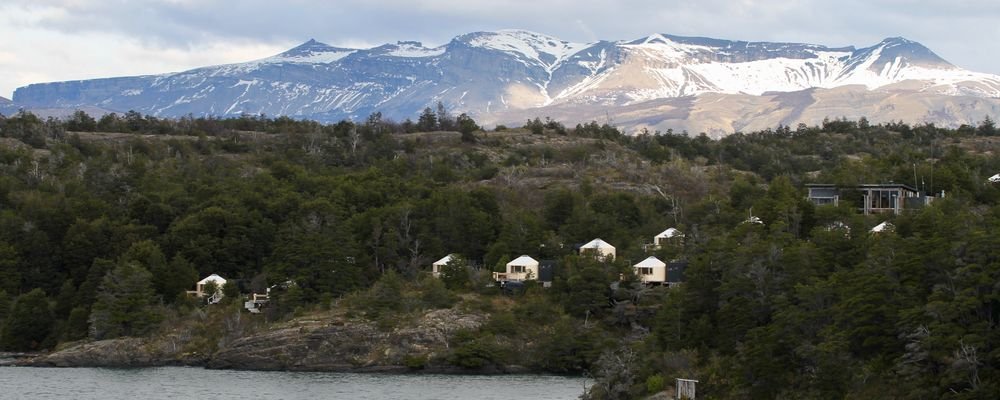 Think remote luxury set on a private 34,000-hectare reserve where puma stalk, silly guanaco (a close relative of the llama) play, condors spread their fingered wings, and waterfalls tumble over time-worn smooth rocks. Caves hide the handprints and simple drawings of the original inhabitants, and peaceful blue or green lagoons reflect the world around them. The dense evergreen forests create a blanket of color that fades into the background when the massive granite spires of Cuernos del Paine are touched by the setting sun, turning it deep purple against an orange streaked sky.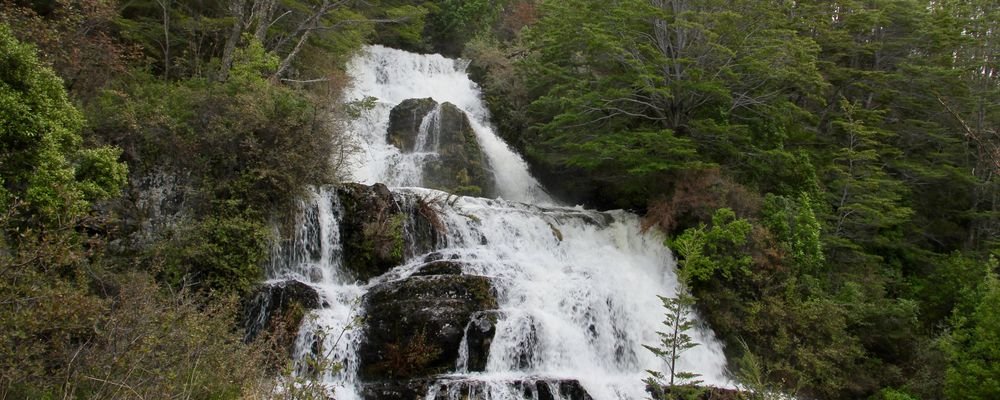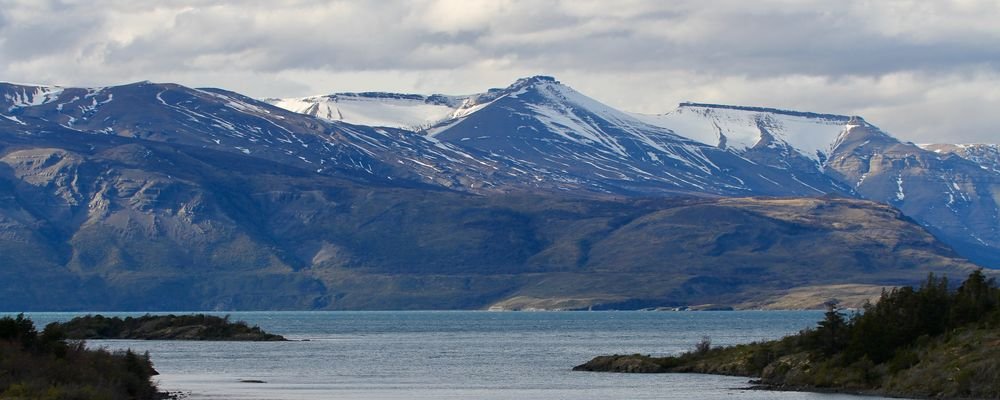 Clinging to a cliff overlooking Lake Toro, which is the largest lake in the Magallanes Region of Chile, Patagonia Camp is a mere 15km from the Torres del Paine National Park entrance. The resort was built on sustainable principles utilizing eco-friendly methods.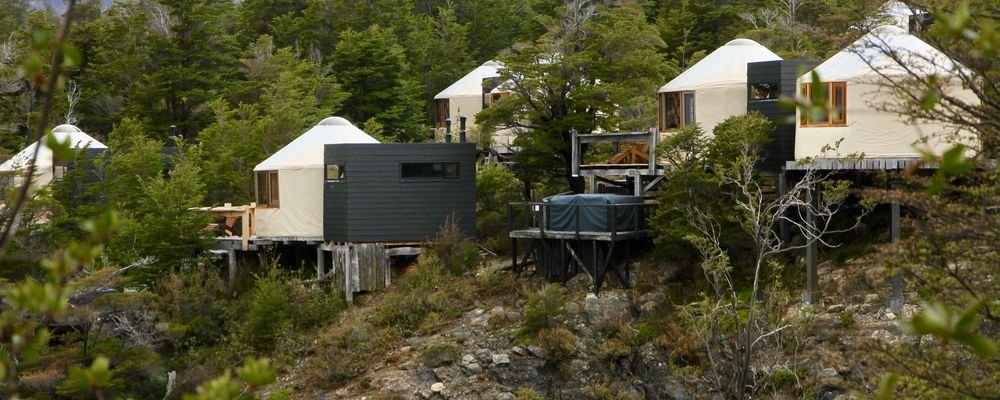 Your unique Patagonian experience begins the moment you arrive. You are greeted with calafate sours and platters of savory goodies to munch on while listening to one of the guides explain the premise upon which Patagonia Camp was created and what in-house tours are on offer daily.
You will be transferred from either Puerto Natales or Punta Arenas in a comfy mini-bus that takes about two hours of watching a never-ending loop of incredible scenery passing gauchos rounding up their sheep or cattle. The warm welcome gets the friendly vibe happening with whomever you shared the bus with. The staff are bilingual, speaking Spanish and English, so don't stress out if your Spanish is not up to par.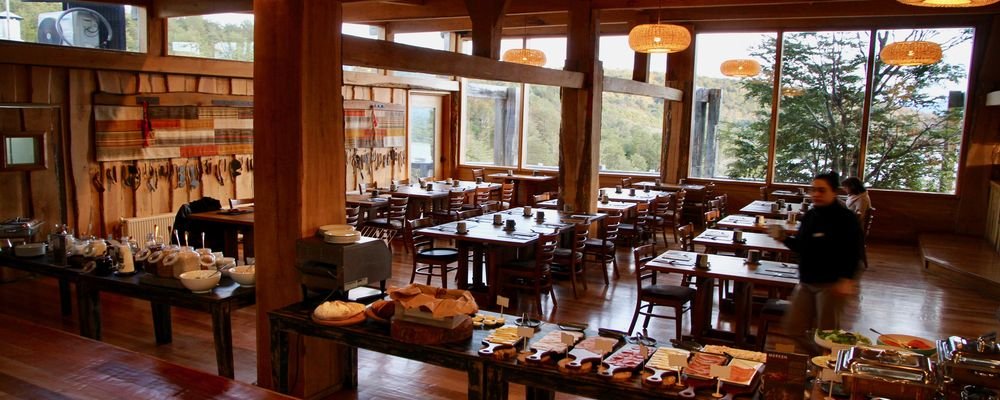 A far removed enclave known for its proliferation of rainbows, Patagonia Camp is a fairytale setting of 20 Mongolian yurts of sumptuous luxury peering out from the green canopy. With a barely-there impression on the land, the yurts are private with gorgeous interiors of color and textures. Local handmade wall hangings complement the thick woven rugs on a large bed smothered in snuggly pillows.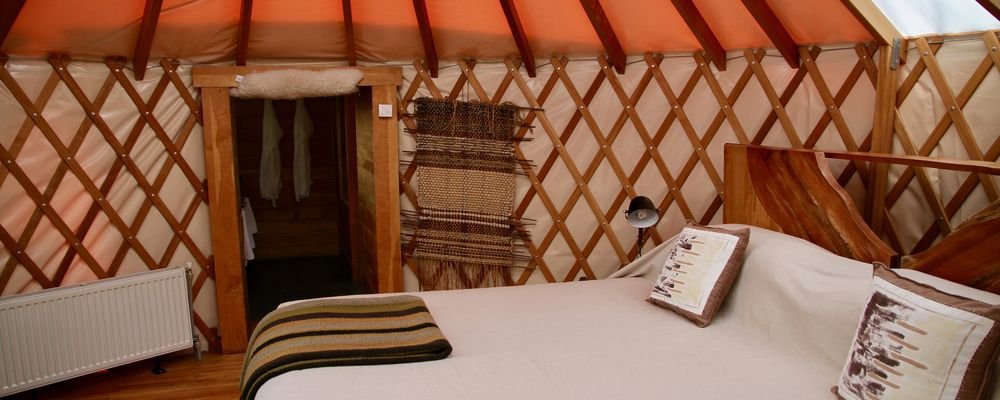 Everything has been thought of from unique body wash products to the best lip balm I have ever encountered. The ensuite bathroom is elegant, and bathrobes are provided. You can stash your personal stuff in the in-room safe, and if you need some clothes washed, there is a laundry service available. All of the yurts have central heating, and some even have outdoor Jacuzzis, for an added touch of decadence.
A complimentary water bottle is to take on hikes, and a boot brush is built into the entrance to your yurt so that you can brush off the mud or dirt from your trek before entering your intimate space. Adirondack chairs sit on your balcony, waiting for you to sit and stare at the mountains etched into the landscape. The panoramic view is too big to feast on in one vista. It's so vast and breathtaking that you will end up pinching yourself. The wind will murmur in your ears, wafting scents of the aromatic forest will assail your nostrils, and if it happens to rain, the pitter-patter of raindrops guarantee a rainbow ending.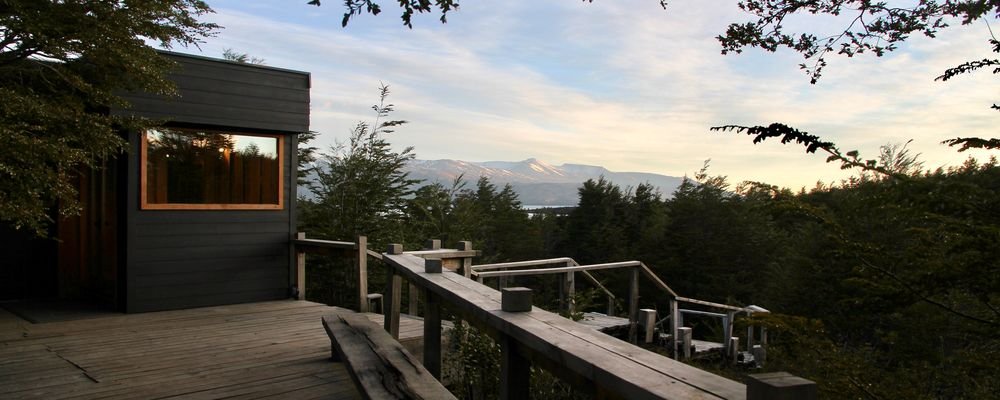 All of the yurts are connected by a raised wooden walkway that weaves its way through coigue, lenga beech, and the flaming flowers of Chilean firetree to the common areas that include a fantastic bar, lounge and restaurant area. The library room is complete with Wi-Fi and a small gift shop where you can buy that warm polar fleece top if you forgot to bring one, or maybe grab a souvenir for the unfortunate ones you left at home.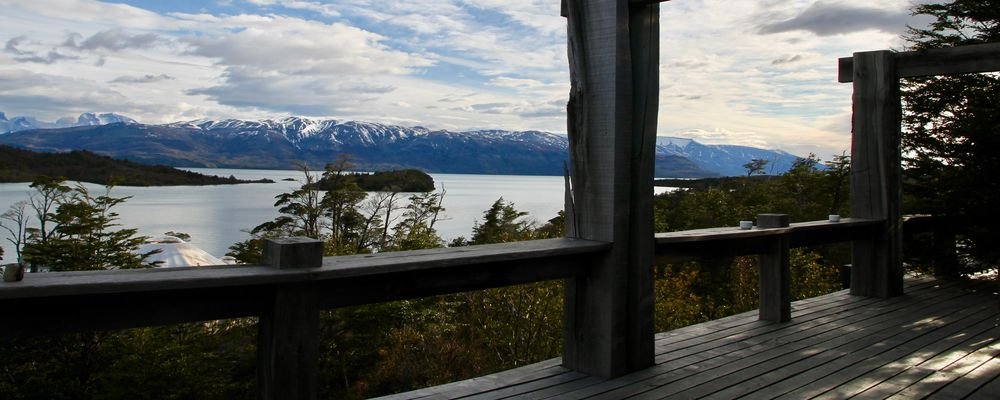 You will feel like you are sitting in a picture postcard in the restaurant. Massive windows are spread over the blue lake dominated by the chameleon-mountains of changing colors. The service is impeccable, and the food has a distinct wow factor happening in both presentation and flavor. Fresh vegetables are grown in local gardens, the lamb is fresh from the paddocks, and the fish looks like it was only just reeled in.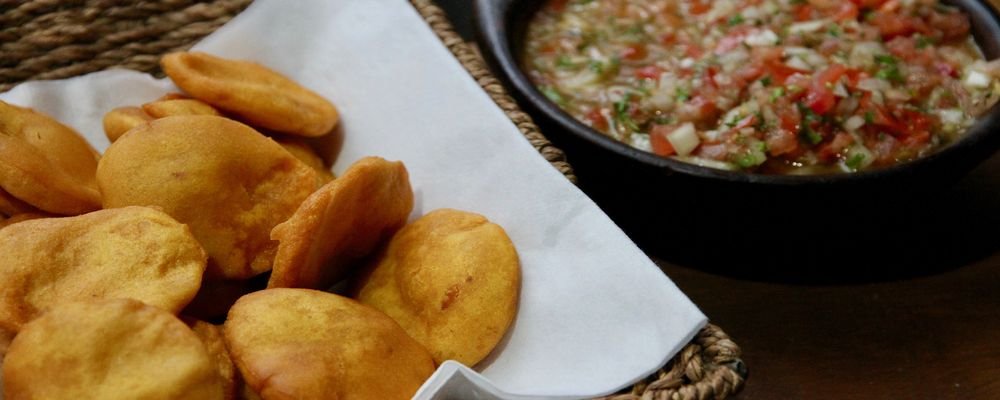 If you happen to arrive on a Sunday, you will be spoiled with lamb cooked traditionally – mimicking a crucifixion – apparently, this is an age-old way of barbecuing with religious overtones. Sundays were the only day of the week that lamb was indulged in. The lamb is doused in white wine, garlic, oil, herbs, and left to cook slowly. The tender meat melts in your mouth and sends juicy dribbles down your fingers to be licked. Deep-fried pumpkin bread with ensalada Chilena enhances each bite of lamb.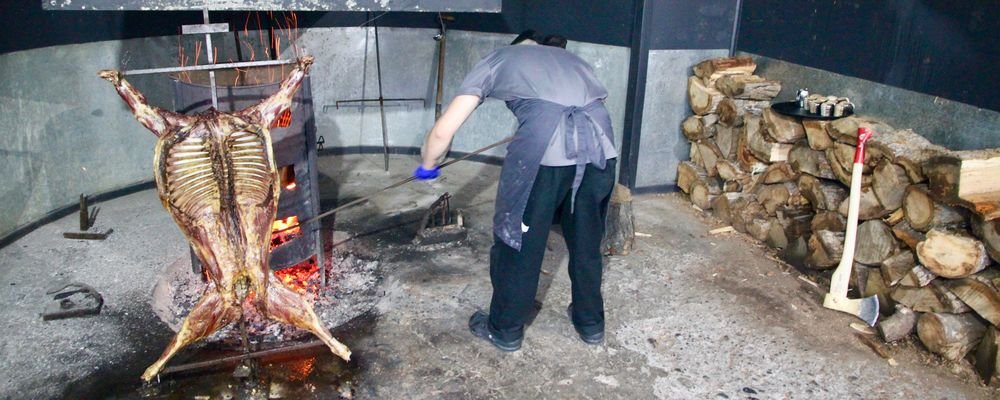 Add to this the fact that the house wine is from the owners' own vineyard, Matetic Winery in the Casablanca region of Chile, and you know each mouthful is not your average resort-style offering. You will have a menu with choices for each meal, apart from breakfast, when it's buffet style with eggs cooked to order. French pressed coffee and freshly squeezed juice will always win me over in the mornings.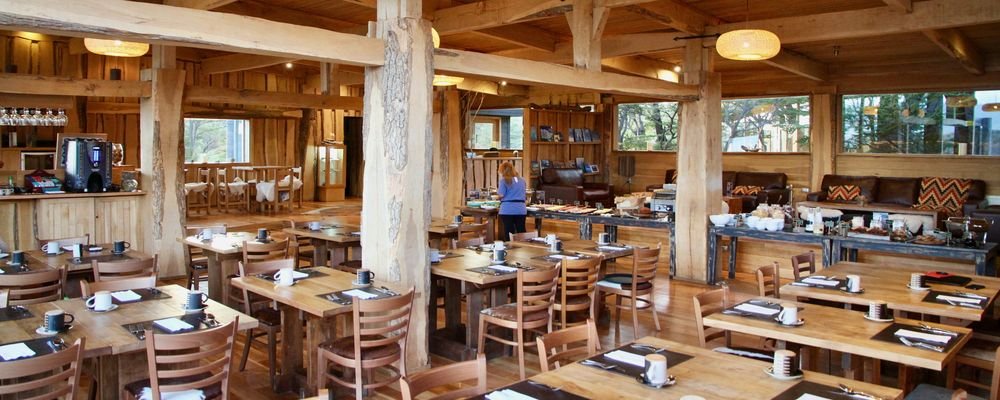 Excursions with knowledgeable guides happen every day to give you the full experience of hiding away in the Patagonian mountains. Or you can take off for a blissful roam by yourself chasing a waterfall or a exploring a secluded slice of rocky beach.
Do listen to the staff's directions if you take off by yourself and stay in touch via a walkie talkie – because you don't want to be remembered as the guest who turned left instead of right and got a little bit lost, as I did. A guide did come and find me. While they were panicking, I was having the time of my life taking photographs of a landscape I never knew existed, not knowing that I was anywhere else than where I was meant to be.
---
Gail Palethorpe, a self proclaimed Australian gypsy, is a freelance writer, photographer and eternal traveller. Check out her website Gail Palethorpe Photography and her Shutterstock profile.
---