RESET your holiday brainwaves when the world opens up post COVID-19. Instead of booking a hotel in the destination you wish to explore, invert your thinking and book that perfect hotel of your dreams, no matter where it is. There's more to holiday-life than traipsing around with a camera in hand.
Cave Dwelling – Perivolas, Santorini
When you can crawl out of your home-cave, consider languishing in a hotel with glamorous overtones of the unexpected, where the fantasy of ancient cave dwelling morphs with glamor and elegance. Perivolas, Santorini clings to the cliffs overlooking the diamante cloaked waters of the Aegean Sea on the island of Santorini in Greece. This boutique hotel of only 20 individual suites is moments from the picturesque village of Oia, where whitewashed buildings appear to slide into aqua depths. Traditional windmills lazily turn with whispering breezes, and the passing of time is gloriously rung out by church bells.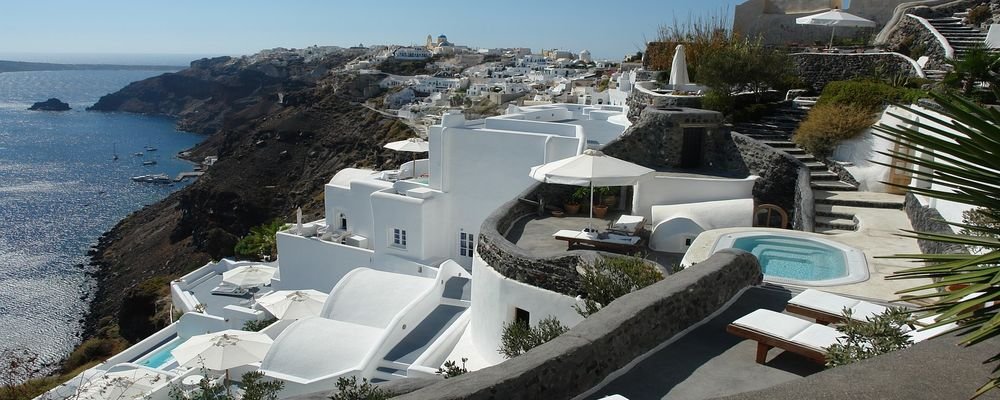 Lovingly created from 300-year old caves that were once home to local fishermen, Perivolas is for sophisticated souls looking for a blissful escape. Suites provide a stylish backdrop of smooth white curvy walls dotted with dramatic alcoves. Uncluttered, with minimalistic furniture and soft fabrics, the simple elegance allows terraces to highlight the stunning panoramic water views. Poolside dining on a lush terrace where seasonal produce and local wines shine elevates staying at Perivolas to a whole new level of pampering.
Fashionistas – The Villa Casa Casuarina (aka Versace Mansion)
Opulence in overload that will ignite your fashion mania, staying at Villa Casa Casuarina is diving into a richly woven tapestry of flamboyance. There's nothing quiet or subdued about this hotel that oozes flair and grandeur.
The decor shouts out in colourful, textured chaos that melds into outrageous symmetry. The decadent guest rooms are smothered in designer attributes, and the sparkling swimming pool is lined with 24-karat gold. It's a hotel that keeps on surprising you at every turn. Beautiful mosaics, hand-painted frescoes, burnished hand-carved wooden doors, and lashings of Italian marble create a dramatic backdrop.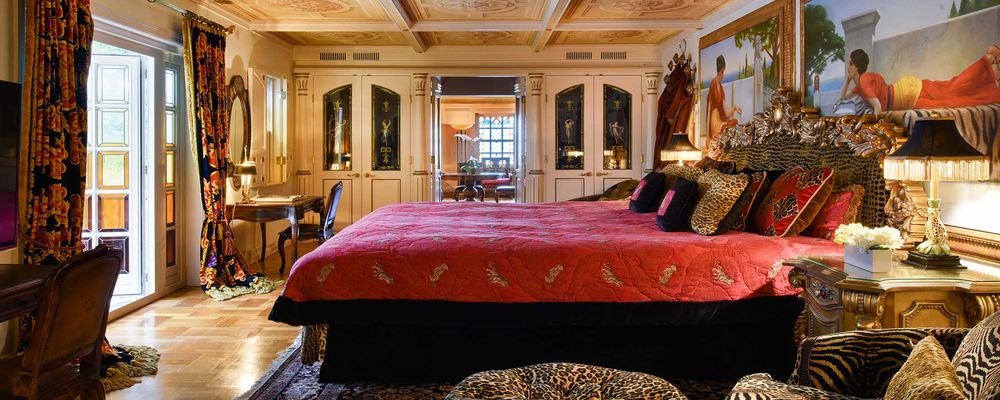 Once Gianni Versace's dream villa in Miami, it was originally built in 1930. The site of Versace's murder in 1997, the building has been used as the backdrop for the television series, American Crime Story.
Childish Fancies – Treehouse Lodge Resort, Iquitos, Peru
Let your childhood dreams come true. The stuff of wondrous fairytales, myths, and legends, living in a treehouse holds a quirky fascination for many of us. One might wonder if it's their sheer height, girth, or longevity that captures and excites our minds. The Treehouse Lodge Resort can be found in the Peruvian Amazon Rainforest, only an hour by boat from Iquitos. It's a 345-acre eco-resort where you will have your own personal guide to take you out fossicking throughout this amazing part of the world. It's the total package, complete with whimsical jungle experiences spying on sloths, macaws, and chatting to squirrel monkeys. Or, you can simply wallow in sinful luxury perched in the wild tree canopy.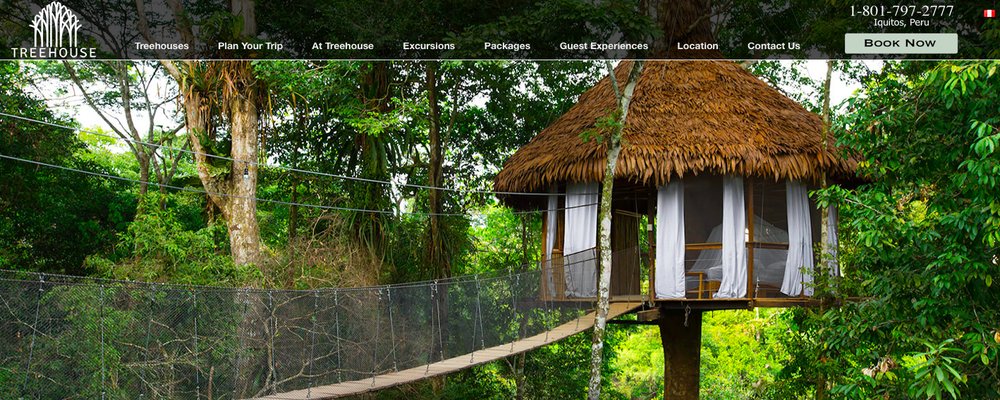 You get to play Tarzan as you cross wood suspended bridges and climb winding stairs to touch the roof of the forest. Each treehouse is totally individual in design, with branches supporting luxurious open platforms. Delicate mosquito nets drape comfy beds, separating you from the elements.
Ensuites are splendidly rustic and provide everything you could want. You can languish on your balcony idly reading a book as the constant buzz of jungle creatures surrounds you, or peer down on the river at playing dolphins or local fishermen. This is a wonderland for those who haven't lost their childish expectations of awe and wonder.
Earth Mothers (or Fathers) – Palacio de Sal, Salar de Uyuni, Bolivia
Overlooking the world's largest salt flat in southwest Bolivia wallowing in the Andes, you will think you have landed on another planet. Pink flamingos will invade your dreams, as much as waking hours. The otherworldly Palacio de Sal is built entirely from salt. A luxury hotel that takes creativity to the next level, this 48,500-square-foot hotel even has its furniture made from salt.
You don't miss out on comfort, as the soft furnishings are the real deal of plushness and fabric. Remote and zen-like, its spectacular location allows for jaw-dropping sunsets, star-studded skies, and sunrises that will have all of your senses put on high alert to the majesty surrounding you.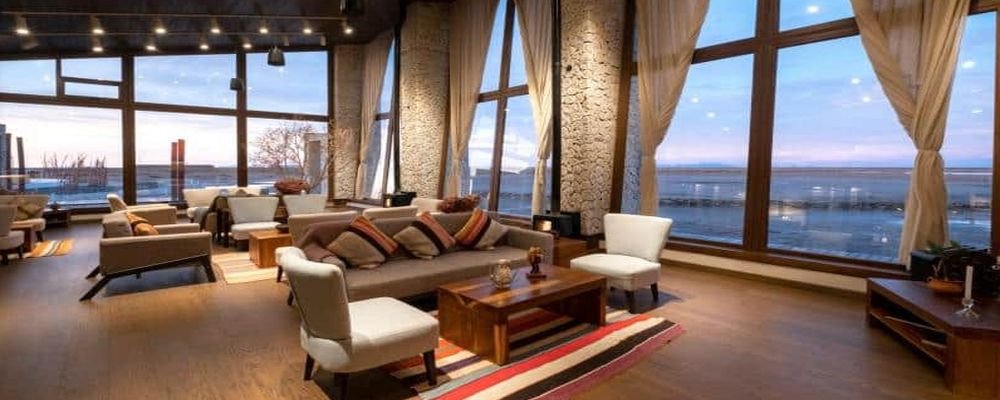 Guest rooms have dome-shaped ceilings, expansive living areas, and balconies where you can contemplate your immersion into a moonscape created from salt. Complete with a holistic spa that utilizes ancestral wisdom in its pampering treatments, Palacio de Sal offers you a totally disconnected world.
Take the blinkers off when you are looking for your next holiday. There are amazing hotels dotted around the world. You can find your fanciful hotel in monasteries in Italy, ice hotels in Norway and Finland, plus a floating spa hotel in Northern Scandinavia, such as the Arctic Bath.
Forget the generic bed of convenience and take yourself on a real journey of what is possible when looking for a pillow to put your head at night.
---
Gail Palethorpe, a self proclaimed Australian gypsy, is a freelance writer, photographer and eternal traveller. Check out her website Gail Palethorpe Photography and her Shutterstock profile.
---