One of the world's largest airport sites, Kuala Lumpur International Airport is classified 3-Stars. Still, it does the job with no fancy frills. If traveling from the heart of Kuala Lumpur's city, it's about 35 minutes on the train. Friendly for those that are disabled; restrooms, elevators, and other necessary facilities have ramps where required. A pivotal hub for Asia's flying community connecting Southeast Asia with Europe and other Asian countries, it has two terminals and three runways catering to over 60 million passengers annually.
KLIA (aka Terminal M or KLIA1) greets the upmarket airlines, while low-cost airlines use the separate second terminal, KLIA2. The 2 terminals are vastly different in terms of comfort and amenities. They are connected by free transit shuttles that run 24 hours, and each terminal has its own bus station. From latest reports, the frequency of the shuttles is in question. If you are departing on an international flight and your designated gate is 'C,' you will need to catch the Aerotrain for a 3-minute joy ride to the Satellite Building.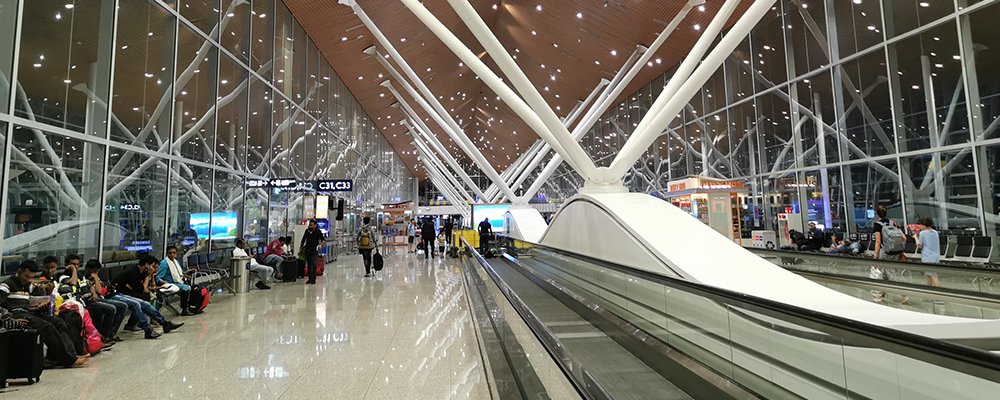 Passenger services: information counters, luggage storage, a pharmacy, and a clinic is open for any emergency, but beware, the cost of seeing a doctor is relatively high. Postal services, an array of retail outlets, and the airport even has its own radio station, FlyFM. Charging stations are dotted around, and there's free WiFi, but for 3 hours only. Beware of unauthorized access points where gremlins will steal your personal data. ATM machines, baggage wrapping if you want your bag swaddled in glad wrap, plus prayer rooms are available. If you couldn't leave home without your munchkins in tow, there's a children's play area so they can run off some steam before boarding the next flight. Finally, there's a Business Centre for the busy executive where you can hold a business meeting without leaving the airport.
Checking in at your airline counter will be mingling with a multicultural crowd, some pushing overflowing trolleys of humongous boxes. Security is tight, and long queues give a lesson in patience—it's the usual hoo-ha with the added attraction of scanning 2 index fingers to match your biometric face scan. Airline lounges are dotted throughout the main terminal and the Satellite Building, many are airline-branded, but there are some that you can sashay into for a fee.
If you are desperate for a nicotine hit before boarding your flight, head to one of the dedicated smoking lounges in the Satellite Building, where you can inhale enough fumes that you don't need to light up. While waiting for your flight, there are endless food purveyors vying for possibly your last Malaysian ringgit. From western to Malaysian fare, your stomach will have no cause to rumble with hunger.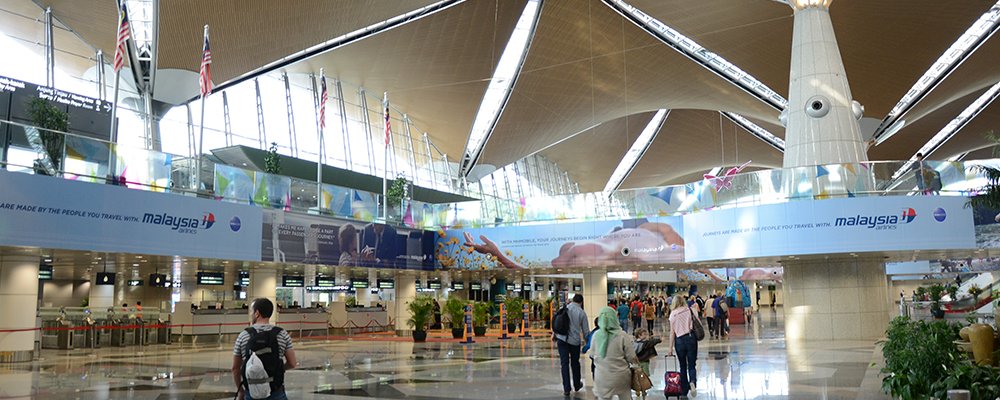 For worry warts with obscenely early flights, traveling souls in transit overnight, or if you are a sleepy head with hours between flights, there are plenty of options for you to put your head on a pillow in a bed—not on your luggage on the airport floor. Sama Sama Hotel is a two-minute buggy ride from the airport. At the same time, the no-frills Tune Hotel Transport Hotel is a couple of minutes' walk from the airport. If you are not claustrophobic, two Capsule Transit hotels also offer complimentary WiFi, showers, and luggage lockers.
Retail therapy is always a pleasurable pastime for shopaholics. There are numerous stores to invade and browse—hopefully, not knocking over the artfully arranged displays with your hand luggage. If you need to smell better, head to one of the fragrance counters and liberally spray a sample of your favorite on yourself. Pampering yourself between connecting flights is the ultimate way to totally relax—Thai Odyssey (KLIA2) will have you simpering in pleasure. If you wish to look around Kuala Lumpur and have a long layover, there's always a city tour to consider. Take in the sights of Chinatown, Perdana Botanical Garden, the Central Market, or the Petronas Twin Towers: but do check on your time limitations as you will have to clear customs and immigration to escape the airport via taxi, Uber or the Kuala Lumpur Express train. A tip is to organize a tour with an operator to pick you up from the airport.
Kuala Lumpur International Airport is comfy and has all of the necessary amenities for a layover to be manageable, if not in the fantastic category.
---
Gail Palethorpe, a self proclaimed Australian gypsy, is a freelance writer, photographer and eternal traveller. Check out her website Gail Palethorpe Photography and her Shutterstock profile.
---