When in London, there's a couple of things you simply must see, and one of them is the Thames. This magnificent power spot of the world is definitely worth seeing. When nature itself demonstrates its power in this way, being there to witness it is simply a must-do. But, there's only one way to do it – in style. Every one of the following restaurants will help you truly experience the wonderful Thames, you just need to pick the one which agrees with you and your stomach.
Restaurants and Brassieres
The Gun
When it comes to attentiveness of the staff, you won't find better. Whether you're looking for real, authentic ale you can drink at their very handsome bar; a long list of delicious cocktails which are simply perfect as an appetizer; or you'd rather take a look at the global wine list and choose one that goes the best with your meal; The Gun is a place which will make it all happen. Its interior is quite nice; white walls, wooden floors and an open fire – which go pretty good with their amazing view of the Thames.
Address: 27 Coldharbour, London E14 9NS, United Kingdom
Open daily: 11:00 am – 12:00 pm
Phone: +44 20 7515 5222
Price Range: $$$
Website: www.thegundocklands.com
Oxo Tower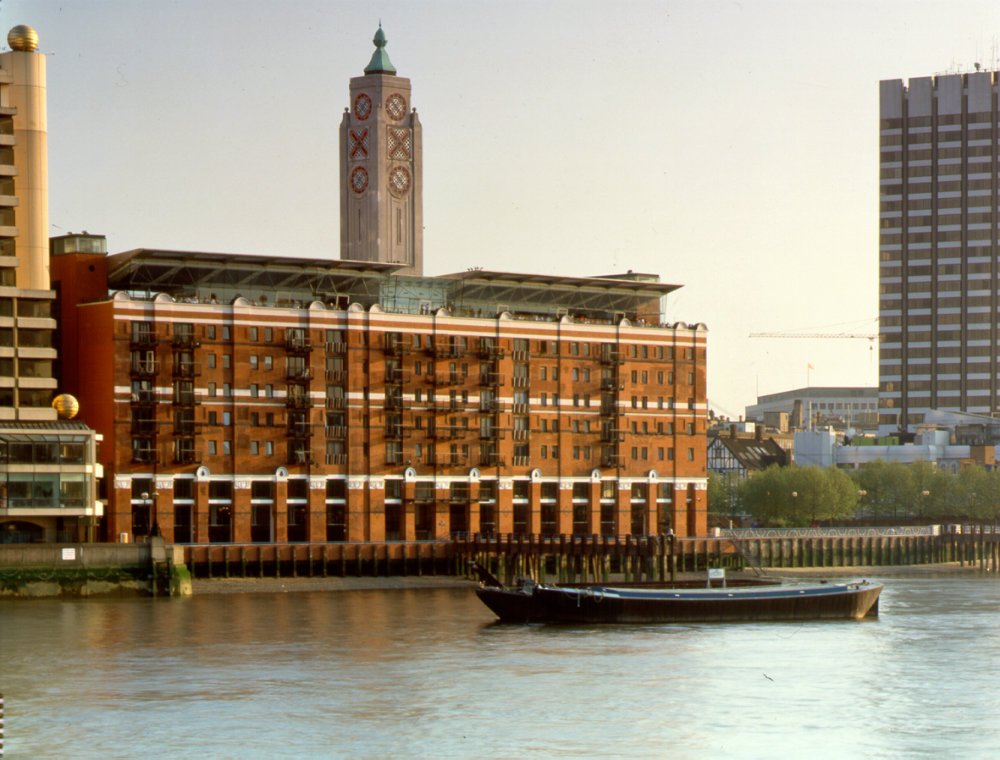 Their chefs have unmatchable cooking skills. But, this isn't for everyone's stomachs, only the bravest may dare taste these eccentric meals! And the choice isn't easy – fried coconut cake, tomato kasundi or coconut cucumber are just a few amongst the many strange but tempting dishes. Blueprint is far more than just a restaurant; there's a bar, a dining room and my favorite – their magical terrace, which is made for enjoying your view over the Thames and across the city, all packed in a warm summer twilight.
Address: Oxo Tower Wharf Barge House Street, South Bank, London SE1 9GY, United Kingdom
Open daily: 12:00 – 11:00 pm
Phone: +44 20 7803 3888
Price Range: $$$
Website: www.oxotower.co.uk
Skylon
If you're more into traditional ways of dining, you should know you can't go wrong with Skylon. Its location is the first floor of Royal Festival Hall – it doesn't get more traditional than this. Skylon's lofty ceilings and huge windows enable you the perfect view of the Thames, while enjoying your piquillo peppers, lentil salad with feta, the house burger or their amazing seafood specials. It's the perfect place for an intimate dinner, which you can wait while drinking appetizing cocktails.
Address: Royal Festival Hall, Belvedere Rd, London SE1 8XX, United Kingdom
Open daily: 12:00 pm – 12:00 am
Phone: +44 20 7654 7800
Price Range: $$$$
Website: www.skylon-restaurant.co.uk
Bars, Cafes & Bistro's
Duke's head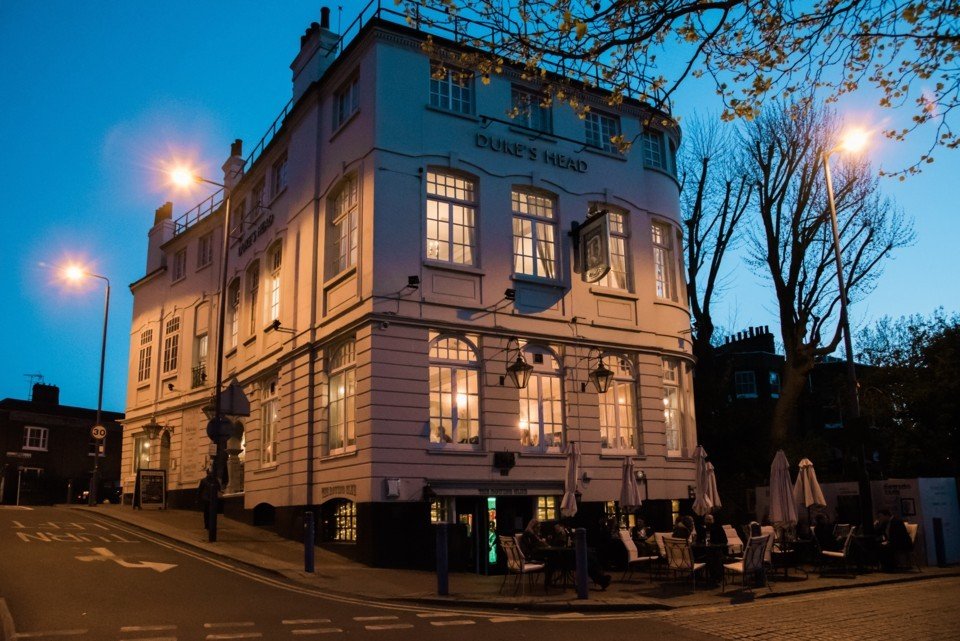 If you're looking for a place where you can spend the perfect sunny days, this is it. Duke's head is widely known for its open space, and it's placed practically on the river, so you can unwind while enjoying their kitchen specialty which are the stakes. But, it's not like you'd be disappointed if you go with their chicken pot pie or muscles – on the contrary, they are a great demonstration of their top cooking skills.
Address: 8 Lower Richmond Rd, London SW15 1JN, United Kingdom
Open daily: 12:00 pm – 12:00 am
Phone: +44 20 8788 2552
Price Range: $$
Website: www.dukesheadputney.com
Old Ship
This boathouse is a real live piece of art - its interior is attractively decorated with sailing paintings and iconography. When in London, you should act like a native, so fish and ale need to become a major part of your nutrition, and this is the right place to experience the authentic taste of both. Old ship is quite specious – you can choose to sit upstairs or downstairs, outside or in their stylish bar/restaurant.
Address: 25 Upper Mall, London W6 9TD, United Kingdom
Open daily: 9:00 am – 11:00 pm
Phone: +44 20 8748 2593
Price Range: $$
Website: www.oldshipw6.com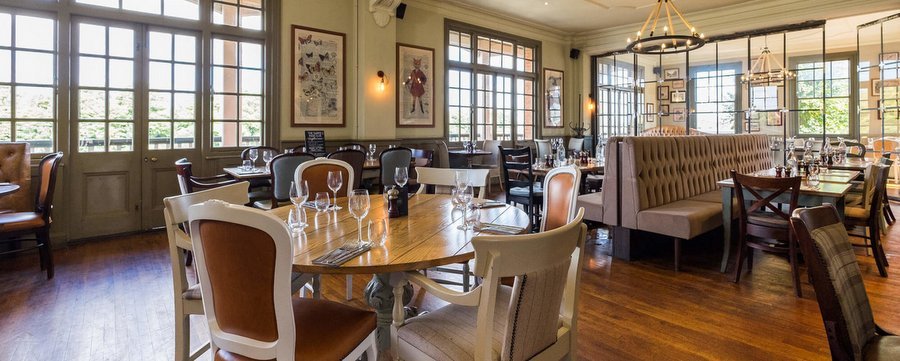 Ye White Hart
Being one of many successful Young's pubs, it's understood that Ye White Hart is pretty well maintained. If you're in the mood to feel what it's like to British, you should visit them on Boat Race day, and be in a crowd formed around a hog roast. This is that one day, when Ye White Hart is really crowded, but during any other one, you'll be able to enjoy their chesterfield sofa by the fire, talk about rugby on enjoy their ale list that goes perfectly with delicious steak pies.
Address: The Terrace, Riverside, Barnes, London SW13 0NR, United Kingdom
Open daily: 11:00 am – 11:00 pm
Phone: +44 20 8876 5177
Price Range: $$
Website: www.whitehartbarnes.co.uk
---
Bradley McGowan is a US based freelance writer, extensive traveller and a regular contributor to The Wise Traveller.
---