Vina del Mar on Chile's coastline, only a train ride from Valparaiso, is a misty vision compared to its flashy and sunny facade during the summer months. The mist intermittently swallowed up lurking ghost ships on the horizon, and pelicans dominated rocky outcrops and buildings everywhere I looked. Seagulls were fighting for a fish dinner with a surfacing seal, and you can actually have a horse and carriage ride if your legs get weary from walking.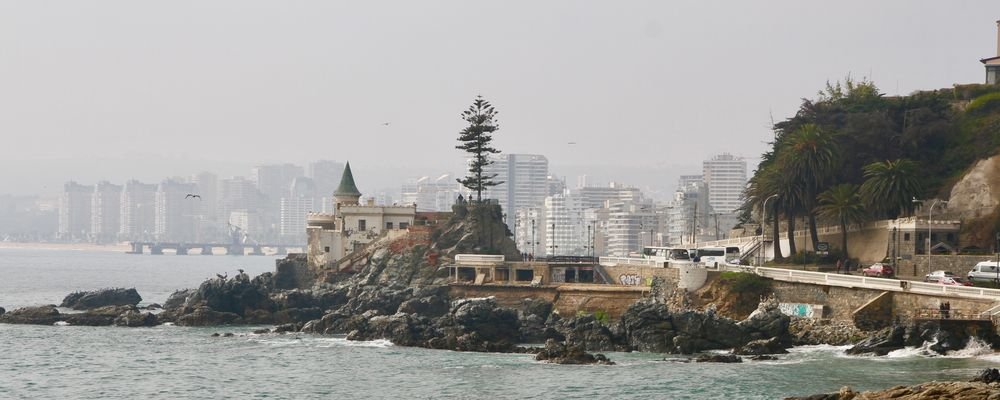 The Sheraton Hotel sits in a prime position perched on a corner of the bay, and the seafront promenade is a hive of activity despite the chilly weather. Locals with makeshift pop-up shops sell handcrafted wares, a talented artist shows off his creative skills rock balancing, and the odd street dog litters the roadside.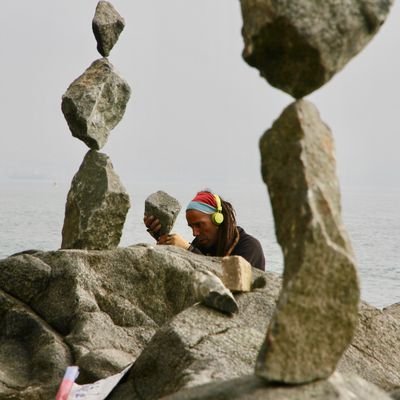 Known as the "Garden City", Vina del Mar is a resort town, flush with high-rise buildings, stunning gardens, and long beaches, wearing a cloak of last century's golden age. You can meander around castles and old mansions, poke your nose into museums or take up space at one of the many outdoor cafes sipping espresso and letting the parade of humanity pass you by. You can even take a peek at stone moai sculptures from Easter Island and a few shrunken heads at the Museum of Archaeology and History Francisco Fonck if you are into that type of thing.
The town's glamorous Municipal Casino is where to hang out at night, in a city that is in stark contrast to the rustic hodge-podge of Valparaiso. Vina del Mar is clean and orderly, with manicured gardens and boulevards fronting onto creamy pristine beaches that heave with sun-bronzed bodies when it's summer. This is an upmarket town where you can rub shoulders with the glamorous souls decked out in their designer gear.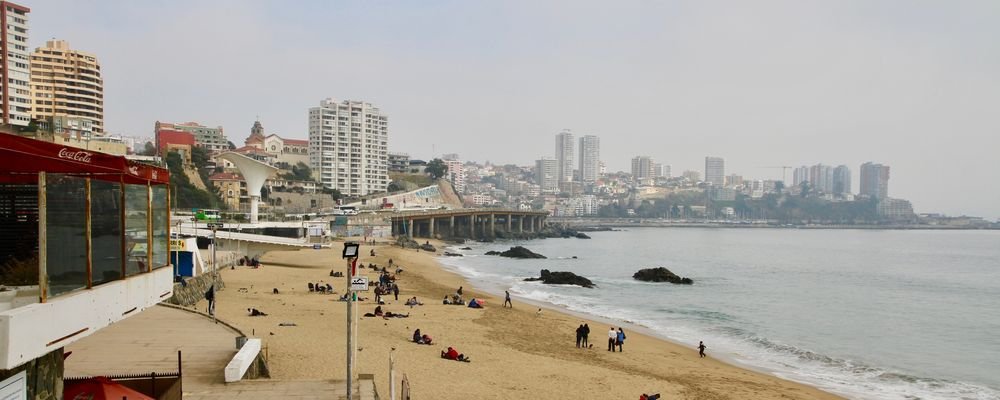 You won't run short on cultural or artsy activities, and for those into cheesy Instagram pics, the iconic flower clock is where to take that friend-envy inducing photo. For old-world charm head to the neo-Gothic palace with its apron of lush gardens in the Parque Quinta Vergara. Or for the somewhat seedier side of the city's history check out the Palacio Rioja Museum. The Castillo Wulff is the photographic landmark of the city that has a glass floor balcony over the waves crashing on the rocks below.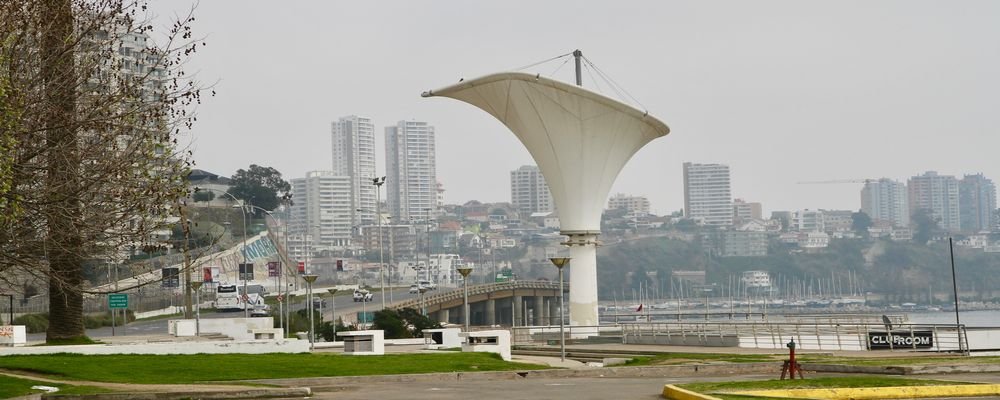 There are plenty of chic bars, cocktail lounges and clubs for the partying crowd plus a variety of annual live music concerts, such as the Festival Internacional de la Cancion de Vina del Mar held in February. This is a massive event in Latin America that is televised, and even Sir Elton John has stood on the stage.
When the hunger pangs strike, there are plenty of restaurants, from high-end plush offerings to seaside stalls, to give you a taste of the "Frutos del mar" (fruits of the sea). Many along the promenade are glassed-in affairs of the hoity-toity variety with white table linen to get dirty as you sup on your dish of "Mariscal" - think soup of clams and shrimps seasoned with garlic, parsley, and onion.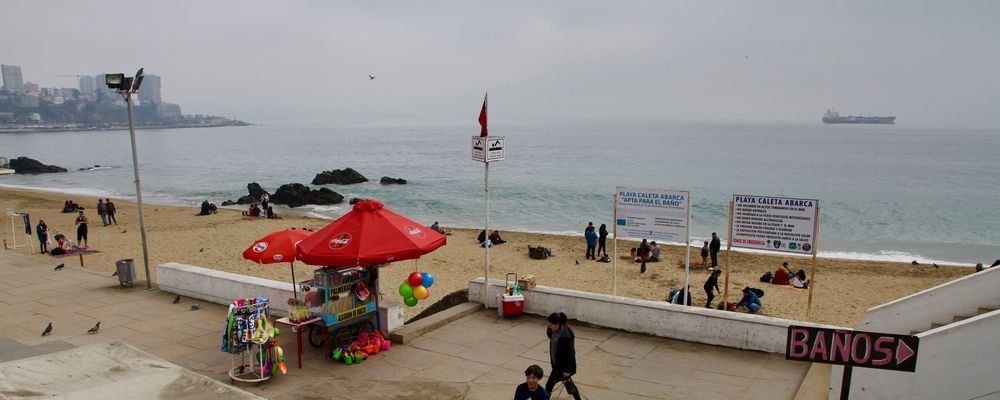 I headed to Tierra de Fuego, the beachfront wonder that looked like a local's hangout and proved to be just that. Feeding on oysters still sparkling from the ocean's water and grilled local fish that had been freshly caught that morning, had me grinning like a fool. A wondrous pisco sour to start with, followed by a glorious crisp Sauvignon Blanc from the nearby Casablanca wine region kept the grin on my face despite a bitterly cold wind beginning to blow. Of course, finger-licking dulce de leche appeared with my fabulous vanilla bavarois to finish off my gluttonous inclinations. Waiters appeared with knee blankets for those who needed them as, despite the stand-alone heaters, the cold sea-air began to seep into limbs and turn noses into dripping taps.
Vina del Mar's salt air is definitely worth taking the time to enjoy, or to linger in for a bit longer, especially if you are in the region of Valparaiso.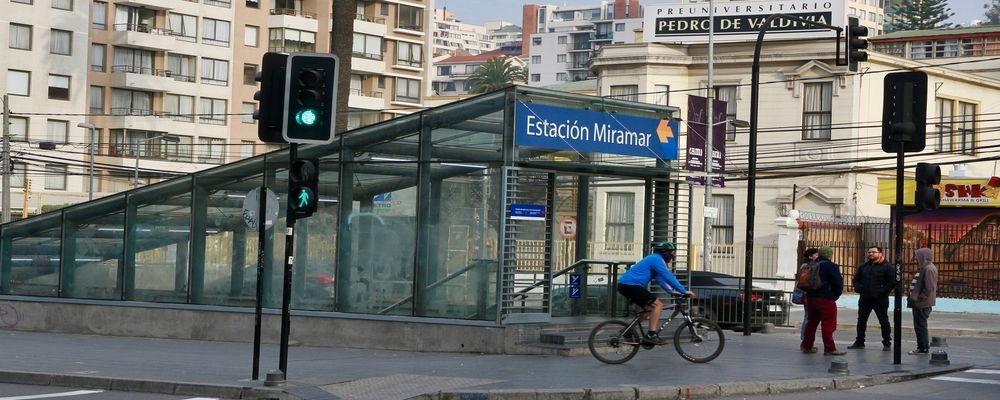 Tips:
If you are catching the train from Valparaiso, get off at the Miramar Station and head towards the ocean where you will find the "clock". Meander the promenade from here into the central area of Vina del Mar. Returning home, if you don't want the sea-view, cut back through the main street of the town to the train station. It's a much shorter walk.
Have a leisurely lunch on the beachfront at Tierra de Fuego.
Website: https://www.tierradefuego.cl/
---
Gail Palethorpe, a self proclaimed Australian gypsy, is a freelance writer, photographer and eternal traveller. Check out her website Gail Palethorpe Photography and her Shutterstock profile.
---