If you want to really get to know a place, become a local for a while, or have a cheap way to visit your scattered family, volunteering for a few hours a day in exchange for accommodation and food may be the answer. For around 20 euros/under US$50, sites like helpx.net and workaway.info allow you to find more than 40,000 hosts in more than 170 countries worldwide.
You can travel anywhere from one week to six months, go once a year or take several trips and travel as a single, couple or two friends. Volunteer activities include gardening, teaching, childcare, animal care and more. You can volunteer with a family, an organisation or in a community and as the only volunteer or as part of a team. Just arrange the length of stay and tasks with the host, buy your ticket and off you go! Once you get there, costs are minimal and it's a nice balance of (unpaid) work and time to explore.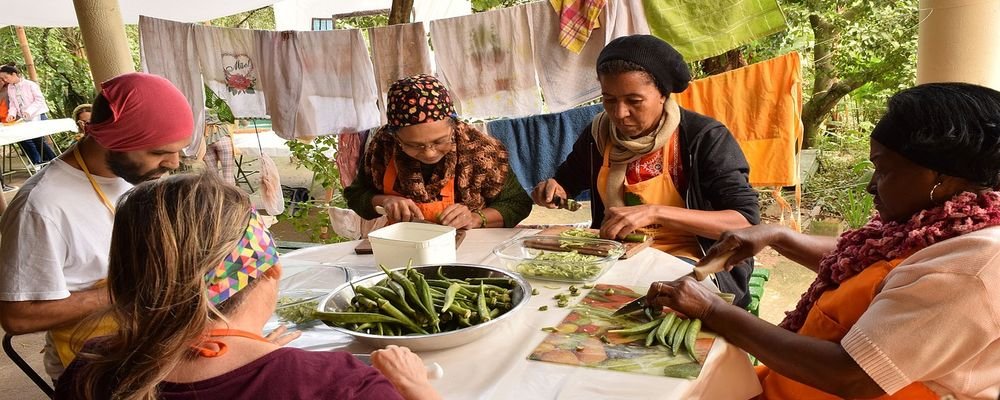 Too scared to tackle Tokyo on my first visit to Japan, I flew into Haneda airport and straight out again to Ube. For three weeks I helped a young family clear invading bamboo in a village with an elderly, dwindling population. Then I went to Shikoku for three weeks and helped at a glamping resort high above the Pacific Ocean. I found friendly hosts and fellow-volunteers, little temples on my daily walks, onsens and a manageable taste of city life in Kochi. Now I have the confidence to tackle Tokyo on a second visit to this unique country and also look forward to experiencing more of its gorgeous countryside.
Spending $1000 to visit my busy son in Pittsburgh, Pennsylvania in the U.S. just for his birthday – and staying in his little bachelor pad – wasn't practical. But by helping a local man on weekdays to plant 350 trees to restore native habitat, I could join Nick's adventures (skydiving, hiking, eating) at weekends. Pittsburgh has some great museums and food options too!
I wanted to be near my elderly mother in New Zealand for a month but have too much energy to stay with her (having painted her house and cleaned out her cupboards on previous visits). So I arranged to stay 15 minutes away on a macadamia farm. Gardening or processing nuts in the morning, I could visit her and rest or sightsee in the afternoons and on weekends.
Do you know how many different ways there are to wash dishes? In Australia we are taught to minimise water use, and electricity costs are high, so I cringe to see how many people wash one plate at a time under hot running water.
Do you realise how many people don't have television, or only watch movies? I was pleasantly surprised. We talk, walk, read, play games or, in countries where they eat late, we go straight to bed.
It's a shock to my system to cross a border and transition from eating dinner at 6pm to eating at 9pm. And shocking that some people often have just coffee and sweet biscuits for breakfast – how do they survive and work effectively until lunch at 2pm? Give me a full British breakfast any time.
These insights are some of the rewards for pausing in our travels and learning that our superficial differences are out-weighed by our similarities. Participating in shabbat on Friday evenings with my Jewish hosts, singing kirtans with my Hare Krishna hosts, meditating at dawn with my Christian hosts and dancing at a summer solstice festival with my 'hippie' hosts reinforce the joy of being with new friends and sharing their lives for a while. If more of us did this, I'm certain the world would be a better place.