Put Your Head Down Where The Movies Are Made
Have you ever wanted to pretend you were Pretty Woman or James Bond and frolic in their footsteps? For the star-struck, there are plenty of hotels where movies have been made to get you into fantasyland; just pick one and hope you have a very thick wallet or some fantastic plastic to pay for a night or two of "let's pretend".
Luxury hotels have always inspired Hollywood and many have become backdrops for blockbuster movies. Some hotels have been featured for their classic or stunning interiors or grounds, whilst others for their sleek futuristic vibes, but for whatever reason Hollywood film makers choose a hotel, it gives you the chance to walk in a movie star's footprints.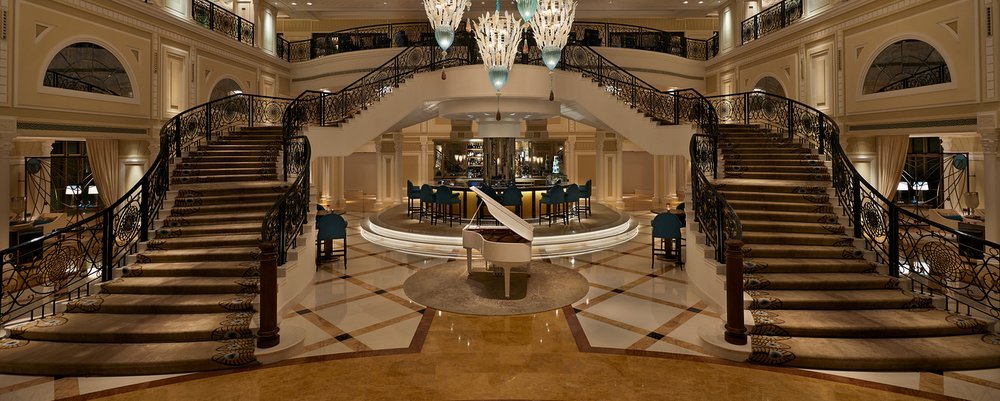 Filmmakers' Favourites
Stoke Park Country Club, Spa and Hotel in the United Kingdom, only 7 miles from London Heathrow, wins the most movie-friendly hotel award. For almost an arm and a leg you can swan around an executive suite in this 5 star iconic establishment of unadulterated luxury sitting in 300 acres of private grounds. Here you can have a game of golf as James Bond (Sean Connery) in Goldfinger, take a cue from Bridget Jones' Diary and go rowing on the Club's lake then retire to the grand Pennsylvania Suite with its four-poster bed for some off-camera action of your own making. You could just stand on the front steps of the Mansion and admire the view instead of being shot as in the dramatic ending of the cult movie Layer Cake with Daniel Craig and Sienna Miller. The hotel was also featured in Madonna's 2011 film of the romance between Edward VIII and Wallis Simpson. Tomorrow Never Dies (another James Bond film 1997 with Pierce Brosnan playing James) was filmed on these hallowed grounds and in the Ballroom that was converted into Bond's hotel room in Hamburg.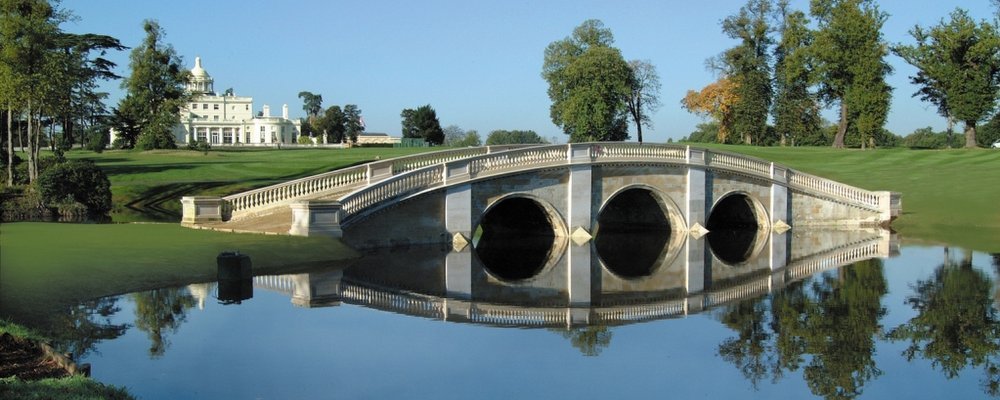 The Millennium Biltmore in Los Angeles, a 1923 arts-inspired grand dame is another darling of moviemakers. The list of movies which feature the Millennium is long: think The Soloist, Cruel Intentions, Independence Day, In the Line of Fire, Wedding Crashers, The Bodyguard, plus heaps more including the iconic Alfred Hitchcock movie Vertigo.
The Westin Bonaventure Hotel and Suites is a favourite due to its cylindrical mirrored towers. Remember the scene with Arnold Schwarzenegger riding a horse into an elevator in True Lies and you get the picture, literally. This hotel has been featured in scenes in Mission Impossible III, Hancock, Heat, Rain Man, Forget Paris, In the Line of Fire and numerous others.
Beverly Hills Hotel & Bungalows also in Los Angeles, the famed "Pink Palace", is in films such as the 1980 movie American Gigolo, Anywhere But Here, Beverly Hills Cop and Beverly Hills Cop II plus others going right back to The Bad and the Beautiful filmed in 1952.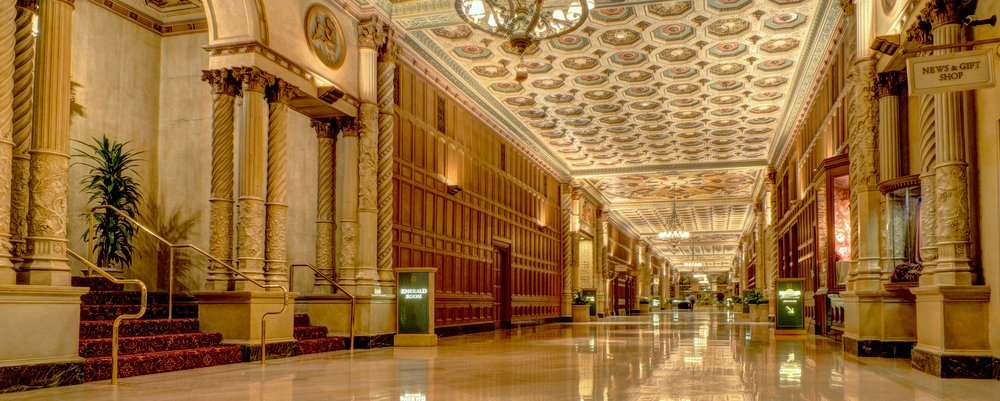 Romantic Comedies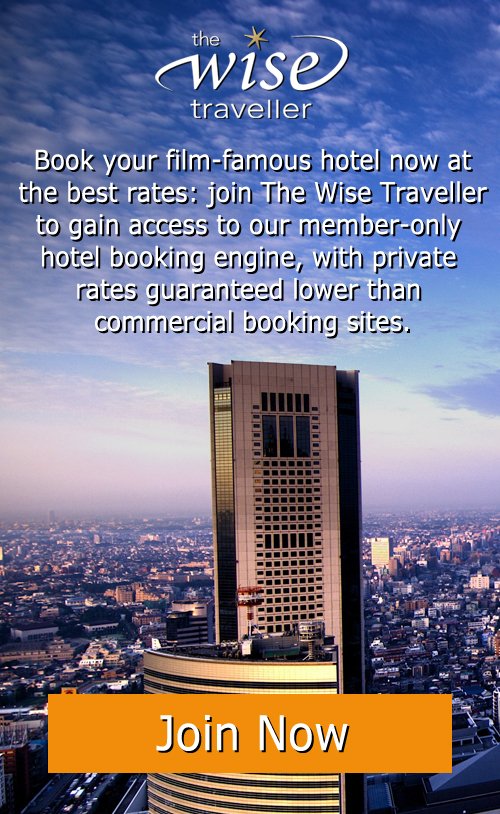 If you love a good comedy movie then the St Regis Bora Bora will fit the bill for an outrageous time as in the movie, Couples Retreat (2009). The epitome of laid-back elegance with the largest over-water villas in the South Seas' expansive jaw-dropping scenery, a stay here is sure to make you smile. Woody Allen's movie, Everyone Says I Love You (1996) was filmed at The Gritti Palace, Venice's most iconic luxury hotel floating on the Grand Canal. The romantic comedy starring Adam Sandler and Drew Barrymore, Blended (2014) was filmed at The Palace of the Lost City in South Africa where you can cavort around 60 acres of remote South African wilderness in the crater of an extinct volcano. The stunning art deco Waldorf Astoria New York has been the scene of numerous movies including Maid in Manhattan, The Pink Panther and Serendipity. Sex and the City 2 despite being set in Abu Dhabi, was in fact filmed at the ultra luxurious oasis of the hotel Amanjena Marrakech in Morocco. The Park Hyatt Tokyo is an over-the-top elegant experience with dazzling views for those that love Sofia Coppola's movie Lost in Translation (2003) with Bill Murray and Scarlett Johansson.
Smoke and Mirrors
For those that like a bit of fast paced action, the Bellagio Las Vegas is where you can play up like the star-studded crew of Ocean's Eleven (2011). If you have an unlimited budget (talking $18,000 per night range) stay at the Fairmont San Francisco in the penthouse suite featured in the movie The Rock starring Nicholas Cage and Sean Connery. Talking James Bond actors, Roger Moore had the horrible task of confronting a gaggle of gorgeous women swanning around the mystical "floating palace" at the Taj Lake Palace Udaipur in Octopussy, whilst The Langham Hotel in London was featured in the movie GoldenEye.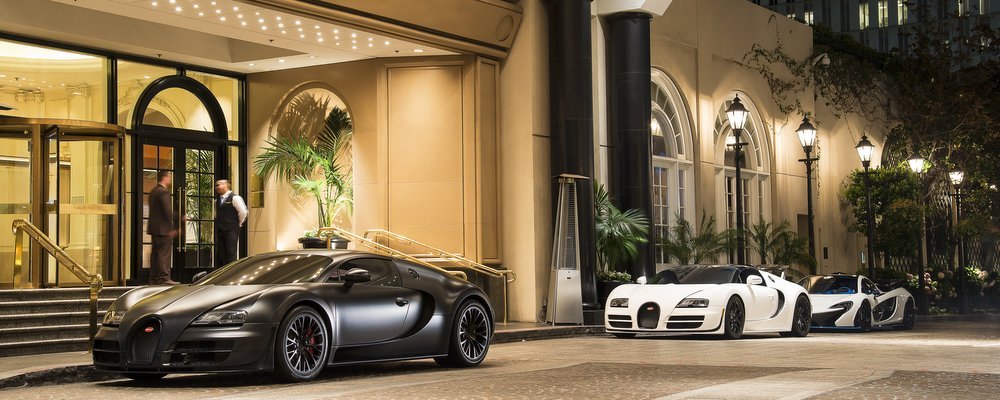 Full-on Romance
And for romantic lovers, Pretty Woman was filmed at the Beverly Wilshire Beverly Hills in the good old United States of America. An iconic hotel opened in 1928, it has been a favourite haunt for Hollywood's who's who and the international elite from the Dalai Lama to Elvis Presley and John Lennon so this is one for celebrity (or ghost) spotting as well. Another hotel for the diehard romantic is The Ritz in London, where Hugh Grant (aka William) is trying to locate Julia Roberts (aka Anna) in the movie Notting Hill. Was she registered under the name of "Miss Flintstone" or "Bambi?" He was told that "Miss Pocahontas" had checked out.
There are so many hotels for film junkies to choose from that the screen squatting and jaffa throwing may have to be put on hold for a weekend so you can make a cameo appearance as Alfred Hitchcock was want to do in his movies.
---
Gail Palethorpe, a self proclaimed Australian gypsy, is a freelance writer, photographer and eternal traveller. Check out her website Gail Palethorpe Photography and her Shutterstock profile.
---