Slovenia is home to a multitude of traditional dishes, with each dish varying a great deal from the other. Slovenia's 24 gastronomic regions represent Slovene cuisine's diversity, as each of these regions has its own particular culinary delights and characteristics.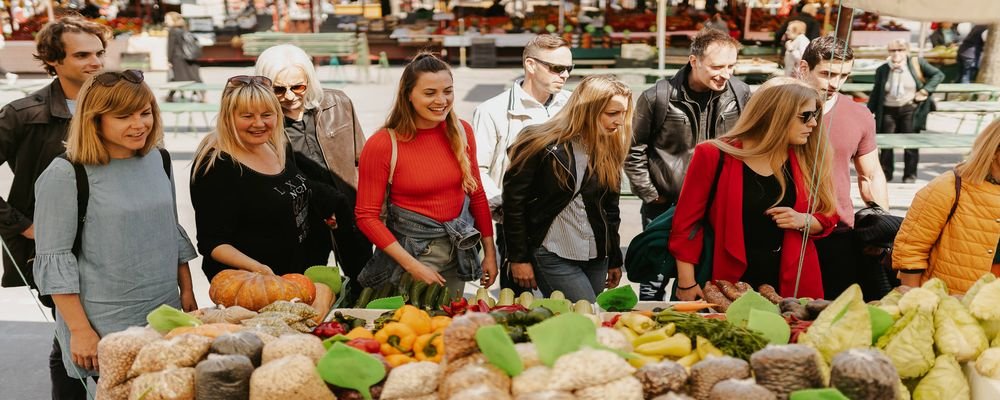 Fresh and locally sourced ingredients form the base of Slovene cuisine. Many of Slovenia's chefs adopt a zero-kilometre policy whereby they source their ingredients from as close to their restaurant as possible. And they are also renowned for upgrading and refining Slovenia's old gastronomic traditions.
Slovenia is the place to be for lovers of great food that can suit any pocket. Here are Slovenia's most famous traditional dishes and where you can eat them.
Slovenia's Top 10 Traditional Dishes
Kranjska Klobasa (Carniolan Sausage)
This is hands down Slovenia's most world-famous food. Not only has the Kranjska sausage been around since 1896, the European Commission has given it the Protected Geographical Indication (PGI) seal. AND it's also the first sausage to have entered space! Where does this famous sausage gets its delightful and unique taste? For starters, it's smoked. And secondly, to conform with its PGI standard, it must always consist of the exact amounts of pork (68%), beef (12%), and bacon (20%). You'll find Kranjska sausage mainly in the Alpine region of Gorenjska (Upper Carniola).
Kraški Pršut (Karst Prosciutto)
Here's another very famous Slovenian food. 'Kraški pršut' (Karst cured ham or prosciutto) is Slovenia's top-quality dry cured ham that also boasts the seal of Protected Geographical Indication. We recommend you enjoy its excellent flavour and texture by eating it at its very source, at one of the many farms in Slovenia's Karst region. While there, you'll most definitely be given some Teran, the region's most prized red wine that goes deliciously well with 'Kraški pršut'.
Štruklji (Curd Cheese Dumplings)
'Štruklji' are the roulade-shaped dumplings that come in many varieties, from baked or boiled to savoury or sweet. You can either have them as a side dish to accompany rich meats like venison (these are usually the standard curd cheese ones), or as a dessert with a topping of breadcrumbs and honey. There are many different fillings you can try them with. However, the most popular include those with curd cheese, tarragon, walnuts, apples, and poppy seeds. Ljubljana has a dumpling house called 'Moji Štruklji Slovenije' that serves an endless variety of 'štruklji'. But you can also find them in almost any restaurant, 'gostilna', or mountain hut, mainly in the central region of Slovenia.
Jota (Yota)
'Jota' is a stew of turnips, beans, onions, and at times smoked pork ribs. You'll find 'jota' wherever you go in Slovenia, but the dish varies according to region. For example, in Istria (southwest Slovenia) the stew contains sour cabbage ('kislo zelje') rather than turnips, and doesn't include potatoes. In other areas, you can have 'jota' with other local vegetables, and sometimes even barley.
Žganci (Mush)
Žganci is a simple Slovenian dish that also varies according to region. Potato 'žganci' are typical of Prekmurje and Pohorje in the northeast of Slovenia, while buckwheat 'žganci'—made from buckwheat flour, water, salt, and oil—are common in Gorenjska (northwest Slovenia). The Slovenes like to eat this dish with sour milk, or as a side dish to 'pečenica' (a fried sausage), along with sauerkraut. Whatever it is you eat 'žganci' with, you must have them with pork crackling ('ocvirki'). They add that special crunchy and meaty touch!
Pražen Krompir (Sauteed Potatoes with Onion)
'Tenstan' or 'pražen krompir' are probably the Slovenes' most favourite side dish. These are boiled potatoes, chopped up into pieces and fried together with onions. And again, for that extra mouth-watering porky flavour, these are best eaten with pork crackling. You'll find 'pražen krompir' in any restaurant serving traditional Slovenian food.
Potica (Potizza or Nut Roll)
We're now moving on to the sweet dishes. 'Potica' is Slovenia's most symbolic dessert. Made of dough to form a roulade-like or roly-poly shape, it's mostly popular during festive seasons such as Christmas and Easter time, although you can even find it on other occasions. Potica may not always be sweet, as you can come across savoury versions too, such as those filled with pork cracknels. However, most food lovers like to enjoy potica made with walnuts, tarragon ('pehtran'), or poppy seeds. Potica is most common in central Slovenia.
Prekmurska Gibanica (Prekmurje Layered Cake)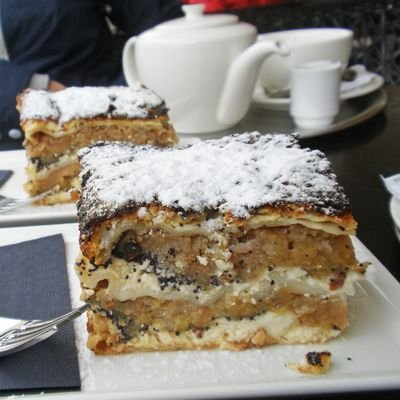 This layered cake filled with poppy seeds, curd cheese, walnuts, and apples also comes with a protected geographical status. So it's not a 'Prekmurska gibanica' unless it comes with all the right portions of ingredients mentioned here. As the name implies, this irresistible cake comes from the Prekmurje region. However, it does travel around Slovenia to delight those looking for a delicious cake that contains an interesting combination of ingredients. After all, this cake is called 'gibanica', which translates to 'moving cake'!
Kremna Rezina or Blejska Kremšnita (Bled Cream Cake)
A very popular dessert, not only in Bled, but also in many other parts of Slovenia, the 'Bled Cream Cake' is made from two layers of puff pastry (one at the top and the other at the bottom), filled with sweet vanilla custard and cream. It originated after the Second World War and is now Bled's main culinary speciality.
Jabolčni Štrudelj (Slovenian apple strudel)
Apple strudel is synonymous with Europe's Alpine regions, including Slovenia's northwest region of Gorenjska. It consists of a flaky puff pastry that encases a juicy apple filling that's usually spiced with cinnamon. You can enjoy this dessert when in Gorenjska as well as in central Slovenia. Look out for it in the traditional restaurants or mountain inns. You might even be lucky enough to get your hands on some homemade apple strudel as it's also one of the Slovene housewives' favourite recipes.
Where to Taste Slovene Cuisine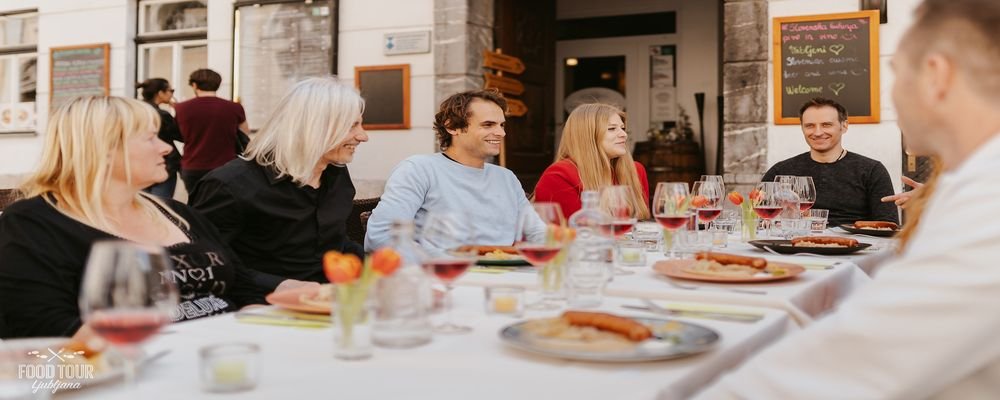 Now that you've worked up a great appetite by reading about Slovenia's 10 most famous traditional dishes, you'll want to know where to taste them. We suggest you head for some of the many traditional restaurants around the country called 'gostilne', or visit a few of Slovenia's many tourist farms. And for foodies that are also outdoorsy or sporty, we can bet you'll really appreciate a good heart-warming meal served at the many mountain huts in Alpine Slovenia, especially after hiking up the hill towards them. It's a very well-deserved meal that tastes even more exceptional.
Enjoy your Slovene cuisine experience—we wish you bon appétit, or 'dober tek' as we say Slovenia!