Pat the Family Cat Not A Tiger
I am an animal lover and I am not proud to say that I have been to two of Thailand's tiger parks, Tiger Kingdom in Chiang Mai and Tiger Temple in Kanchanaburi. Both times, I walked away with tears running down my cheeks.
I blame curiosity and my own human failing of succumbing to the temptation to touch an animal that should never have a human hand running through its fur. I have been to Africa and peered through binoculars in awe at the majestic sight of the powerful "big cat" feline cousins of the Asian tiger - lions, cheetahs and leopards. I have marvelled at their graceful forms, natural cunning, mating rituals, maternal instincts and sleepy habits of sometimes reclining in tree branches - in the wild.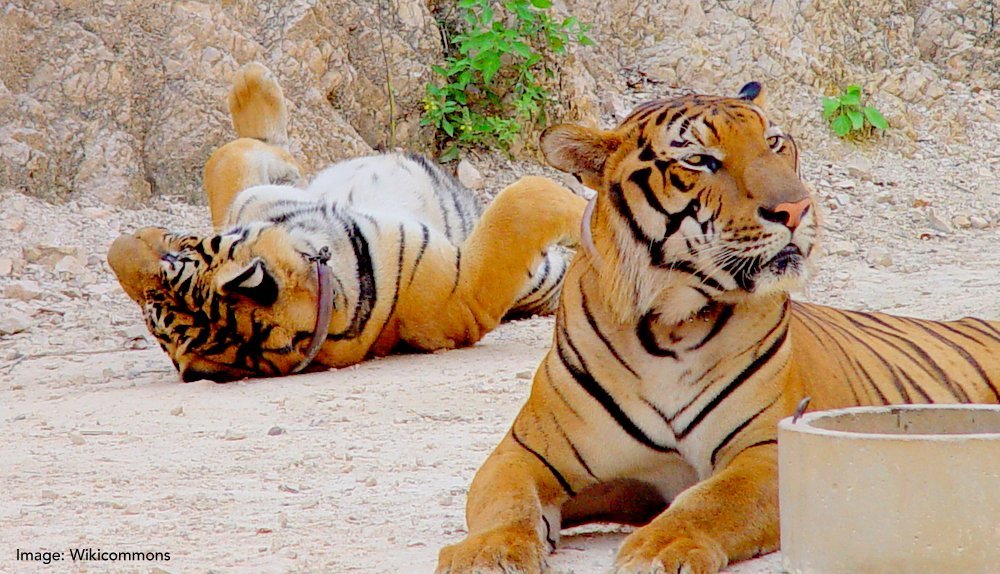 My first visit to see tigers in Thailand was on a whim, quite a number of years ago, to the Tiger Kingdom in Chiang Mai to see if they really were mistreated, as it was a debatable point at that time. My visit to the Tiger Temple in Kanchanaburi, a couple of years ago, was actually a by-product of being with friends, one of which desperately wanted to go. I remember having a sense of unease, as we paid the not so little amount to enter its professed conservation gates, only to find a dusty compound complete with concrete man made monstrous caged areas where the saffron robed monks, at this supposed Buddhist temple, serenely sat with tigers draped over them. Adventurous tourists nervously grinned as they patted an obviously sedated tiger for the clicking of cameras in a faux smiling pose, when actually they looked scared to death - the tourist that is.
The magnificence of the tigers, in spite of their bored and fate accepting demeanor, could be seen in the size of their paws, the width of their powerful jaws open in a lazy yawn and the sheer body mass that should have been honed to one of muscle, but was more the anorexic look of a runway model. The raw facts of how the tigers were treated are harrowing; from being teased with meat dangling above their heads, chained to the ground so that they could not move around, removal of c and teeth and even the drastic act of cutting their wrist tendons to hamper the speed of their movements, are in stark contrast to the park's so-called conservation/preservation pleas. These broken creatures would have no way of fending for themselves, if they were ever set free in the wild.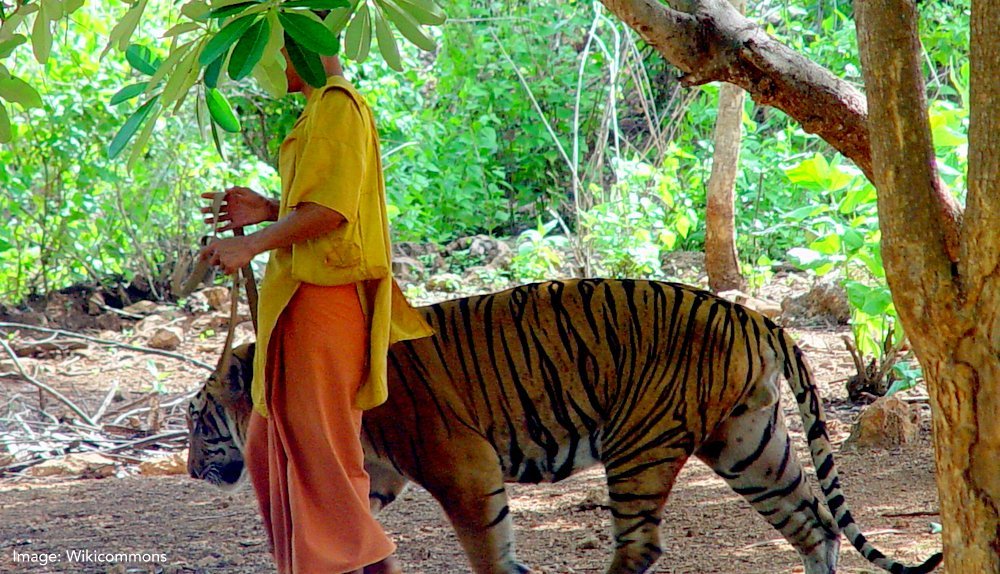 Tiger Temple may now be closed, but if you go to their website there is a promotion of the "Tiger Lion Leopard and Elephant Park" just 10 kilometres further on, where you can still feed and pet a tiger or a cub. Having lived in Thailand for numerous years I quickly learned that not all robe-draped bare-footed monks are paragons of virtue, in fact some choose to enter monkhood, as an alternative to doing prison time.
In June 2016, Tiger Temple was raided by wildlife officials, vets and police officers with the result being the removal of 137 tigers, 40 frozen tiger cub carcasses plus 20 cubs preserved in jars of formaldehyde and a dead bear, as well as various animal horns. The Tiger Temple stated that the cubs in the formaldehyde were being preserved to ensure that the government knew they were not selling them and that the government officers were aware of the frozen cubs...mmm...it is Thailand after all.
The Department of National Parks, Wildlife and Plant Conservation of Thailand had finally taken notice (or had no choice) after years of allegations being made on the international stage about the conditions of the animals at the Tiger Temple. Accusations included such activities as illegal trading in tigers especially for the Chinese medicine market, unlicensed breeding practices leading to inbreeding, hazardous tourism allowing tourists to get up too close to the animals and the fact that the monks were exploiting the animals for their own financial gain.
The monks' own housing revealed tiger pelts and fangs, protected Siamese rosewood and deer antlers. The scale of animal abuse was horrifying.
The monks ran.
Despite the mortifying, let alone illegal practices of Thailand's tiger tourism market, it is a growing industry worth millions of tourist dollars. There are 830 tigers held in captivity today in various entertainment venues scattered throughout the country, when in 2010 there were only 623. Tiger cubs are separated from their mothers when they are only a few weeks old, the cubs are handled by 100s of people each day, relentless punishment is handed out in a "pain and fear" method, the enclosures are small with limited access to fresh water and numerous tigers show stress and behavioural problems such as repetitive pacing and biting of their own tails.
There is a global outcry to stop this barbaric practice where tigers are put on show for tourist consumption with the World Animal Protection society calling for the travel industry (including Trip Advisor) to stop profiting and promoting tiger tourist venues and governments to step up to the plate and clean up their act. Of 17 major venues, the Sriracha Tiger Zoo in Pattaya has the highest number of tigers in captivity and some of the poorest conditions in which the tigers live and yet they are still open. Tiger Temple is just the tip of the iceberg in relation to animal cruelty in a quest for tourist blood dollars in Thailand and the governments' efforts to patrol its own backyard has been short lived. You only have to walk down Bangla Road in Patong or laze on a beach in Phuket, to see locals selling the ultimate thrill to tourists of a photo moment with some rare endangered species of animal. If you head to one of Thailand's land border crossings you will always find the dubious shop front or a shabby market stall dealing in the illicit trafficking of wildlife and forest products of Thailand.
Tiger tourism is a thriving business in the so-called land of smiles, when it should only bring tears.
---
Gail Palethorpe, a self proclaimed Australian gypsy, is a freelance writer, photographer and eternal traveller. Check out her website Gail Palethorpe Photography and her Shutterstock profile.
---