The rustic and idiosyncratic streets of the Chilean port city Valparaíso weave uphill and down cloaked in the whimsical and fanciful imaginings of numerous street artists. This is not just a graffiti-clad town, but a vast open-air gallery of astounding works of art reflecting Chile's culture and heritage in a rainbow of colours.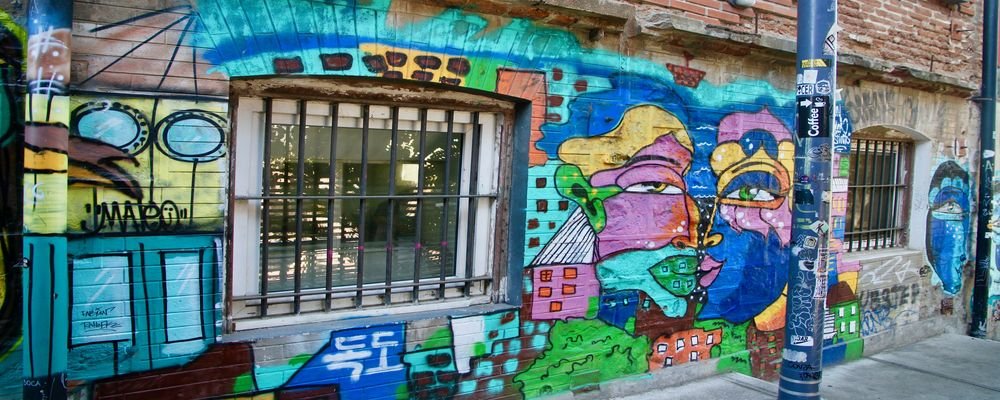 Intense eyes will glare back at you, vivid caricatures of faces peer out from larger than life murals, and fanciful depictions of animals will let your child's mind run wild with imagination. They range from huge owls to playful dogs and from surreal depictions of human emotions to wonderfully comic scenes of locals going about their daily lives. The buildings and narrow winding laneways have become a picture gallery that will have you grinning with happiness as a child does when looking at a picture book.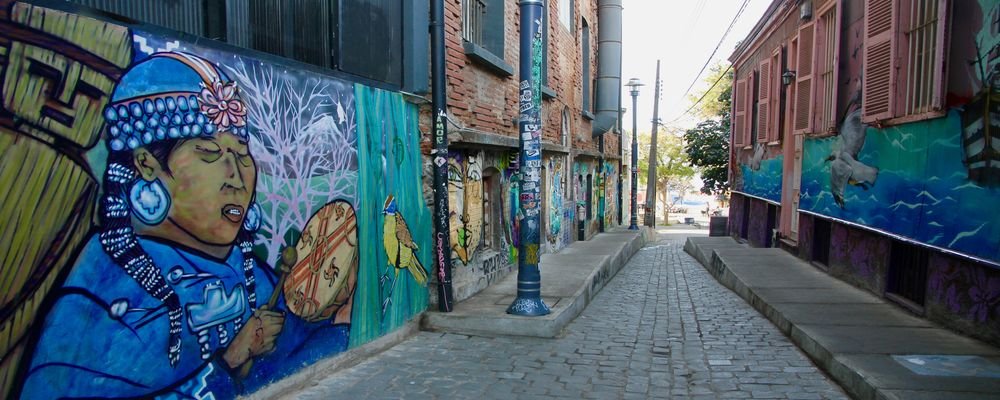 Giant canvases are a kaleidoscopic of colours and a feast for the eyes. Elias Street perched on Cerro Alegre Hill is one of the main little streets to meander leisurely with one eye on the mischievous animated walls and the other on the roadway to make sure you don't get run over. Hundreds of artists, both local and international, have created masterpieces on the walls of buildings, concrete fences and steps of the hills. Valparaíso's skyline is covered with fascinating and evocative art treasures in a mixture of techniques and styles.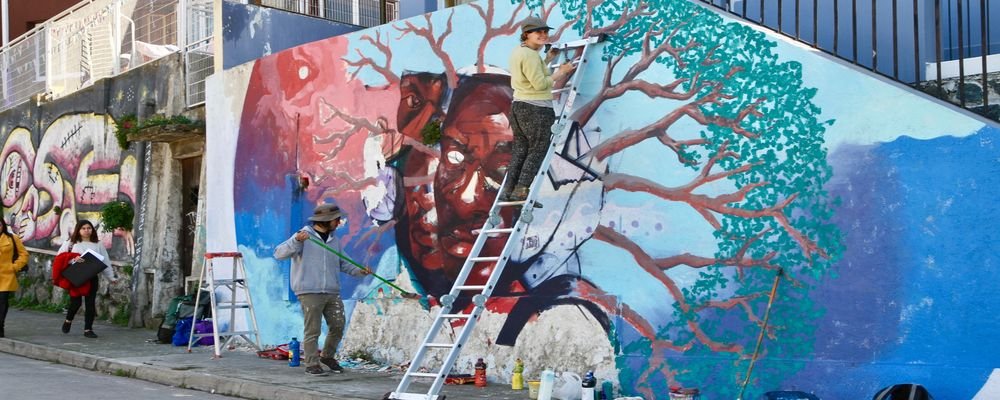 Armed with spray cans, artists also create with oil and crayons to bring their fantastic visions to life. The local government actively encourages and supports the artists with many building owners reaching out to artists to give their buildings the arty touchup.
The counter-culture of Valparaíso has given it a San Francisco-esque vibe where you can endlessly stroll its streets being entertained by artists performing on corners, peering at expansive artworks or hanging out in quirky cafes that seem to appear out of nowhere in the hilly domain of the city. A gentle sea breeze will blow away the stuffy air of big cities like Santiago and cascading houses of different hues falling into alleys that end in ocean views will leave you breathless.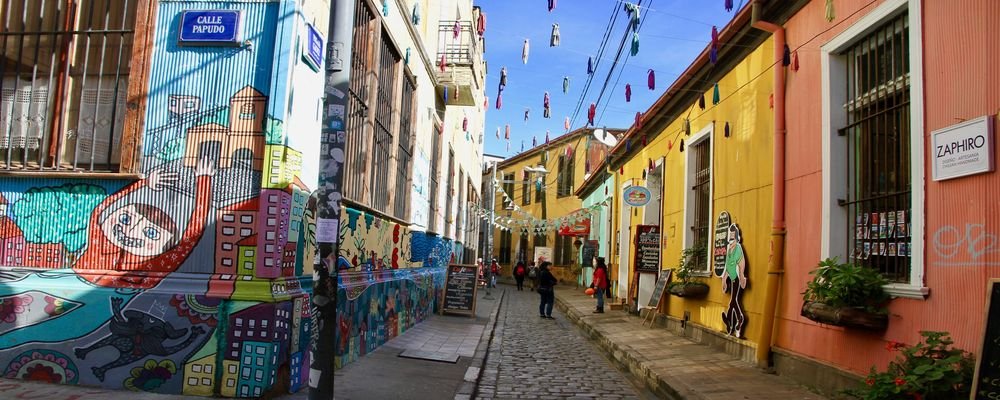 For those who love street art, this is a city not to be missed. A UNESCO World Heritage Site, Valparaíso is lined with hotels, bars, galleries and restaurants. Iron fronted houses face cobblestoned alleyways, and every corner hides a secret of some sort.
The artists quite often work in pairs, such as Sammy Espinoza and Cynthia Aguilera who have splashed paint over numerous huge buildings such as the facade of the 22 floors of the Centenario Building that is amongst the tallest buildings in the city. They paint under the name of Un Kolor Distinto (A Different Colour). Their creation named Solsticio de Verano is a dreamlike apparition of a yellow face melded with bright purple and green vegetables celebrating the summer solstice.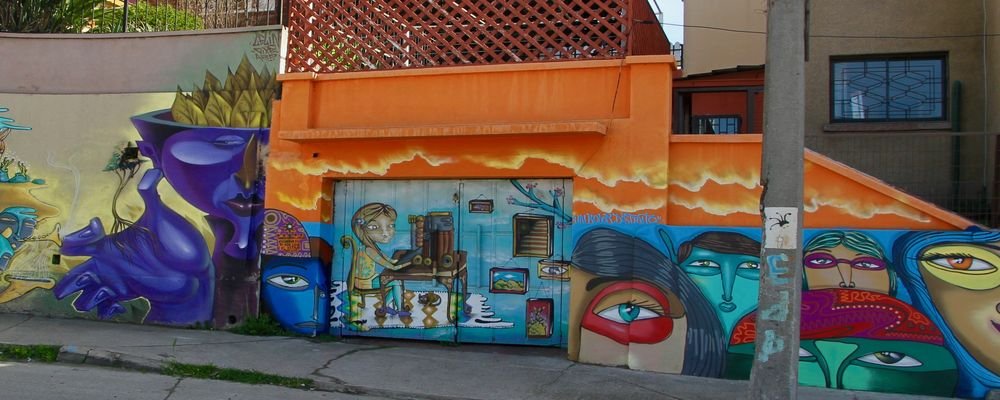 Other artists of international acclaim include Inti Castro, Charquipunk and Teo with their distinctive styles so quickly recognisable, from a mural of Van Gogh to nature-themed murals of Chile's abundant birds.
The other feature that will hit you in the face are the examples of the Chilean urban art movement, Ramona Parra Brigade, when economic uncertainty and social issues came to the fore under Salvador Allende, the Socialist President. When a young female member of the Communist Party was shot and killed during a student protest, numerous activists took to the walls with their paint cans in protest. Using vivid primary colours and bold black outlines, they created murals of raised fists, workers' faces and the sun, as symbols of their resistance to the oppressive regime.
More than 1,400 murals adorn Valparaíso's streets and have become a tourist attraction of the city. Over the last five years alone, about 300 graffiti artists have added their own art to this city of colour.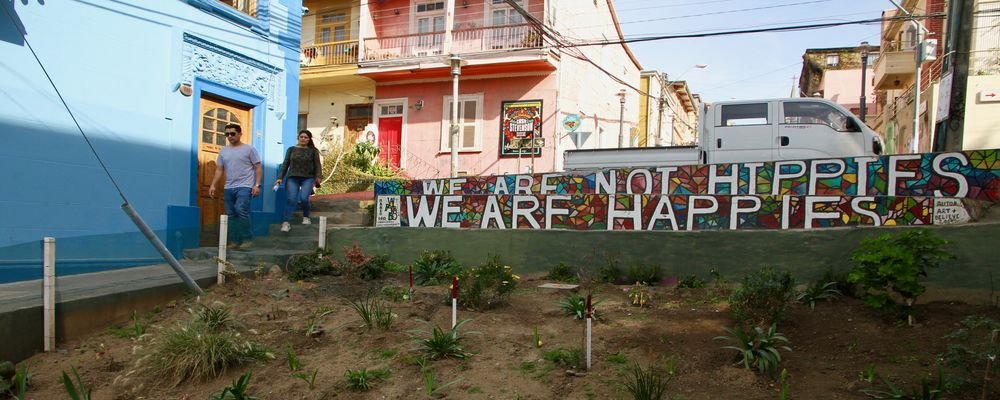 If you are chasing the best informative bespoke tour, check out the offering of Urban Adventures. Your questions will be answered as you take various forms of public transport mingling with the locals, dine on a traditional meal in a local restaurant and get to take numerous photographs to remind you of one of the best days you will have in Valparaíso. If you don't speak Spanish, your gracious host will be able to chat with you in English.
---
Gail Palethorpe, a self proclaimed Australian gypsy, is a freelance writer, photographer and eternal traveller. Check out her website Gail Palethorpe Photography and her Shutterstock profile.
---