Cobblestoned alleys of tapas and wine, where all sorts of dogs gather in tail-wagging glee with hungry owners, lure food pilgrims from all over the world to the Basque city of San Sebastian. Famous not just for its mouth-watering offerings, but also for the fact that it sits on the sea, this is where you literally run out of delectable words to describe its abundance of drool-worthy food.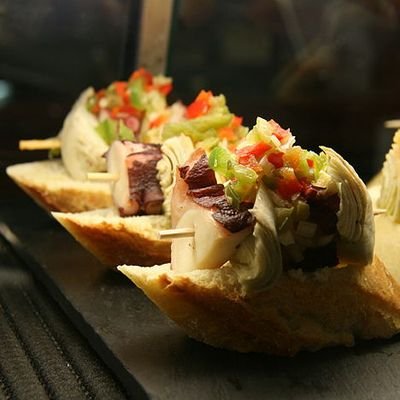 Here you can literally be a pauper and yet still dine like a king, whether you join the throngs of munching souls in the body-packed alleys or feast your greedy eyes on fresh produce that still smells of the earth that it has been plucked from or of salt air and glistening sunshine after being hauled aboard a fisherman's boat to a local market.
San Sebastian's iconic "pintxos" (small portions or small plates) give you a wonderland of choice toppings stacked on small slices of bread, or creations in rustic earthenware, tiny pots of deliciousness that make hungry hordes go berserk with gluttonous lust. Contemporary stylishness is challenging the traditional look in food presentation, and pseudo wine "buckets" with snifter amounts of "vinho" lurking in the bottom have replaced the thick small glasses that littered the bar tops at the end of the night.
A few of the excellent tapas bars in the old town to partake of mouthfuls of explosions of taste include: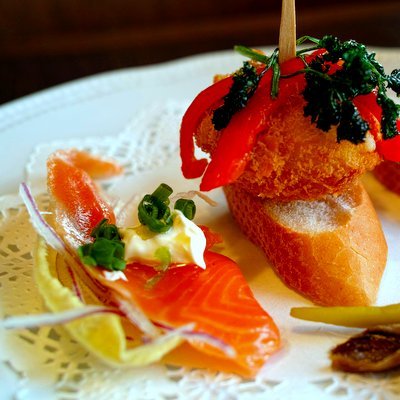 Txepetxa (Pescaderia Kalea, 5) - Small and traditional with a quaint rustic charm, this bar is famous for one thing: anchovies. Strong and salty, add apple compote with papaya, peppers, onions, olive tapenade or even sea urchin, and you have a celebrated Basque specialty overwhelming your taste buds.
Mendaur Berria (Fermin Calbeton, 8) - Running with the wow factor in decor, this contemporary enclave of toothsome masterpieces includes spider crab, veal cheeks, and the ultimate funky desert of apple and passionfruit puree with white rum foam.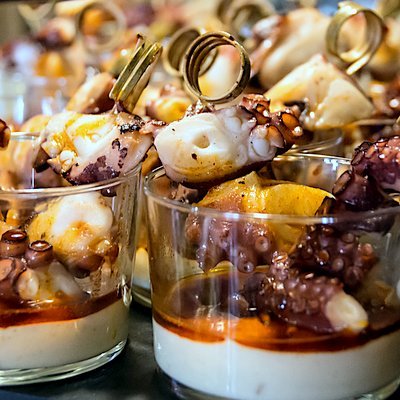 Borda Berri (Fermin Calbeton Kalea, 12) - Unassuming with amazing offerings, Borda Berri is where you will find plates of pig's ear with romesco sauce, grilled octopus with quince jelly and the best rice dish, Idiazabal cheese risotto.
La Vina (Calle 31 Agosto, 3) - Old style with luscious dishes such as anchovy and cream cheese, wild mushrooms and scrambled egg or crunchy prawns with vegetables, La Vina offers bigger meals such as rare beef steak for those with big hunger pangs and for those with a sweet tooth, their creamy baked cheesecake is unforgettable.
If you have delusions of being Joan Roca (chef of El Cellar de Can Roca in Girona, one of the top 50 restaurants in the world) then you should head to one of the traditional food markets, such as La Brexta or San Martin, to grab your selection of local fresh goodies. Farmers have their own stalls selling countryside fresh produce, gourmet shops are dotted around the area, and you may just happen to bump into one of the many famous chefs in the region who regularly haunt the food markets in the wee hours of the mornings.
Basque food is a culinary art for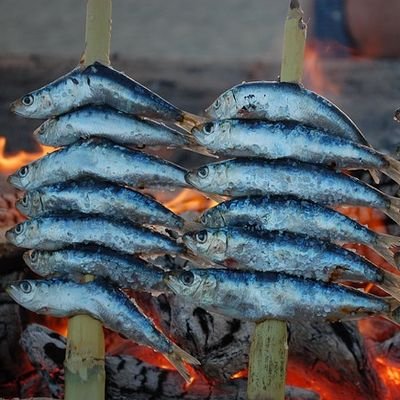 m in San Sebastian, which is where you will find more Michelin star restaurants per square meter than anywhere else in the world. For the chefs of San Sebastian, it's a never-ending love affair with fresh seafood from the Cantabrian Sea and seasonal produce grown on their own doorstep.
Spring is the best time to gobble down suckling lamb, anchovies and mackerel, green caviar, baby broad beans, artichokes and asparagus, whilst summer brings on the tuna, sardines, peppers, tomatoes and green beans. Autumn is the ideal time for perretxiko mushrooms, black pudding and game, with winter dishing up hearty black beans, spider crab and ewe's sheep curds for desert. Wash it all down with cider or Txakoli wine, and you will have satiated the most devilish appetite.
Do ensure that in between bouts of epicurean delights you also indulge in a few grueling walks along the seafront to work up your appetite and don't get run over in the early mornings by the street sweeper darting around the alleys cleaning up the debris from the ravenous marauders of the night before.
---
Gail Palethorpe, a self proclaimed Australian gypsy, is a freelance writer, photographer and eternal traveller. Check out her website Gail Palethorpe Photography and her Shutterstock profile.
---