If you have been bunkered down in San Sebastian trawling the pintxos bars, and it's time to move on, you will have to get your body to Bilbao, which is where you will find the closest international airport to take you anywhere in Europe. (The local San Sebastian Airport will only put you in another Spanish city.) Endure the bus ride for 105km, or lash out and get your own personal driver—ho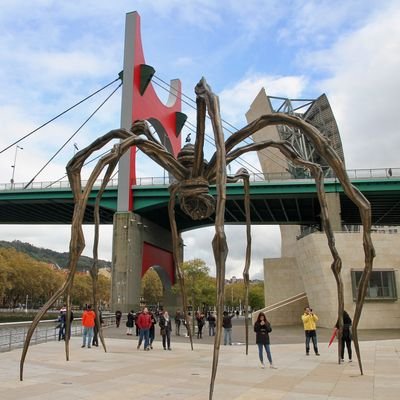 wever you get there, you should take the time to gawk at the mesmerizing sight of the Guggenheim Museum before jumping on your flight.
Opened in 1997, this now iconic landmark shimmers in the sun, or at certain times of the day mysteriously rises from the fog whispering up from its watery moat, which is an art installation by Fujiko Nakaya. So many artists have added their touches to this architectural wonder of titanium curves, towers, and flying fins both inside and outside. Designed by the visionary architect Frank Gehry, a Canadian-born American, the Guggenheim Museum is only one of his creations that have become symbolic, such as the Olympic Fish Pavilion in Barcelona and the Dancing House in Prague.
Unique, bold, and awe-inspiring, his designs leave the on-looker gob smacked when confronted with flowing canopies, promontories, and ship shapes with wistful allusions to the history and geography of the city his buildings stand in. The site of the Guggenheim Museum was an industrial wasteland of decaying warehouses wallowing on the banks of the Ría del Nervión River, where once fishing and ship building industries thrived. This stained and industrialized land dump has been transformed into luscious gardens and promenading walkways, with more than 1.3 million visitors annually lining up to go through the doors of the museum that some say is more famous for the outside, than for the treasures within its doors.
Bilbao continues the Basque Country experience where people "live to eat" and not "eat to live". Stunning architecture lures tourists to this city that is surrounded by undulating emerald green hills and a stunning coastline of spectacular panoramic views and rugged cliffs only moments from the town. Whatever you found in San Sebastian is also highlighted in Bilbao, from its maze of cobblestoned alleys to Michelin star restaurants, eclectic bars, and bustling cafes.
The Guggenheim Museum stands juxtaposed with other imposing creations in a world of in-your-face sights. They range from the vibrant red soaring La Salve Bridge (its official name is the "Prince and Princess of Spain Bridge") lurching into the sky, designed by Daniel Buren, to Louise Bourgeois' mammoth science-fiction skeletal spider "Maman", hunching over the path below it in a symbolic protective embrace.
The uber-kitsch puppy "El Poop", a giant rainbow mutt (dog) made out of thousands of begonias, standing at the main entrance to the museum in all its 12-meter glory, is the product of the fantastical mind of Jeff Koons. He is also the innovative brain behind the "Tulips" sculpture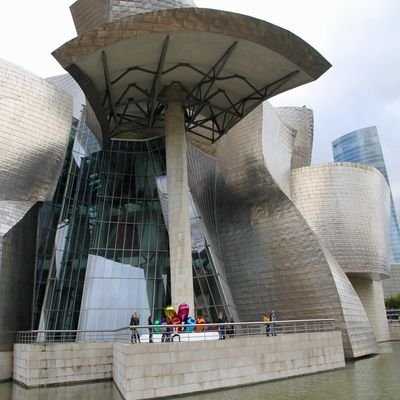 —a mass of multicolored balloon flowers of mammoth proportions evoking an eclectic vision of childhood celebrations and festival floats. The contemporary sculpture of Anish Kapoor's silver balled "Tall Tree and The Eye" sparkles in its site-specific form, where its mirrored image in the water is a photographer's dream snap of 73 reflective spheres creating orbs of light on its mirrored surfaces.
Once you have had your fill of the outside of the building, the inner sanctum of the museum beckons, with its atrium interior stuffed with color and all shapes and sizes of contemporary exhibitions that are a mix of permanent and transient displays. You can explore on a self-guided audio tour in various languages (there is a special children's version) or take advantage of one of the free-guided tours, if you can chat in Spanish, at certain times of the day. For those that want a more personalized experience, private tour groups are available, or for the hearing impaired, the museum is equipped with adapted magnetic loop PDA video guides.
Be one of the clever ones and book on-line, as then you won't have to join the frequently long queue for maybe hours on end just to get your foot in the door.
---
Gail Palethorpe, a self proclaimed Australian gypsy, is a freelance writer, photographer and eternal traveller. Check out her website Gail Palethorpe Photography and her Shutterstock profile.
---