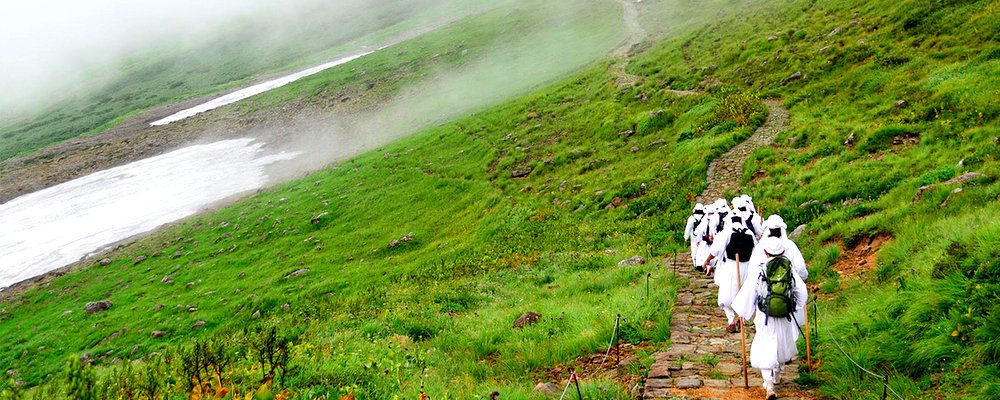 Image: Yamabushido.jp
From the moment I heard the word Yamabushi, I was intrigued. For 1500 years these devout, hermetic monks, who were revered for their skills as healers, warriors, and political influencers, kept up their secret, nature-based practices in the mountains. Most Japanese believe that they disappeared a long time ago, but the truth is that they survive and thrive in the remote Shonai region, which is a two-hour flight or four-hour train ride from Tokyo.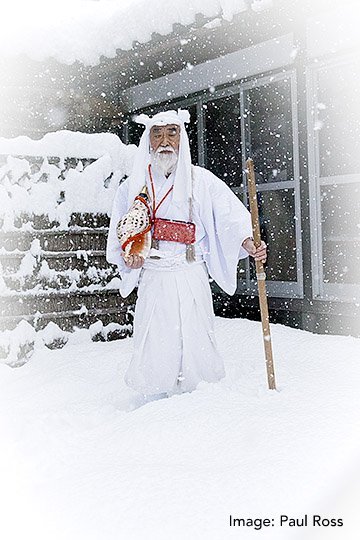 Yamabushi Master Hoshino recently decided that it was time to extend beyond Japan, and open the practice to culturally and spiritually curious visitors from other countries. The first enrollees included people who were overworked, stressed, navigating the turbulent waters of life, and desirous of reconnecting to nature, finding meaning, and changing their lives.
I signed up for a three-day training, and when I got the preparation instructions, I panicked. For the duration of the program, we were not allowed to speak. We could only use one word, and although I usually have facility with languages, I simply couldn't remember the word. We were not permitted to brush our teeth and men couldn't shave. There would be some fasting, we had to climb up two thousands step to get to one of the monasteries, and we had to wear white. In addition (by this time I was weeping), there would be an immersion in the current of a powerful waterfall, exposure to smoke, and other horrors I have forgotten.
I was just about to back out, when I remembered a lesson I have learned and re-learned in life: nothing you fear turns out to be as you expected it to be. Master Hoshino said the purpose of the training was not to punish people. The idea was to make you go through the death of an old way of being, and be reborn in a new way. So I went.
When I met Master Hoshino at Daishōbō, his pilgrims' lodge in the high mountains of Shonai, my fears melted at once. He looked like a cross between Santa Claus, an inscrutable mystic, and a wise, snowy white owl and I became enthralled at the idea of working with him and learning from him. The monks who assisted him and translated from Japanese to English assured me that they were there to help, and they were available if we needed any assistance. I never did. For three days I dressed in white, slept, ate, meditated, wondered, chanted, finally remembered the one word, was awed by spectacular nature, learned about the three sacred mountains, attended a private ceremony in a Shinto shrine, listened to drums and the powerful call of a giant conch shell, reflected on my life, and underwent a startling change.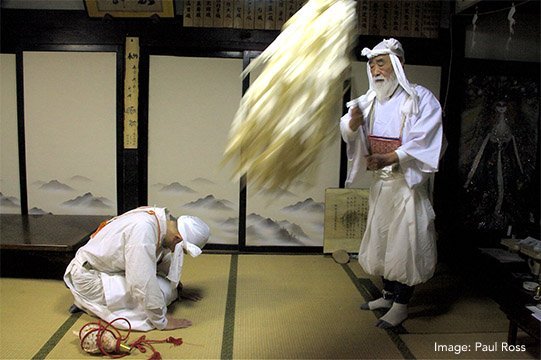 Part of the power of the training is the secrecy, and we were asked not to share the details of the program. But I can reveal that at the end of the three days there was a graduation feast made of local ingredients prepared by Master's wife, a bowl of sake, and the austere master bellowed with laughter and engaged freely with his disciples. Once I was allowed to speak, I expressed my gratitude and Master Hoshino addressed me with one of the few words he knows in English: "Sister."
At the end of my stay with the monks, some ex-students showed up to visit Master Hoshino. A few of them had undergone the training several times. One brought along her daughter, who had done the program with her. They were young, older, professionals, seekers. For each, the experience had been different. But what we all shared was gratitude that we could be welcomed into the inner sanctum of the Yamabushi and emerge renewed, invigorated, and ready to face the kind of life that is expressed in the one word we were allowed to use. Alas, since it is secret, I can't share that word with you. You will have to go to Shonai and learn it for yourself.
To learn more or to sign up:
Yamabushido.jp
Japan-guide.com (search for Yamabushi)
---
Judith Fein is an award-winning international travel journalist, inspirational speaker, author, and workshop leader. Her website is: www.GlobalAdventure.us
---