For the traveling beach hopping wannabe spy or novelist, who likes a cocktail whilst listening to their favourite music when in flight, this is the list of must pack goodies.
1. Vumos Leak Proof Travel Bottles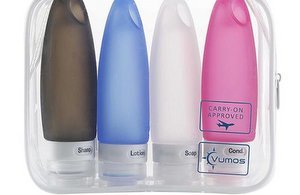 No more worrying about exploding shampoo smearing your clothes with indescribable creamy muck if you just have to have your favourite liquid goodies with you when you travel - think body wash, lotion, makeup remover, sweet smelly scents or maybe a drop or 2 of your favourite alcoholic nip. These handy leak proof bottles (4) are made from squeezable 100% BPA free silicon and can be stacked neatly in their clear carry case for easy packing. Created in the right size, 98 ml the largest carry on liquid container allowed on flights, they are perfect for those wishing to have a quick refreshing moment on a layover or a sneaky sip. Each bottle has a rotatable collar with label text so you won't be using the wrong stuff in your hair, on your face or pouring it down your throat.
2. Portable Cocktail Kit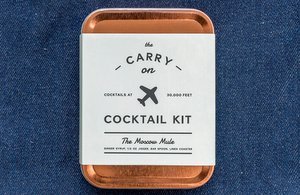 The ultimate James Bond accessory for when up in the air, the portable cocktail kit will give you the necessary ingredients to concoct your favourite poison. Small enough to fit into your pocket, you will have a recipe card for your beverage of choice, a stainless steel spoon/muddler, a linen coaster to add a touch of class plus the goodies to create 2 liquid concoctions. You get to pick your flavour from a variety of cocktails on offer such as a Bloody Mary, an Old Fashioned or a Moscow Mule. For the flying mixologist that can't stop creating from the individual offerings, there are Carry On Cocktail Travel Kit Packs that contain 3 different cocktail options to be enjoyed. "Shaken not stirred" takes on a whole new meaning at 30,000 feet. Visit the PunchDrink website
3. Sandless Beach Mat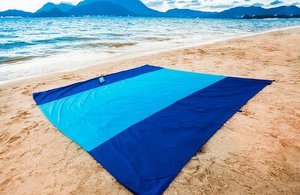 For those that check into less than a 5 star seaside resort where complimentary beach towels are taken for granted, the sandless beach mat should definitely have room in your luggage. Originally produced for military uses (not sure when they would be lounging on the sand), the mat remains sand free thanks to its double separate dual-weave layers. You won't have to worry about sand sticking to your 50+ suntan lotioned skin anymore, grains of sand getting into your cocktail or clinging to your neatly stacked clothing. The top layer of the weave lets the sand fall through, whilst the bottom layer prevents sand from creeping up beneath. Just like a traditional beach towel, there are numerous brands of the sandless beach mat on the market. Visit sandlessbeachmats.com
4. Tampon Flash Drive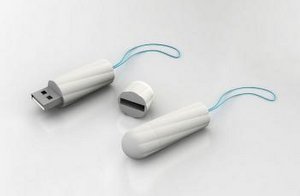 Yes, it is shaped like a white tampon complete with string; so don't confuse it for the real thing in an emergency. This USB flash drive will store and protect those important files that you may have to carry with you when on holidays - think your boss' idea of holiday work, important photos or maybe the next best selling tell-all novel that you intend to finish whilst lazing on a far flung beach. High speed and Mac/PC compatible, it measures only 5.5 x 1.8cm. A touch on the quirky side and it might even be embarrassing for some (males can say it belongs to their female better half) no cocky thief would want to steal a tampon.
5. Bose Quiet Comfort 35 Wireless Headphones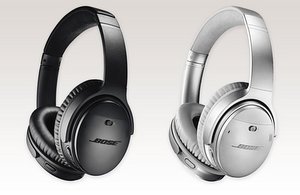 Lightweight and comfy, the Bose Quiet Comfort 35 Wireless Headphones will put you in your own world but still allow you to hear flight boarding announcements. The perfect foil to block out screaming rug rats, fighting spouses, rumbling luggage wheels and your partner sitting beside you, the Lithium-ion battery will give you 10 hours of utter bliss. With its Bose-connect app and built-in Google Assistant, you will have the ability to play your favorite tunes, receive texts and reply by using your voice and never having to look at your phone. The flip of the action switch will adjust the level of noise cancellation you want to fit your mood and your situation. The headband is designed to survive your way of life from the desert to the beach, whilst comfy ear cushions will almost make you believe that you are not wearing headphones at all. Wearing these headphones will allow you to create your own sphere of indulgence.