There are actually too many simply weird and wacky gadgets that you can pack in your suitcase, or wear on your body or on your head, for those that are paranoid about everything and anything happening whilst traveling. And then there are the items that cried out to be bought purely because at the time you thought it may be a good idea "just in case".
1. The Head Case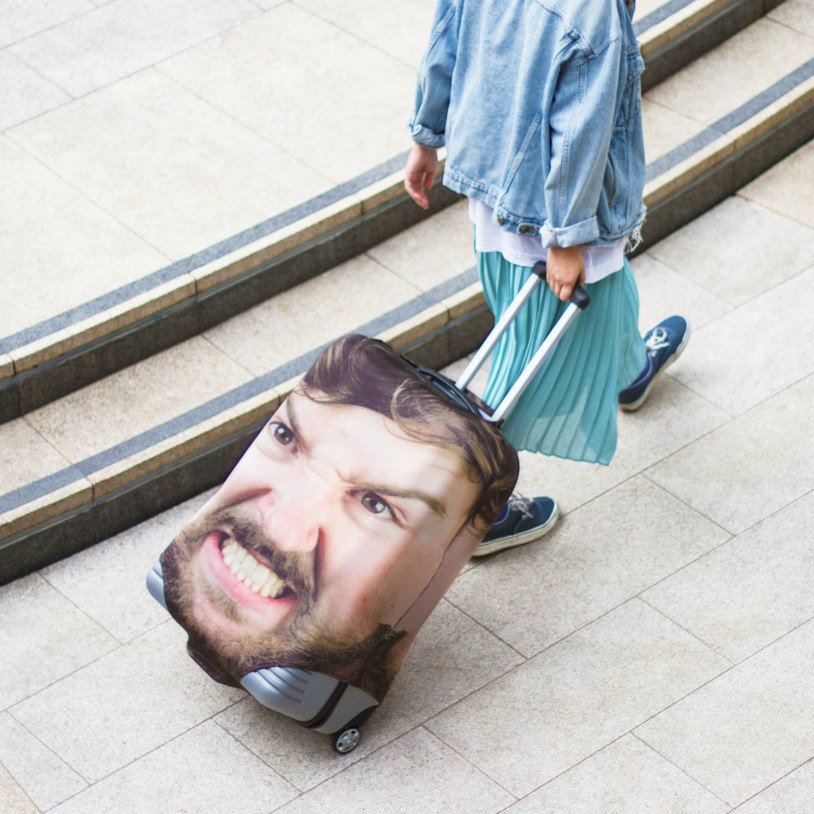 This does not refer to you being ready to be incarcerated in the local loony bin. Handy for those that can never remember what their bag looks like on the carousel at the airport, hopefully you have looked in a mirror and know your own face. Yes, you can have your own face (or someone else's for that matter) printed onto a personalised luggage cover. Created by Firebox, printed covers come in three sizes and can be ordered online by simply uploading a photograph of yourself.
2.The SeatSitter
What every germaphobe should have in their arsenal of germ-fighting equipment, especially when travelling, so that you don't pick up any hitch-hiking gremlins left over from the last person who sat in the seat that you are about to put your derriere on. Seats can be on the nasty side and rarely cleaned, so if you want to blanket yourself in your own germ miasma the "seatsitter" allows you to do just that. A soft and comfy reusable seat cover that will fit over a plane seat - or bus, train or whatever—to give you the ultimate "clean" spot for your rear. As a bonus, each kit comes with a tray table cover, an allergy mask and wipes to clean up. What more could you want? This is the ultimate in germ busting!
3. Pocket Printers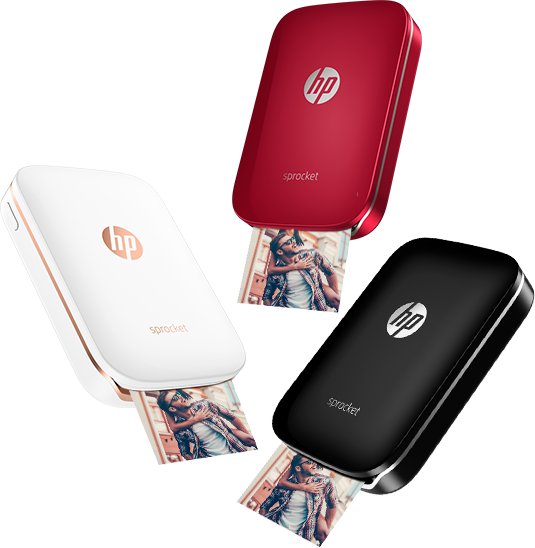 The definitive must have for those who wish to physically hold a plane ticket or a hotel booking in their hands, rather than relying on their mobile (which may have gone missing). Pocket printers are perfect for printing out your boarding passes or reservation bookings. You won't have to rely on trying to find somewhere to print anything ever again. The bonus is that most will print out your photographs, if you wish to give a keepsake to someone whilst on your travels. There are numerous brands on the market that will literally fit "in your pocket" with Cannon and HP brands sticking out as some of the best.
4. Water Purifiers
Not just for outdoor camping adventurers, water purifiers can come in handy if you plan to travel in countries where the water flowing out of a tap is unsafe to drink. Buying bottled water all the time is an option, but one must wonder what you are actually getting sometimes. Then there is the issue of disposing of the "plastic" bottle when the world is being wrapped up in plastic already. Using a water purifier puts you in control, giving you safe and clean water whenever you want. When choosing a water purifier you want to go for one that will kill cysts, viruses and bacteria, plus filter out chlorine, metals and particles, without making the water taste more horrible than it already does. From a travel perspective it needs to be robust and light. There are quite a few on the market, such as the LifeSaver, Drinksafe Travel Tap, Steripen Ultra and the Grayl. Check them all out, as each has pros and cons going for them.
5. An Air-conditioned Jacket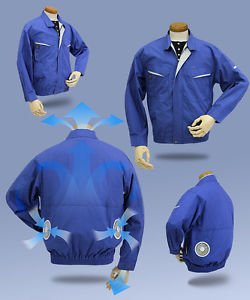 Created by Kuchofuku, this is for the quirky person who ends up in a tropical destination and yet whose body temperature has no idea how to cope with the heat. Or, maybe you just sweat a lot and hate being bathed in stinky perspiration. The jacket actually has twin-integrated fans that give you a cool breeze inside the zip-up bomber jacket to keep your body from going into overheat mode. It does run on batteries that can be recharged. Maybe not a clothing item of choice for fashionistas, it does however come in five colors if you want to coordinate your travel wardrobe without looking like a total geek. Do expect to be the gawk attraction in the streets.
6. Collapsible Travel Water Bottle
One for the environmentally conscience individual who hates the thought of disposing of plastic bottles whilst traveling, this packable bottle collapses down to a tiny 1" to fit in your luggage. Taste and odor free, it is made out of BPA-free silicone, is dishwasher safe and has watertight seals to prevent any leakage. Perfect for the convenience of 21 fluid ounces on you at all times, you could even fill it with vodka and no one would notice the difference.
---
Gail Palethorpe, a self proclaimed Australian gypsy, is a freelance writer, photographer and eternal traveller. Check out her website Gail Palethorpe Photography and her Shutterstock profile.
---