When you have a layover, you have a choice: hop online and work feverishly until your next flight starts boarding, or indulge in a cocktail, a shower, or a trip to the airport spa.
But what if you didn't have to choose?
What if you could get work done while helping yourself to the seafood buffet, lounging on designer furniture, and drinking in views of the airport exterior (not to mention your favourite libation)?
When you pop into one of these 5 international business lounges, you can do both. And then some.
Just be sure to watch the cocktail intake before that super-important conference call with your boss.
1. The Infinity Lounge, Taiwan Taoyuan Int.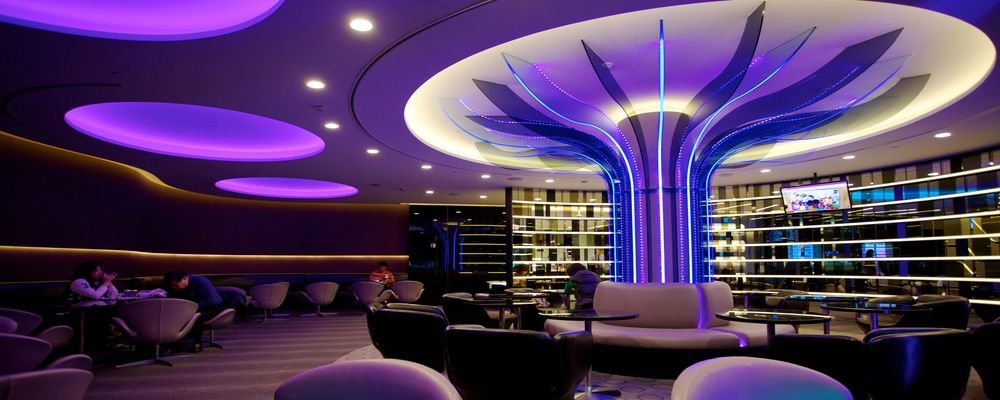 Forget the club-like lighting scheme and futuristic atmosphere; the Infinity Lounge is a fantastic place to get down to business.
Why? Because every single seating area has a power socket!! And besides reliable (free) Wifi, there is no hotter commodity in any airport worldwide than a place to charge your electronic devices. The themed shower rooms are a nice touch, too.
2. Lounge Istanbul, Ataturk Airport
Step into 3500 square metres of recently-renovated business lounge bliss. The award-winning business lounge at Istanbul's Ataturk Airport offers everything a busy business traveller could possibly need, plus a pretty tea garden and virtual gaming consoles (because, well, why not?).
Breathe a sigh of relief, weary traveller – you won't have to fight for a spot in the exclusive teleconferencing room or elbow others out of the way to use the scanner.
That's because Lounge Istanbul was built to accommodate over 1,000 guests at a time and their many business needs. In addition to Wi-Fi, computer stations, meeting rooms, and a library, you can conduct business while getting a massage, playing billiards, watching a movie, or using the golf simulator. Fore!
3. Qatar Airways Al Mourjan Business Lounge, Hamad Int.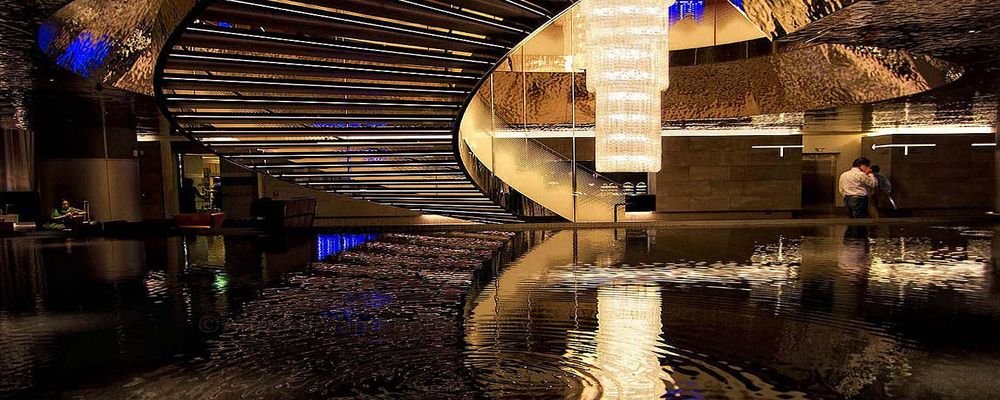 The Al Mourjan lounge lets business travellers choose from conference rooms, tricked out business centres, and private work stations with personalized screens. Hurry up and finish your work, though, because once you're done you can enjoy the lounge's many enticements: Formula 1 racing, spa-style showers, nap rooms, gourmet dining, and flat screen TVs.
4. The Wing, Hong Kong Int. Airport
Hong Kong's recently revamped lounge boasts two distinct areas for business travellers located on Levels 6 and 7 of The Wing at HKG.
The lower lounge offers 6 work stations plus free WiFi, hot showers, a hot and cold-food buffet, and a selection of designer furniture that runs the gamut from "ready to work" to "ready to nap."
The balcony level lounge is perhaps best visited once you've finished any outstanding business on the lower level. That's because it's main draws include a delectable noodle bar, a cosy Coffee Loft, and a 23-metre long bar-bar (aptly named the Long Bar), all of which make it really tempting not to blow off work altogether.
5. KrisFlyer Gold Lounge, Singapore Changi Airport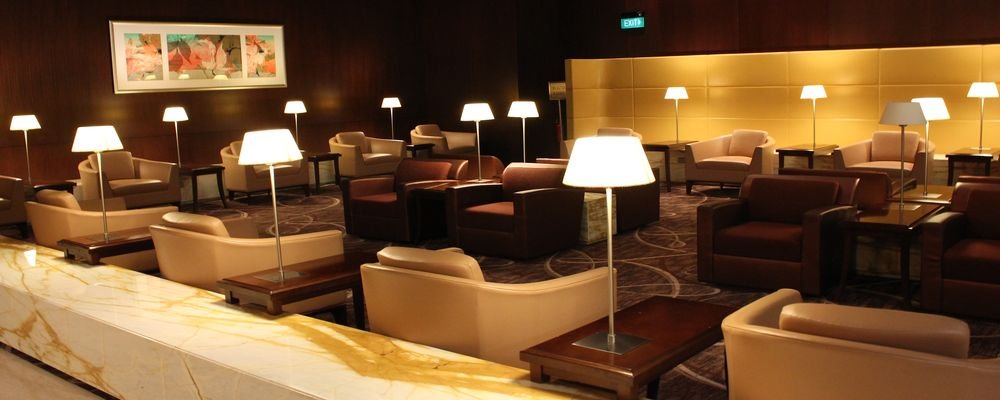 The only business lounge feature more important than lightning-fast Wifi is a great view. (and possibly a mouth-watering buffet). At the KrisFlyer Gold Lounge, you get both – work stations overlooking waterfalls and a buffet bursting with Asian and Western-style delicacies. 24/7 lounge access is another plus for those on international layovers.
What's your favorite airport lounge for balancing work and play on the road? Let us know in the comments below.
You might also want to check out the best lounges for business class travellers and the best airports for foodies.
---
Rebecca Anne Nguyen is a freelance writer and the Founder of TheHappyPassport.com, an inspiration site for solo female travellers.
---