For anyone headed to Las Vegas and wondering if a casino-free experience is possible, it is. There are hundreds of visitors to Las Vegas who aren't gamblers, but might be attending a conference or trade show, myself among them. During a recent visit (first week of June), when the weather was spectacularly clear and searing hot, I decided to select a hotel without a gaming floor and had a near-life-changing experience, because there was no sleazy activity in the lobby (drunk guests guffawing loudly), no scantily-clad waitresses, just hotel guests behaving like hotel guests (no rowdiness) in an above-average rated hotel.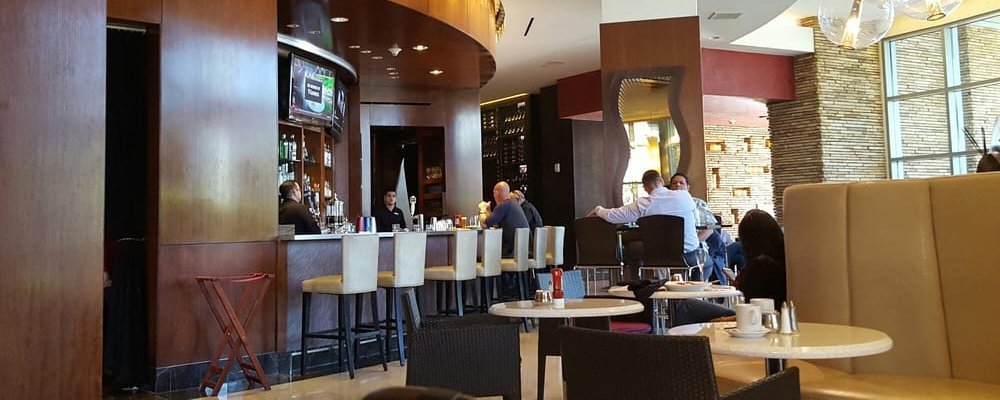 The Hotel
The Renaissance Las Vegas is considered "adjacent" to the Las Vegas Convention Center, although one has to exit the hotel via the main entrance and walk across a utility road to get to the convention center entrance. The hotel is located on the western end of the Strip, about 20 minutes by car from the airport. For those more intrepid, the monorail's West Gate stop is a few minutes away on foot.
The hotel overlooks the leafy, impeccably manicured golf course of the Wynn and Encore Hotels. Request a room overlooking the Strip, and you'll enjoy this unique green park and the vast vista of the mountains in the distance.
The décor in the lobby area, which has a dramatic two-story atrium, is modern, with terrazzo marble floors, and dark wood accents. The hotel has function rooms, a small, but well-equipped gym and a small pool off of the lobby.
Check in was easy, and reception stands were situated a few steps from the entrance doors. Because this is a smaller hotel than the usual 3,000-room casino resorts, the friendly staff can complete check in less than five minutes. Make sure to ask for a voucher for a free draft beer, which can be redeemed in the hotel's sports bar, Grill 55. Many casino hotels have a sprawling lobby area, but this hotel felt intimate, comfortable and free of crowds.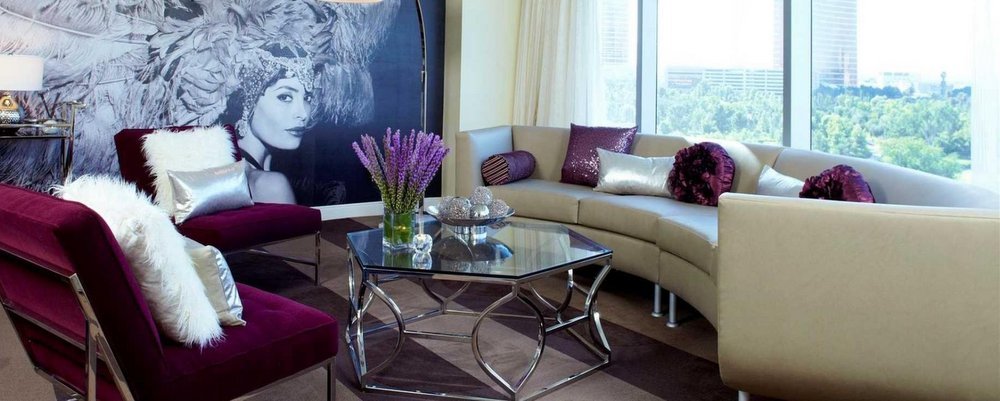 Guest Room
The guest rooms are corporate in style. There was an entrance nook with a coffee maker stand; two bottles of water were included in the room. A mini fridge was located in a drawer unit, along with a safety deposit box and a large TV monitor. There was also an open armoire unit with sturdy wooden hangers, and a narrow closet contained an iron and ironing board.
The bathroom was very spacious, with a bathtub and separate shower stall, a lot of counter space with shelves, and an open cabinet for personal items. Lighting was good, although there was no magnifying mirror. There was a hairdryer in the cabinet, and the amenities were by Aveda (shampoo, conditioner, body lotion, soap).
The king-size bed was heavenly. White cotton sheets, queen-size pillows and a lightweight duvet cover topped off the bed ensemble. For the money, this was by far the best bed I've ever slept in. Soundproof walls, a quiet central air conditioning unit, as well as non-rowdy guests, made for a silent night's sleep.
Bonus Perk for Marriott Members: you can opt out of housekeeping during your stay and earn 500 points.
Restaurants & Bar
A steakhouse by the name of Envy is located in the lobby and has a live piano performer in the evenings. The menu is typical steakhouse fare. A café off of the entrance serves Starbucks coffee and snacks.
I enjoyed dining in Grill 55, a small sports bar serving pub/tavern fare, off the other end of the lobby. Chatty servers were eager to please, and the food was well prepared: Cobb salad, turkey burger with sweet potato fries, and profiteroles with ice cream hit the spot.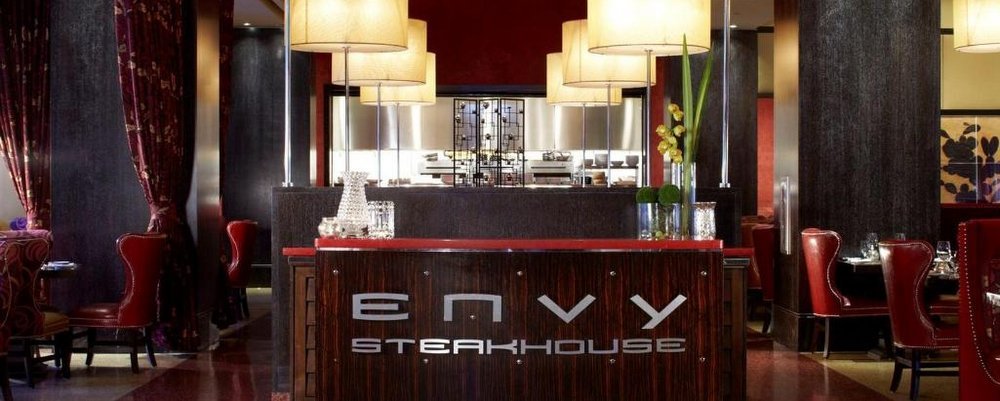 Fitness Facility
The small but clean gym was well equipped with elliptical machines, stationary bikes and treadmills, as well as free weights and a combination weight machine. Thick exercise mats, fresh towels, complimentary cold water bottles, as well as fruit and ear buds were available from a counter.
The Wise Traveller Rating 10/10
Overall, this was the most restful hotel experience I ever experienced in Las Vegas during a three-night stay.
Check out the best on line rates for the Renaissance via Wise Traveller.