Barcelona is a dream destination for travellers with access requirements. The city's Olympic legacy means that accessibility is just a part of everyday life, and I have no issues at all accessing accommodation, transport, attractions, beaches, and places to eat and drink.
Accessible places to visit in Barcelona
City Sightseeing Bus Tours are widely available, and accessible. Concessions are offered to disabled travellers, although this seems to be at the discretion of the tour guide. Barcelona's tram network has low-floor access from the platforms and ramps to the doors, as well as areas reserved for wheelchair users.
One of the most wonderful things about Barcelona is the proximity between the beaches and the city. Barceloneta has ramps down to the beach, and a wide, smooth concrete walkway. There's also a wooden walkway to the water's edge, accessible changing rooms and toilets, and preferential zones for disabled bathers. This means all you have to do is relax and enjoy the sunshine!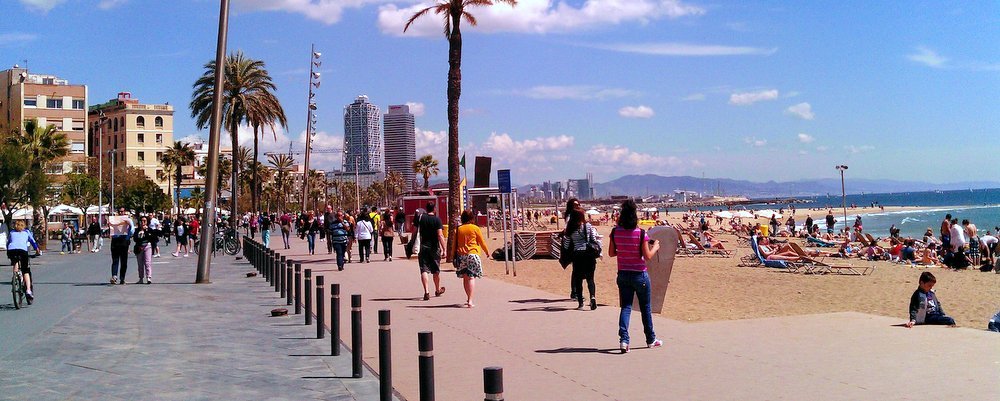 From June to September there is an assisted bathing service, including a hoist, amphibious wheelchairs, water crutches, and manual wheelchairs. For drinks and tapas, I'd suggest restaurants one or two streets back from the beach, as you will pay a premium for a beach view.
Port Olimpic is all about fun and relaxation. By day you can enjoy the beaches and water sports, and by night there is a large choice of seafood restaurants, bars, and nightclubs, as well as a casino. I have found accessibility to be no problem in all of the places I have visited at Port Olimpic, so it's easy to relax and have a good time here.
The most famous street in Barcelona is perfect for people-watching and taking in the sights, sounds, and smells of the city. As Las Ramblas is pedestrianized all the way down the middle, it's easy to slowly walk or wheel along with the crowds. There're plenty of things to see amongst the bustle too — street entertainers, stalls and cafes, a wide range of shops, the beautiful Canaletes Fountain, and the towering statue of Christopher Columbus.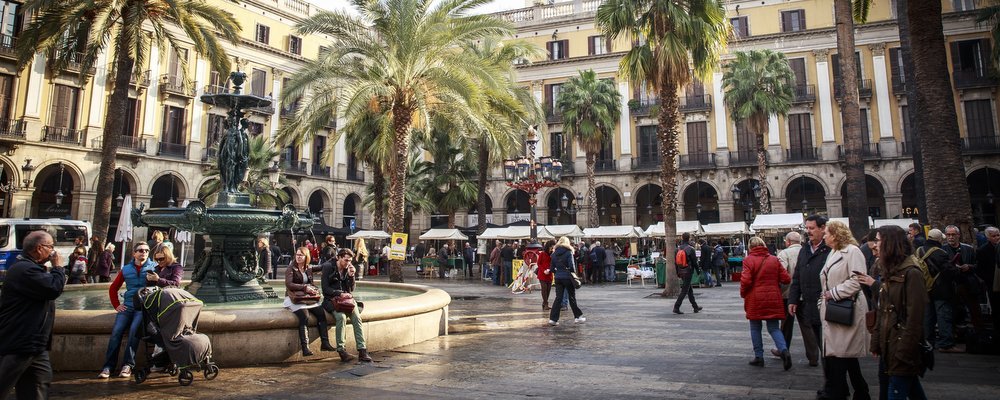 The Boqueria Market is full of colour and life. Everywhere you look, there is delicious produce on display — huge hams hanging up, fragrant cheeses, fresh seafood, and lots of fruit, spices, and herbs. Plus, the area around the market is mainly flat, so it's easy to access. Wondering where everyone has got their delicious-looking pots of fruit and smoothies from? La Boqueria Market of course! There is an accessible toilet available, on the basement level. The person in charge of maintenance can give you a key for the elevator.
The Sagrada Família has become a symbol of Barcelona. As it's often under construction however, constant changes mean access can vary. It's recommended that wheelchair users visit with a companion, to fully enjoy the beautiful stained glass windows, the quirky architecture, and fabulous statues. Admission is free for visitors with disabilities and their companions — proof of disability may be required. Staff members can escort disabled visitors to the accessible entrance, so make yourself known on arrival.

Glories shopping centre is large, spacious, and has a number of dining options as well as shops. It's much less crowded than Las Ramblas, and has a large supermarket for those wanting to stock up on provisions. The mall is accessible throughout, with elevators and accessible toilets. This is a good option for a more relaxed shopping experience, with many open-air shops, and restaurants with outside seating. There is a very popular takeaway deli at Glories, offering freshly-made pastries and sandwiches. Be prepared to queue!
---
Carrie-Ann Lightley is a traveller, a blogger and an inspiration for the less mobile traveller. She doesn't let her Cerebral Palsy slow her down from enjoying the world, near and far. Living with the mantra of 'there is always a way' her travel blog provides expertise and inspiration for accessible travel. Visit Carrie-Ann at https://www.carrieannlightley.com
---