If you are a yoga enthusiast, a meditator, a music lover, a foodie, or just a traveller seeking an extraordinary mountain escape, look no further than Wanderlust Squaw Valley—the crown jewel of the summer wellness festival circuit. From 19 to 22 July, over 10,000 people gathered at Lake Tahoe's internationally renowned playground to unplug, unwind and get in touch with themselves.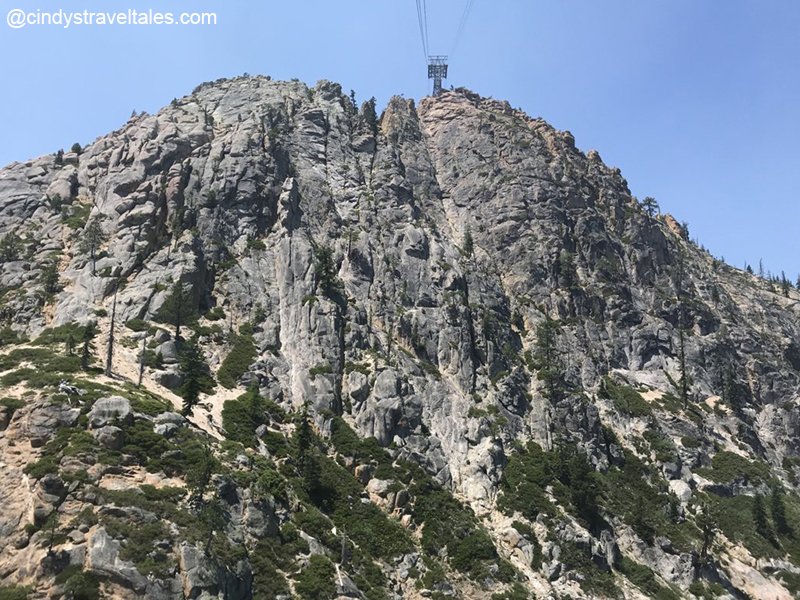 Though yoga retreats abound in all corners of the globe, they are certainly not created equal. Hands-down, Wanderlust remains the Big Dog on the calendar, with its stellar, decade-long reputation. Showcasing a diverse collection of sought-after legends, this year's stars included Chelsey Korus (Vinyasa/Ashtanga/Acro), Briohny Smyth (Fit Flow), Eoin Finn (Blissology to align our energy and wisdom), Sat Sri Dougherty (Kundalini), and Joe Barnett (Yin). So, whether savasana is your go-to pose, invigorating flow gives you a glow, or you thrive on yin, this gathering has all its bases covered with a plethora of classes tailored for virgins and veterans alike.
Unsurprisingly, Wanderlust offers far more than yoga, with a complement of acclaimed meditation gurus—namely, Light Watkins, Clio Manuelian, Lauri Glenn, Noah Levine, as well as Aya and Tyler Erin Ward—offering ancient breathwork techniques to tap into the subtle body for overall improved health.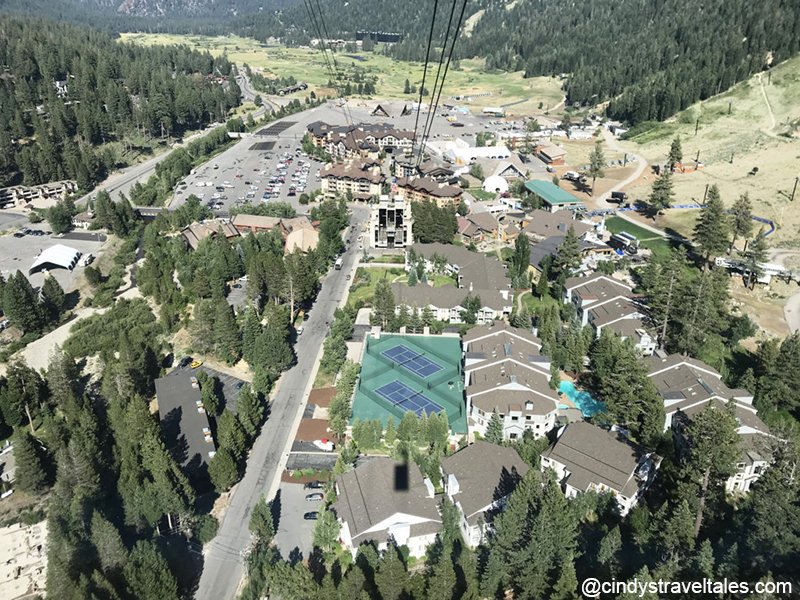 It also incorporates the value of living consciously with physical, emotional, and cognitive stability. The motivational Speakeasy discussions—featuring foremost thought leaders, coaches, and bestselling authors—invited us to take our practice off the mat to nurture compassion and cultivate wisdom. Kyle Cease, Lauren Zander, Ken Nwadike Jr, and others challenged us to lead a mindful, holistic life by integrating yoga, meditation, nutrition, gratitude, generosity, tolerance, integrity, and a sense of community into our daily lives.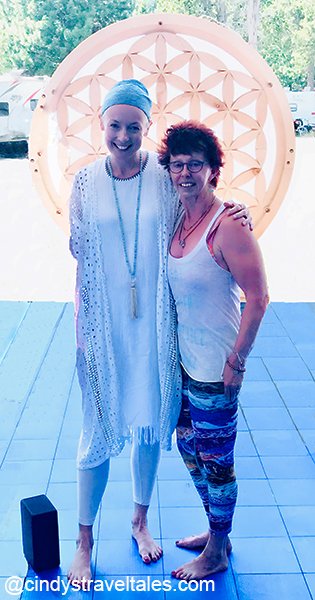 Finally, though it is no secret that live tunes are woven throughout these galas, Squaw Valley is particularly well known for its boisterous, sun-drenched pool parties at High Camp —with unsurpassed views of the entire Olympic Valley and the lake, encircled by snow-capped peaks. Meanwhilst, after hours are devoted to killer headliners, indie artists, and DJs, with the massive Main Stage tricked out, using state-of-the-art electrical, lighting, and sound options, for over-the-top performances. Celebrants grooved to lively shows under the stars, varying from funk, hip hop, jazz, soul, R&B, and gangsta rap to folk, pop, and rock 'n' roll. Other stages lured yogis with mellower instrumentals and rhythms, whilst a pulsing disco catered to those craving to dance the night away. Whatever genre, the concerts added the perfect ending to those long, active days.
Though I remembered countless summer Sierra Nevada adventures—backpacking, biking, riding horses, river rafting, rock climbing, and camping—I had never attended Wanderlust. So, I decided it was high time to dive into the world's largest lifestyle retreat and join the fun at Squaw Valley, along with incredible instructors, talented musicians, and fellow well-being practitioners.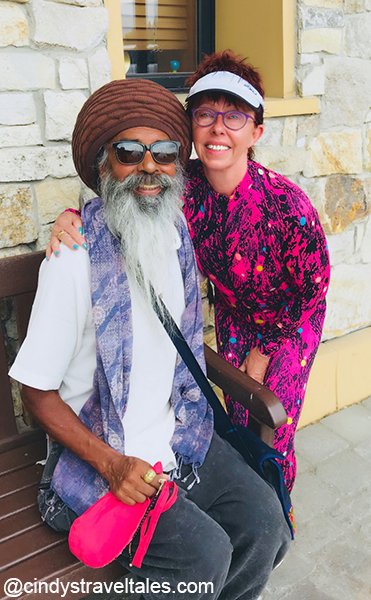 Crystal-blue skies and stunning views of the ski resort's bowls and jagged, granite pinnacles greeted me as I arrived at The Village, the nexus for the upcoming event. The industrious operations team was putting the final touches on the venue fairgrounds, where the familiar restaurants, bars, galleries, and boutiques had been integrated into our campus. Neighbouring studios, conference centres, auditoriums, plazas, lawns, and meadows—as well as tennis courts and parking lots, embellished with super-comfy pavilions and kiosks— had been converted into living-learning spaces, complete with all the necessary infrastructure for such a mega event.
As the throngs of colourful students and cheerful vendors convened, the energy began to amplify. Brightly decorated pop-up food stations began dishing up chef-quality, nutritious fare. Hipster cafes were passionately blending vibrant fresh juices, protein shakes, smoothies, and a medley of tea and coffee concoctions. Eclectic merchants, in fanciful outlets, meticulously displayed eye-catching, eco-chic clothing, props, boho jewellery, and handcrafted accessories. An avalanche of freebies—including organic snacks, probiotic shots, kombucha, sunscreen, visors, bandanas, decals, pins, thermal bottles, and carry bags —contributed to the carnival ambience. A unique fiesta was unfolding as attendees mingled, soaking up the California rays and non-stop melodies—all in search of a reboot, some insight and even the possibility of change.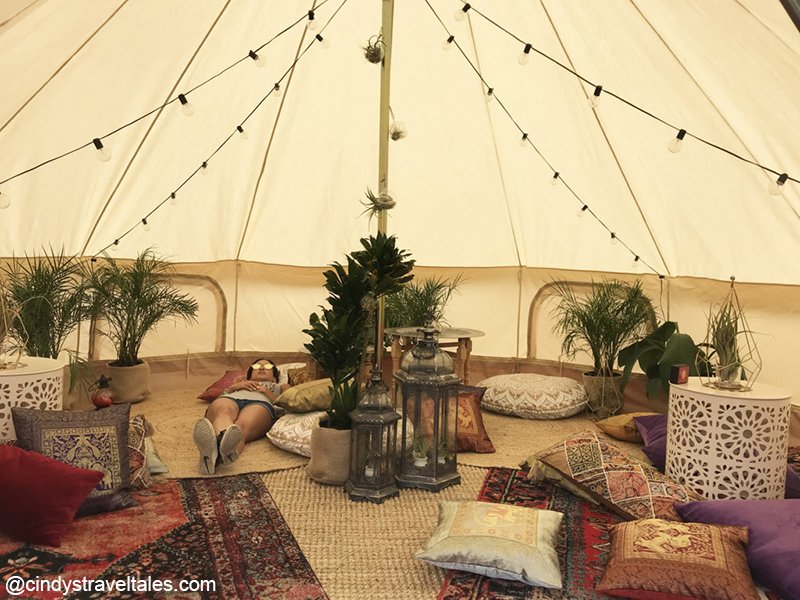 My meandering led me to The Compass, an alluring, rigged-out marquee, complete with Persian carpets, floor pillows, ornamental lights, uplifting artwork and 5G Wi-Fi. As the logistics hub and central hangout, certainly someone there could help me navigate my full-access pass. Where exactly were all those venues with perplexing names like the Nest, The Shala, The Mothership, The Sanctuary, and The Nook? Was there transportation to my paddleboard courses? And what on earth is the Happiest Hour? Little did I know that the cowgirl behind the counter with the mega-watt smile was the Head Honcho, who would be my genie in a bottle for a hassle-free festival.
My schedule was a kaleidoscope of inspiration with prominent masters; but, by far, my favourite sessions were those pioneered by industry entrepreneurs introducing inventive twists to the age-old art form.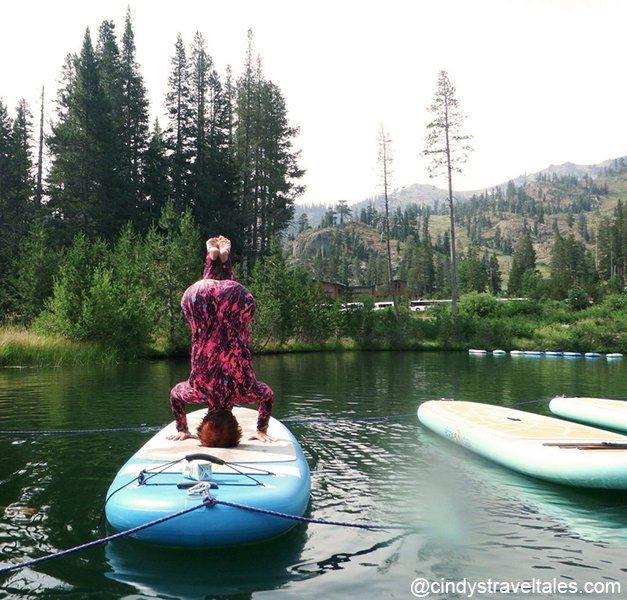 Sarah Tiefenthaler helped me to float my yoga on a mountain lake with a stand-up paddleboard. The vinyasa asanas came with detailed steps to keep me balanced on the gently rocking board—slow it down, remember to breathe, stay centred, and gaze at the horizon. Though she challenged my attention, fired my core and encouraged light-hearted exploration, it was still impossible to hold my inversions amidst the ever-present ripples.
Then, with Carmen Curtis, founder of AIReal Yoga, I was suspended, hanging in midair amongst the pine trees—solely supported by a silky, hammock. After learning to manoeuvre the fabric, I was twisting, turning, swinging and hanging upside down in no time. I defied gravity to deepen my stretches, improve my alignment, and refine my inversions. That savasana—cocooned in my broad sling, effortlessly swaying in the breeze—was pure heaven.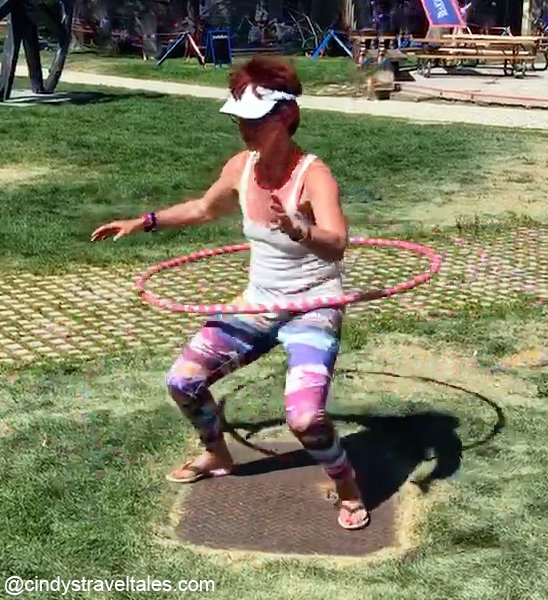 With Jocelyn Gordon, I rediscovered my childhood love for the hula-hoop and became a hoopyogini, as she reminded us how to manipulate the hoop around the waist and hips, using minimal force to keep it twirling. Managing even the basic hoop actions was a thorough core workout—igniting my glutes, thighs, abs and lower-back muscles. As we progressed to encircling the neck, shoulders and chest, what ensued was pure helter-skelter —pumping me full of endorphins, with many laughing-out-loud moments.
Lastly, Govind Das and Radha's version of Bhakti Vinyasa comprised a series of dynamic sequences, accompanied by soulful Kirtan and traditional Indian strings, drums, and pump-organs. The perpetual motion fused with sacred sounds resulted in a compelling asanas series.
Though I relished my menagerie of workshops, I was also fascinated to check out others absorbed in their practice. One morning I spotted a dewy meadow of meditators, silently tuning in. Midday, I stumbled upon a handful of young slackliners nervously attempting their gymnastic swagger, teetering precariously on a thin rope strung across an alpine reservoir. In a shady courtyard, I observed pairs engrossed in AcroYoga, playfully trying to find the delicate synchronicity between the Base and the Flyer. Then, under a huge tent, I noticed a turbaned Kundalini teacher, dressed completely in white, leading her charges in chanting and breath-of-fire exercises. The overarching atmosphere was relaxed, but supercharged with undivided concentration.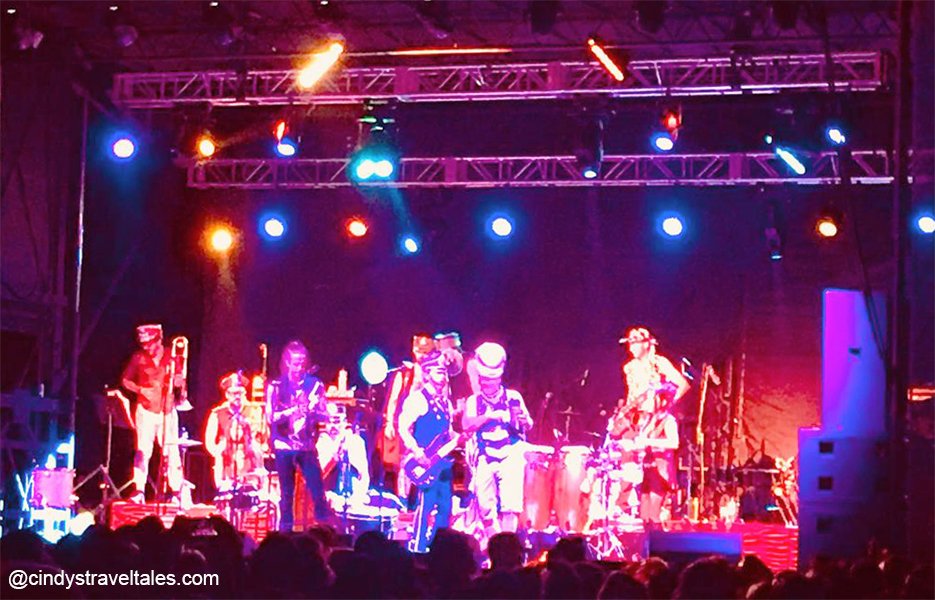 That serenity was the antithesis of the hubbub at The Village. Though it was entertaining to visit the stalls, catch a vegan-cooking class, muse over an essential-oil tutorial, and spy festive face-painting, hair-braiding, and temporary-tattoo booths, I was delighted when I also encountered zen dens and tranquil lounges—providing the ultimate chill-out zones where I could kick back, cool off, recharge, and rehydrate.
As I reflect on those four magical days, there were many takeaways. I was acutely impacted by the intense convergence of movement and introspection—leaving me calmer, with a more open heart and a freer mind. In the process, I had constantly explored new boundaries and pushed my comfort zone. Yet, despite the pervasive merry-making chaos, I had been able to live in the moment and keep coming back to my breath when things were shaky. What emerged was a fresh commitment to set clearer intentions, tweak old habits, loosen attachments to outcomes, and stand up to lingering fears.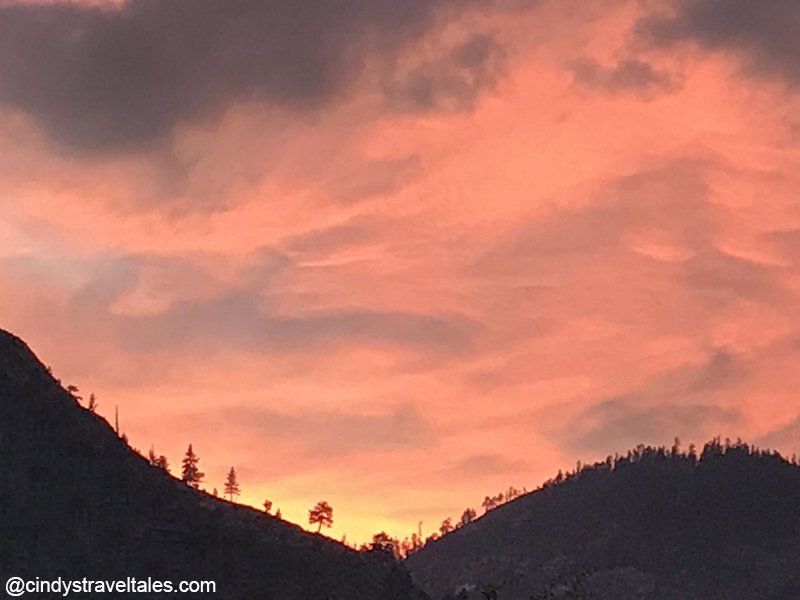 But, in the end, the real gamechanger was the unexpected naturalness in engaging with those thousands of strangers—all drawn to the same place, with a joint desire to learn, tackle our physical and mental constraints, and share the miracle of life. Over the days and the many engagements, barriers were dissolved, and unfamiliar people became colleagues, and even friends. In realising my oneness with the crowd, I awakened to an awareness that we were not separate, independent beings, after all—we truly were all interconnected. In that priceless transformation, I had found my tribe and there was a bright light on my path pointing to my true north.
---
Cindy Payne is a Singapore-based adventure travel writer and photographer who has her own blog Cindy's Travel Tales.
All content images © Cindy's Travel Tales
---